I Only Used Natural Beauty Products For A Month & It Totally Changed My Skin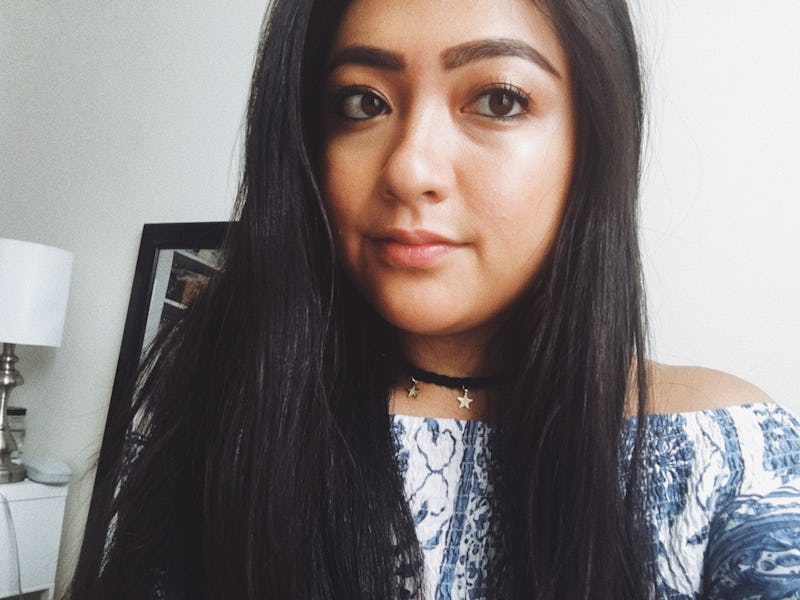 Kelsey Nguyen
First date concept: you Venmo me $5,000 and then let me loose in the Whole Foods beauty aisle. Lately, I've been converted to the world of clean beauty. Yes, I've drank the Kool-Aid and now I'm also getting a Goop tattoo and constructing my shrine to Gwneyth Paltrow. Only (half)-kidding about that last part.
Converting was no overnight process, though. Over the course of one month, I swapped my original beauty routine for the toxin-free edition. This meant bidding farewell to my favorite makeup products and embracing a new ensemble of brands that were deemed "clean."
To me, "natural" was merely a buzz word brands slapped on for aesthetic purposes. Kind of like "farm-to-table" and "artisanal," but the beauty version. Yeah... can we talk about what exactly that is?
I worked with clean beauty expert Tara Foley, founder of Follain, who explained to me her definition of "clean beauty." According to Foley, products are considered "clean" if they are free of these 29 restricted substances, ranging in everything from parabens to formaldehyde and aluminum. Foley and the Follain team compiled the list of restricted ingredients from sources such as the Agency for Toxic Substances & Diseases, National Cancer Institute and the Environmental Working Group (see full list of sources here).
These harmful ingredients are banned from the Follain lineup for a reason — they can trigger allergies, cause endrocrine disruption, damage cells, and even lead to birth defects. Per Foley's definition, products are considered "toxic" if they contain any of the 29 restricted substances. "Oftentimes the unsafe ingredients in skincare and beauty products will bioaccumulate," Foley warned me. "They build up in our bodies because our bodies don't know how to break them down."
It is also important to note that the definition of "clean beauty" varies depending on the company/brand. However, for the purpose of this experiment, I will be using Foley's definition of "clean beauty" as stated on the Follain website. After speaking with Foley and learning more about the mission behind Follain, though, I found myself doing the unthinkable: actually reading the ingredients on the products I was using daily.
Together, Foley and I crafted a new skincare, makeup and hair routine for me that consisted 100 percent clean products.
Though I tested my products for a one month period, the transition to clean beauty should be taken at your own pace. "Ideally it would be great if all shoppers could jump in and switch their full routines over the course of a month," Foley told me. "However, I totally understand that that is not always the most realistic option for a lot of women. Any step you are taking forward healthier products is a step in the right direction, so I recommend that you start with the products you use most and the ones that sit on your skin the longest — such as moisturizers, deodorant, makeup."
There I was, armed with my new arsenal of green beauty weapons and the unknown ahead of me. How would my skin react to natural ingredients, especially if it was already so acclimated to chemicals for years now? Would I actually see a difference after a month? And now, in true writer fashion, I leave you with a cliffhanger.
Before
Me (on the left) and my skin prior to switching to exclusively clean beauty products. I dealt with an oily T-zone, breakouts along my cheeks and forehead, and uneven skin texture.
When you think of a skin detox, you probably think of trendy Hollywood juice diets. For this experiment, Foley introduced me to the "skin detox" — what she believes is crucial when transitioning to a clean beauty routine. "Your skin had to work really hard to digest, absorb, and break down the ingredients in conventional products, and many of the unsafe ingredients from those products are still in your skin and sweat glands," Foley reminded me. "It's good to get rid of these as much as possible — and to let your skin breathe a bit — so that when you transition to nourishing, vitamin rich skincare ingredients they can absorb more effectively."
Before diving into my clean beauty routine, I dedicated three days to my skin detox. Per Foley's suggestions, I washed my face with cold water and moisturized with coconut oil (jojoba oil was also another wonderful alternative). Other than that, I left my face untouched. Shockingly (and thankfully), I did not have any Coffee Meets Bagel dates or PR events lined up during those three days, so going makeup-free was not an issue. I did, however, at first feel a little self-conscious walking around Williamsburg sans my brows done or even a coat of mascara, but I survived.
Day three passed and I had already grown to appreciate the minimal lifestyle. It certainly made getting ready in the morning less of a hassle, and I loved how silky my skin felt post-coconut oil. I didn't notice a change in my skin just yet, but I didn't care — I was too excited to play with my new trove of natural beauty goodies.
2. The Skin Routine (Day & Night)
The daytime routine: True Botanicals Hydrating Cleanser, $48 | Ursa Major 4-In-1 Face Tonic, $14-$26 | True Botanicals Renew Celluar Repair Serum, $140 | Josh Rosebrook Nutrient Day Cream w/ SPF 30, $85 all available at Follain.com
Perhaps what surprised me most was the fact that I did not need to use a face cleanser every morning. Foley advised that I continue washing my face with cold water since it helps tighten pores. Throughout my month long trial, I did not use a face cleanser in the morning once — just a good old splash of cold water did the trick. If I really felt the burning desire to use a cleanser in the AM, Foley said to opt for a gentle one. However, I was satisfied with just plain H2o.
Next, I followed up with a spritz of the Ursa Major Face Tonic, a miracle 4-in-1 product that cleanses, exfoliates, soothes and moisturizes. Then, while my skin was still dewy, I applied a dime-sized amount of True Botanicals Renew Celluar Repair Serum. Foley carefully instructed me to "listen to the serum" and lightly massage the oil on my face until I heard a "popping" sound. Perhaps it was the bright orange color, but the serum strangely reminded (and smelled like) hot sauce. Like a pretty $140 bottle of Cholula packed with beneficial skin nutrients.
Once the serum absorbed, it was time for the Josh Rosebrook Nutrient Day Cream with SPF 30. I noted how especially lightweight the formula was, and a little does go a long way. Plus, SPF protection is important my friends!
The nighttime routine: True Botanicals Renew Hydrating Cleanser, $48 | Ursa Major 4-In-1 Face Tonic, $14-$26 | True Botanicals Renew Celluar Repair Serum, $140 | True Botanicals Vitamin C Booster, $90 | RMS Beauty Coconut Oil Wipes, $16, available at Follain.com and (not pictured) Triology Rosapene Night Cream, $51, TriologyProducts
Words cannot describe my love for my new nighttime beauty routine. A few of the products are recycled from my daytime routine — the face tonic and serum — but now there's added elements of surprise: the True Botanicals Renew Hydrating Cleanser, True Botanicals Vitamin C Booster and RMS Beauty Coconut Oil Wipes. Where do I even begin?
Foremost, I ditched my former makeup wipes (RIP) in favor for the clean alternative from RMS Beauty. Ninety-eight percent of the world at this point already knows of my penchant for everything coconut oil, so naturally, coconut oil makeup wipes were a given. I'm just going to devote a minute of silence for how blissfully amazing the RMS Beauty Coconut Oil Wipes are. I already use coconut oil to remove eye makeup, but these wipes erase practically everything — and they leave your skin with a post-beach goddess glow. Yes, please!
After removing my makeup, I used the True Botanicals Renewal Face Cleanser. I tend to like my cleansers on the milky side and that's what I exactly got. Then, another spritz of the face tonic... and my favorite part: playing mixologist. Following Foley's advice, I mixed half a dime-size of the Vitamin C Booster with the serum and then massaged onto my face and neck until I heard that unmistakable popping sound. Once that absorbed, I was able to actually use an OG product of mine — the Triology Rosapene Night Cream. I was already using this as a nighttime mositurizer prior, and Foley said I could continue using Triology as it is also a clean brand. Progress!
3. The Makeup Routine
Alima Pure Natural Definition Brow Pencil (currently unavailable) | ILIA Pure Eyeliner, $24 | W3ll People Expressionist Mascara, $22 | Kjaer Weis Foundation, $68 | RMS Beauty Buriti Bronzer, $28 | ILIA Tinted Lip Conditioner, $26, all available at Follain.com
It's official: I was separated from my beloved eyeshadow palettes and believe it or not, life went on. And even better, I grew to embrace my new clean beauty alternatives. I particularly loved the Kjaer Weis foundation — because it's oil-based, I can apply with my fingers and control how much product goes on. The result is a subtle finish that doesn't feel like I'm wearing foundation at all.
Makeup look for the month featuring all-clean products from Follain, plus my own ILIA Multi-Stick as a cheek tint.
Another honorary mention is the RMS Beauty Buriti Bronzer. Because this is also oil-based, it has multipurpose properties. Foley suggested I try using it as an eyeshadow as well, and let me tell you, my life is forever changed. A bronzer and eyeshadow in one? I'm won over.
4. The Hair Routine
Rahua Classic Shampoo and Conditioner, $9-$36 | Captain Blankenship Mermaid Sea Salt Spray, $12-$24 | Yarok Feed Your Ends Leave In Conditioner, $13-$27, all available at Follain.com
After discovering Rahua shampoo and conditioner, I'm a changed human. What I did not notice until making the clean beauty switch was how heavy my hair felt after using conventional products laced with toxic ingredients. With my new shampoo and conditioner, my hair felt lighter and especially with the Feed Your Ends Leave-In Conditioner, 100x more softer. It's a hair detangler phenomenon.
I also routinely curl my hair, so Foley recommended I try the Captain Blankenship Mermaid Sea Salt Spray for extra texture and moisture. Having already tried their Mermaid Hair Oil (my holy grail product), I knew I would fall in love immediately. I also snuck the sea salt spray along with me when I was at the beach in Florida, and let me tell you, after a dip in the ocean, add a couple spritzes and you will have perfected dream mermaid waves.
5. The Body Routine
Follain Refillable Hand + Body Soap, $7-$24 | Indie Lee Coconut Citrus Scrub, $38 | OSEA Anti-Aging Body Balm, $48, all available at Follain.com
First off, let us discuss the Instagram-worthy luxe packaging of the namesake Follain Hand + Body Soap. A bonus – it looks quite photogenic on your shower shelf too. I loved, loved the lemongrass scent and liked that the soap didn't leave my body feeling sticky post-shower. I used the Indie Lee Coconut Citrus Scrub once a week to exfoliate, then afterwards alternated between regular coconut oil and the OSEA Anti-Aging Body Balm as a body moisturizer. Follain describes the body balm as "drawn butter" and honestly, I could not have put it any other way. This left my skin feeling velvelty smooth with a fresh hint of citrus.
After
My skin before (left) and after (right). In my after picture, I'm only wearing foundation around my nose and chin area. Notice more even skin texture and a natural glow!
After my month-long journey into clean beauty, I definitely noticed a difference in my skin. My pores are now less visible and I was surprised to see that I was suffering from less breakouts on my cheeks and forehead on top of that. My friend commented on two different occasions that my skin was "glowing". In fact, my skin cleared up to the point where I no longer felt the need to wear full-face foundation any longer. By the end of the month, I found myself merely using concealer to touch-up certain problem areas, but that was the extent of it.
I will not lie: I was nervous at first to completely cut out my traditional beauty routine, and I was hesitant if natural ingredients would really have an effect on my skin. However, I am beyond grateful for Foley and the Follain team for educating this skeptic newcomer on the wonders of clean beauty. My overall skin health improved, I felt confident venturing out with less makeup on, and not to make this sound like a cheesy Hallmark movie moment, but I felt my sense of inner beauty evolve as well.
Foley echoed my sentiment. "Clean beauty absolutely has an influence on our mental health," she said. "Conventional beauty products were really created to 'just get the job done' — they don't really create a great experience. In contrast, the mainly natural ingredients in clean beauty products create this awesome experience that makes you want to linger in your bathroom, and take deep breaths to appreciate the smell feel and moment the products create."