Does Nicki Minaj & Cardi B's New Collab Put Feud Rumors To Rest For Good?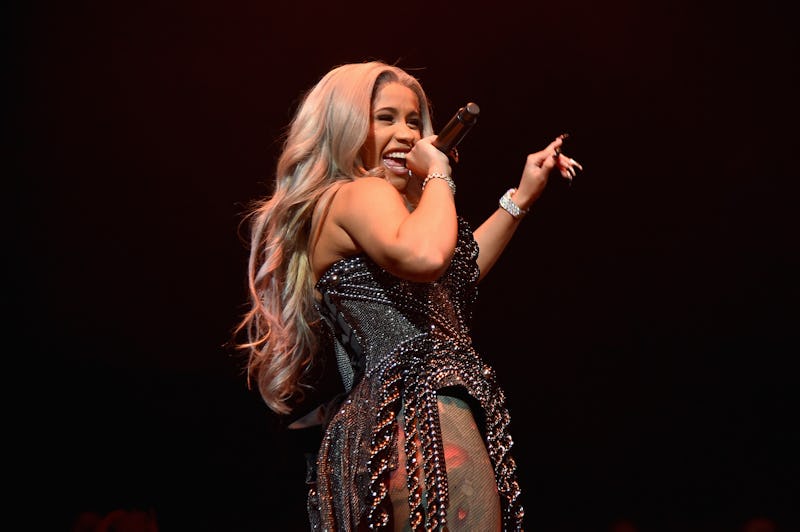 Theo Wargo/Getty Images Entertainment/Getty Images
It wasn't too long ago that Cardi B was flying just below the radar, but now, her career has practically blown up overnight — and so have rumors that she doesn't get along with her fellow musicians. So are Nicki Minaj and Cardi B. friends or are they enemies? Despite reports that they've been feuding over the last several months, there's actually a lot of love between them, and that's something they've made clear on social media and possibly through their new collab with Migos, "MotorSport'".
Rumors of Minaj and Cardi's so-called feud began over the summer, just as Cardi's music began gaining more traction. Azealia Banks called her a "poor man's Nicki," on Twitter, and a lyric from Minaj's verse on London On Da Track's single, "No Flag," seemed to echo that idea. In the song, she rapped, "I heard these labels tryna make another me," and many people took that to mean that she was talking about Cardi.
However, Minaj has since shot that theory down. She quickly took to Twitter to explain that since she'd written that song months ago, she definitely didn't have Cardi in mind as she penned those lyrics. So, at that point it already seemed like everything was cool between them and that has only become clearer since.
And while there's no evidence that they hangout doing BFF things, there's doesn't seem to be clear beef between them, lyric-related or otherwise. In September, Cardi talked to The Breakfast Club about "conversations" she's had with Minaj, emphasizing that none of her lyrics have been directed at her, either, although she didn't share exactly what those conversations entailed. In fact, while talking to Billboard on the red carpet at the 2017 VMAs, Cardi cleared up all the rumors to let everyone know that she's too busy worrying about her own career to start drama with anybody else. She said:
"I don't really want problems with anybody. I don't wanna be like, a queen. I don't wanna be no this, I don't wanna be no that. I just wanna make music and make money. I don't really have time to look at other women, what they doing [sic]. I'm myself. You know what I'm saying? Nobody got problems with me, I don't got a problem with them. Somebody got a problem with me, I don't really gotta do that whole industry beef. I get it poppin' with these hands."
And as far as Minaj herself is concerned? She feels pride for Cardi, according to her recent tweets. When Cardi became the first woman rapper to hit number one without anyone featured on her track since Lauryn Hill in 1998, of course, Minaj had to congratulate her. That's a huge achievement — one that even Minaj herself has never been able to claim.
It's true that Minaj and Cardi have a lot in common. Like Minaj said in her tweet, they're both from New York, they're both known for their eye-catching style, and they're both female rappers in a very male dominated industry. But that doesn't mean they can't get along and only be seen as each other's competition.
And now, only a month after Minaj congratulated Cardi on her achievement, they appear on the same song together with "MotorSport". Migos previewed the track at the Powerhouse 2017 concert in New York Thursday night, according to XXL, before the full song was released on Friday morning. While Cardi B was also a performer at the show, she did not perform her part of the song during the preview.
While neither Cardi nor Minaj call each other out in the song directly, some fans believe that they might have been dissing each other on the track in a more subtle way. Especially since Minaj has lines boasting about her place in the rap world like, "I am the champ, I'm Iron Mike in a bout" and "My crown won't fit on your bum ass lace fronts."
But, as another fan pointed out, based on what we know, they could have been (or at least could say they were) commenting on "haters in general":
Either way, most people are just excited the song exists:
Even though they've been pinned against each other, based on what they've said about each other publicly, it looks like they haven't been trying to do the pinning themselves. Maybe this could be the beginning of a truly beautiful friendship — or at least some more collabs to come.