Selena Gomez Has Been Spotted With This Famous Ex After Her Reported Split From The Weeknd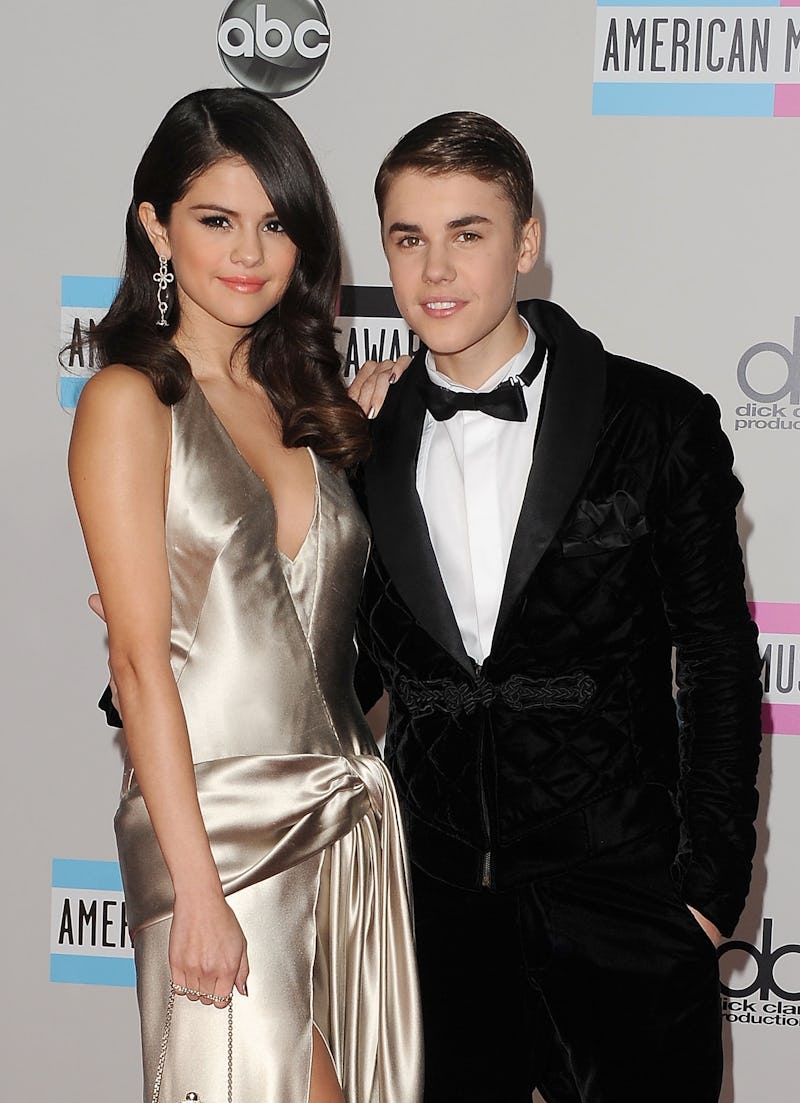 Jason Merritt/TERM/Getty Images Entertainment/Getty Images
After sightings of the former couple began to surface over the past week, suspicions started to arise that Selena Gomez and Justin Bieber are back together. And now that it has been reported that Gomez's relationship with singer The Weeknd is officially over according to TMZ, it seems that the rumors of a rekindled romance between the former Disney star and Bieber could actually prove to be true. The pair, who have dated on and off since 2010, have been reportedly been spending a lot of quality time together following Gomez's kidney transplant surgery earlier this year, according to Us Weekly.
As exciting as the news may be for followers of the one-time lovebirds, dusting off those Jelena hashtags may still be a bit premature as neither entertainer has yet to publicly confirm that they are actually an item.
However, unnamed sources for Us Weekly indicate that "The ball is in Selena's court" in terms of a reconciliation for the pair. The report went on to reveal that Gomez "was happy with The Weeknd but Justin always has the biggest piece of her heart. This situation is a heartstring type of thing. She has to figure out what she wants." Meanwhile, it also states that Bieber, "really wants to get back with Selena." So there may actually be some truth to the romance rumors after all. Interpret it as you will.
It's definitely worth noting that the former flames have had a long and tumultuous history of breaking up and making up throughout their past experience as boyfriend and girlfriend. Details of their most recent highly-publicized spat, which occurred back in August of 2016, made it seem as if their romantic relationship – and perhaps even their friendship – was a done deal. The initial drama ensued when the "Wolves" singer jumped into the comment section of an Instagram photo featuring Bieber and his then-girlfriend, Sofia Richie, according to The Shade Room.
In response to Bieber's threat to make his Instagram page private following an onslaught of harsh comments aimed at his new romance with Richie, Gomez chimed-in with her own choice words about the way she felt Bieber was treating his fans. Gomez wrote,
"If you can't handle the hate then stop posting pictures of your girlfriend lol. It should be special between you two only. Don't be mad at your fans. They love you."
Things got increasingly intense as Gomez reportedly went on to accuse Bieber of allegedly cheating on her throughout their relationship. She blasted the singer by saying,
"Funny how the ones that cheated multiple times, are pointing the finger at the ones that were forgiving and supportive, no wonder fans are mad. Sad. All love."
Bieber reportedly shot back alleging that Gomez had also been unfaithful during their romance with former One Direction singer Zayn Malik. According to unverified screengrabs captured by fans, Bieber responded, "I cheated...Oh and I forgot about you and Zayn [Malik]?"
It seemed that it was the end of the road for their relationship when Bieber deleted his Instagram account as promised (he later reactivated it in Feb. 2017) and Gomez seemingly apologized for her actions via Snapchat, explaining that what she said was "selfish and pointless." The pair pretty much remained mum about one another in the months following.
Fast forward to January 2017, when Gomez begins dating singer The Weeknd. Bieber appeared to be pretty salty upon learning the news, responding snarkily to a paparazzi's question about whether or not he listens to the Weeknd's music. "Hell no, I can't listen to a Weeknd song! That sh*t is wack," the "What Do You Mean?" singer replied.
It's immediately unclear whether or not Gomez and Bieber are simply just friends or if there's a serious romantic relationship in the works. However, reports indicate that Bieber was supportive after learning about Gomez's recent surgery amid complications with lupus. The recent reconnection between the Gomez and Bieber started out as what seemed to be an innocent gathering of friends at Gomez's home days ago. It was a meet-up that TMZ had initially indicated as being totally fine with Gomez's then-assumed boyfriend, The Weeknd. However, it seems that there was a bit more to the story as People reveals that Weeknd and Gomez recently decided to call it quits after 10 months of dating.
The second reported encounter between Gomez and Bieber occurred just this past weekend when the pair were spotted at breakfast after attending a church service together, according to TMZ. As curiosity continues to mount in the reemergence of the romance formerly known as Jelena, eyes will certainly be peeled in hopes of catching a glimpse of some PDA-filled confirmation from the two.