Here's Where The Mendendez Brothers Are Now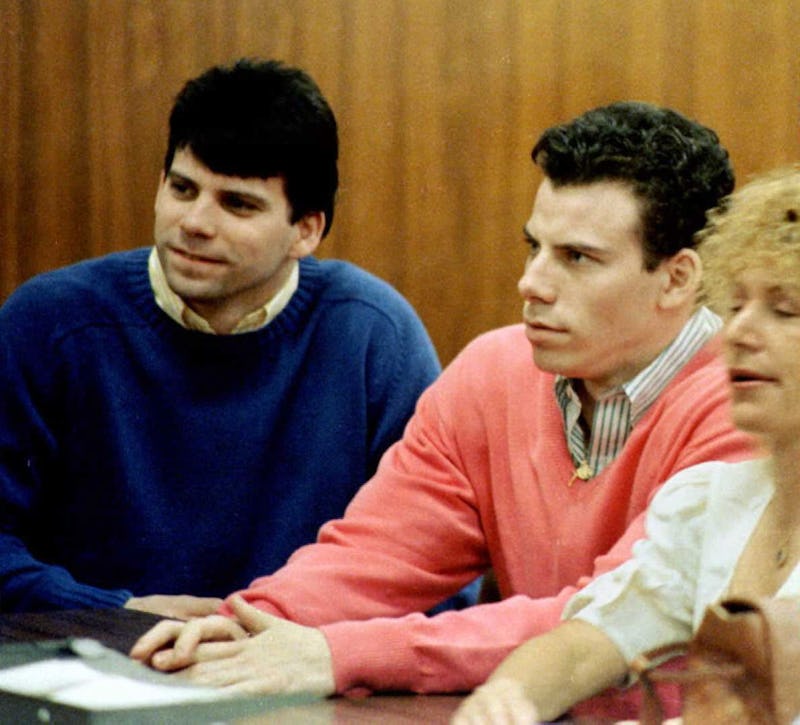 MIKE NELSON/AFP/Getty Images
Lyle and Erik Menendez are names that most people will immediately recognize, which is why their story makes sense as the first in the new NBC anthology series, Law & Order True Crime. Per the L.A. Times, the brothers eventually confessed in the '90s to killing their parents, Kitty and Jose Menendez. The subsequent two trials (one of which that was filmed and broadcasted) captivated the nation and ultimately led to the brothers being convicted of murder. So, are the Menendez brothers still in prison?
According to Rolling Stone, Lyle made a frantic and now infamous phone call to 911, saying that he and his brother Erik had returned home from the movies Aug. 20, 1989 to find their parents shot to death in their Beverly Hills mansion. Most people have heard the audio of a sobbing Lyle telling the 911 operator, "Someone killed my parents." Per the Rolling Stone article, the police and first responders were so convinced by the brothers' display of grief, they broke protocol by not testing their hands for gunshot residue. It was their immediate over-the-top spending after their parents' deaths that drew suspicion to them initially. In the days following the murders, A CNN article states that both brothers went on a spending spree with their new inheritance — spending $15,000 on Rolex watches alone.
In October 1989, as Rolling Stone reported, Erik spoke with therapist Dr. L. Jerome Oziel and confessed to the crimes of killing his parents with his brother Lyle. When Lyle found out about this, he allegedly threatened Oziel to keep him quiet. According to RS, "the California Supreme Court eventually ruled that the possibility of violence released the practitioner from doctor-client privilege, and the evidence eventually helped send the young men to prison." In the end, they were convicted of first-degree murder, according to ABC News.
At the end of their trials, both Menendez brothers were sentenced to life in prison, without the possibility of parole, instead of receiving the death penalty. As the ABC News article reports, the brothers repeatedly appealed their case to the U.S. 9th Circuit Court of Appeals but were denied each time they brought their case before the board. Erik and Lyle were immediately sent to separate prisons after their sentencing and haven't seen each other since. The ABC News article reports that Lyle claims he and his brother's "bond is really strong" because they have maintained some semblance of communication through letters. As the older of the two Menendez brothers, Lyle initially worried about how his younger brother, Erik, would handle the separation after spending their whole lives together up to that point. In the ABC News article, Lyle is quoted as saying, "I really wondered, separated from me and so on, how would he do?" He added, "It's just amazing to me that you can come from such terrible circumstances and then grow up to be someone who is so empathetic, so I'm very proud of him."
In prison, it seems like the brothers have at least kept busy. People spoke with Lyle in January of this year about prison life and his marriage to his wife Rebecca, who is his second wife that he married while incarcerated. (They wed in 2003.) About his relationship, Lyle said, "I have a very steady, involved marriage and that helps sustain me and brings a lot of peace and joy. It's a counter to the unpredictable, very stressful environment here." Erik also married in prison in 1999 according to a separate People interview he did along with his wife Tammi back in 2005. Erik, like Lyle, credited his wife for bringing stability to prison life. Erik said, "To know that this person loves me as I am — you can't imagine what it was like those first five years in prison never being told, 'I love you.' It makes you a colder, harder person."
After their murder convictions Lyle and Erik Menendez will spend the rest of their lives in prison. The full story of how they got there will play out on NBC's newest anthology series, Law & Order True Crime: The Menendez Murders, airing Tuesdays at 10 p.m. ET.