Ariana Grande's Engagement Ring Shopping Tip Is Brutal AF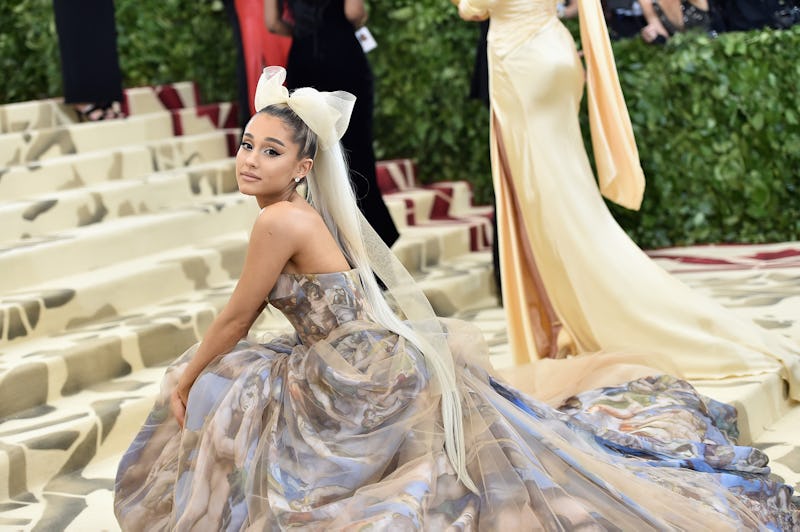 Jason Kempin/Getty Images Entertainment/Getty Images
Ariana Grande may have said "Thank U, Next" to her exes, but she isn't done offering up wisdom to the masses. On Thursday, Ariana Grande posted an engagement ring shopping tip on Instagram, and tbh, it was ruthless. The singer's words (or word) of wisdom was basically as simple as you could get, and it'll have her fans heading to their Twitters to make new Grande memes.
The Zoe Report reposted an image on Instagram from account Ring Concierge regarding an article about finding the perfect engagement ring (The Zoe Report is owned by Bustle Digital Group). In case you've been living under a rock or in some alternate timeline, you've probably at least heard in passing that Ariana Grande was engaged to comedian Pete Davidson until just a couple of weeks ago. While Grande and Davidson certainly don't seem to have any ill will toward one another post break-up, it doesn't mean that the singer can't have a little tongue in cheek fun.
On the image captioned, "13 tips & tricks for finding the perfect engagement ring (including the popular metal you should actually avoid)," Grande responded with one word, "dont."
While it's probably true that Davidson and Grande have no bad blood, it may also be true that Grande's not so big on the marriage thing ATM.
Grande's comment on the Instagram comes after she released her new single "Thank U, Next," and while the title of the song may sound shady, it's really not. While the singer does name her exes and briefly say something about each one, the song is actually about Grande moving on and being with herself. You've got to love a self-actualized queen!
The comment, however, isn't Grande's only bit of dark humor she's put on display lately. Yesterday, she took to her Twitter account to post a joke about her other single "No Tears Left To Cry," that was both dark and funny all at the same time. In the tweet, Grande wrote, "remember when i was like hey i have no tears left to cry and the universe was like HAAAAAAAAA b*tch u thought."
If you're not caught up on why Grande may be sharing these jokes with fans, the long and short of the story is that Grande and Davidson had a whirlwind romance that began this past summer and culminated in an engagement, some matching tattoos, and ultimately, a break-up. The reason for the split isn't known, but the jokes the singer has been making haven't been about Davidson so much as about relationships as a whole, and to be honest, they're funny AF.
While Grande's comment on engagement ring shopping is ruthless and low-key dark, it seems pretty in line with her humor as of late. Plus, how else can you handle a break-up other than laughing your way through it? Maybe with some junk food and friends thrown in for good measure. For Grande, though, music seems to be the answer. With news of a new album already on the way, keep bopping to "Thank U, Next" because apparently more is coming.