Ariana Grande Has A New Ring On THAT Finger & Here's What It Means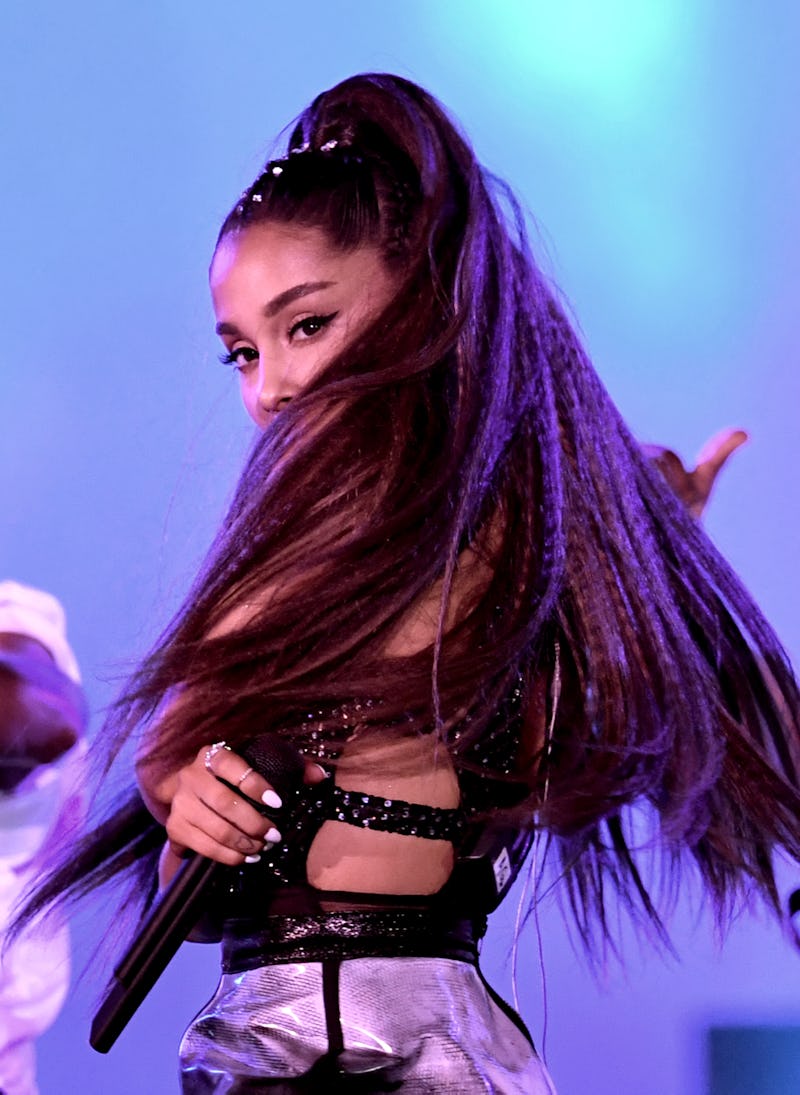 Kevin Winter/Getty Images Entertainment/Getty Images
Like any famous person, when some slight movement is made by a celebrity, it's something to marvel. Being careful with what they share on social media is deliberate and smart because the fandom is real. But Ariana Grande sporting a new ring on that finger in a selfie is a cute dedication to her true friends.
No breakup is easy, but Ari makes moving on look oh so sassy. Since the "Thank u, Next" singer has been riding out the wave of success from the catchy breakup song, she's circling around her closest peeps in the most extravagant way.
Having bore nothing on her finger since her split with Pete Davidson, she took to Instagram to post a mirror selfie that showed off more than a flamingo pink feathered tube top (But, like where can one get that). Subtly on her ring finger was a new gold band with a diamond.
At first glance, you'd be confused and wondering "what's going on, sis" but rest assured the gold band is not an engagement ring. As Teen Vogue pointed out, it's a similar ring that's been seen on Ari's gal pals Alexa Luria and Njomza as friendship rings.
Now that's what you call a glamorous circle of friendship.
Along with the Barbie pink look to sport the ring, Ari captioned the photo in a very Thank u, Next manner with ".... n I'm so good with that", a line from the popular song.
It's no wonder Grande is taking time to appreciate her girlfriends, they're some of the best cures for a breakup. And it doesn't hurt to not mull it all over in diamonds.
In case you've already forgotten, Grande and Davidson shook fans with not only their secret relationship, but a summer engagement with quite the rock for a ring (as in some big juicy karat kind of rocks). Back in October of this year, the two abruptly ended their relationship in which Pete addressed the news on SNL, and Ariana addressed in, well, a surely iconic anthem for ending a serious romance.
Despite have a trying year, Ariana manages to be a heroine for women, and getting right back up on the horse. She's already put out the music video for her Sweetener single "Breathin", showed off a couple of new tattoos, and is already sharing snippets of new music for another album. Not to mention planning a tour for the most recent one.
Grande is still very much booked and busy, and releasing songs like "Thank u, Next" won't be halted because changes (no matter how big or small) happen in life. It's no wonder she's got over 100 million followers on Instagram. She's kind of become the poster child for girl power.
With Ari rocking a new ring on her finger, it doesn't seem like there's space for any other rings right now as it's all about her and her girl squad. It looks like if you wannabe Ariana's lover, you got to get with her friends, first.