Ariana Grande Went All Out For Her Creepy 'Twilight Zone' Halloween Costume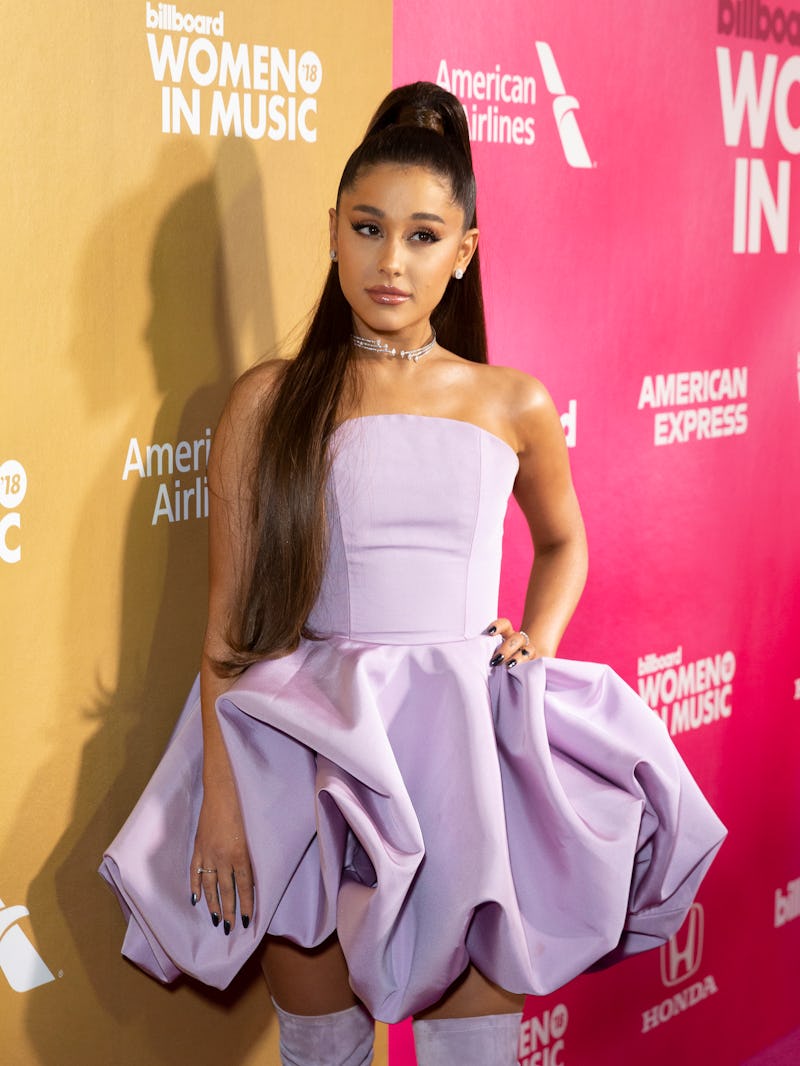 Pacific Press/LightRocket/Getty Images
After teasing her Halloween costume earlier this week, Ariana Grande finally revealed the full look on Wednesday night, and it'll make you feel like you stepped right into the Twilight Zone. In what may be Grande's creepiest Halloween costume yet, the singer wore a pig face straight out of an episode of the classic TV series.
Over the past few days, the "Thank U, Next" singer has been teasing her costume by sharing scenes from the Twilight Zone episode "Eye of the Beholder" on Instagram. In the 1960 episode, a woman named Janet Tyler underwent surgery in order to look "normal." While she came out looking conventionally attractive to viewers, in her world, which was filled with people with pig-like features, she was deemed ugly. The takeaway, as shared by the narrator at the end of the episode, is that "beauty is in the eye of the beholder."
The singer went through her own transformation in order to look exactly like those in the Twilight Zone with pig-esque features, writing on Twitter that she "spent five hours in prosthetics and glam."
After her grand reveal, Grande tweeted that she was so thrilled with her spooky theme that she planned to "keep [her] home disguised as the twilight zone for the rest of [her] life." She even shared a black-and-white video of her house with the show's signature swirling bulls-eye design.
Since she loves her costume so much, she's planning on getting a second look out of it. As Grande explained to a fan on Twitter, she will not be doing a "cute costume" this year. Instead, Grande is dressing up as a "haunted hotel twilight zone hostess" with the same prosthetics from her pig costume. She wrote, "nothing makes me more feel more joy. even if i can't breathe or drink or eat."
Grande has always been super into Halloween, even when it's not actually the holiday. Back in 2014, the singer explained to Billboard that she was a "weird little girl" growing up. "I always wanted to have skeleton face paint on or be wearing a Freddy Krueger mask, and I would carry a hockey stick around," she recalled. "I was like a mini-Helena Bonham Carter."
Her Twilight Zone look isn't the only time she really committed to a costume. Back in 2016, Grande and her then-boyfriend, the late Mac Miller, combined her love of Halloween with her love of Pokemon with some bloody Eevee and Pikachu costumes. In 2017, Grande and Miller had another couples costume in store, as they went as Zoolander characters, Katinka and Mugatu, respectively.
Grande clearly goes all-out for Halloween. And considering she already promised a second Twilight Zone costume, fans can expect to see even more photos of the singer all dressed up.