Why Arie Will Be 'The Bachelor' You Didn't Know You Needed, According To His Former Co-Star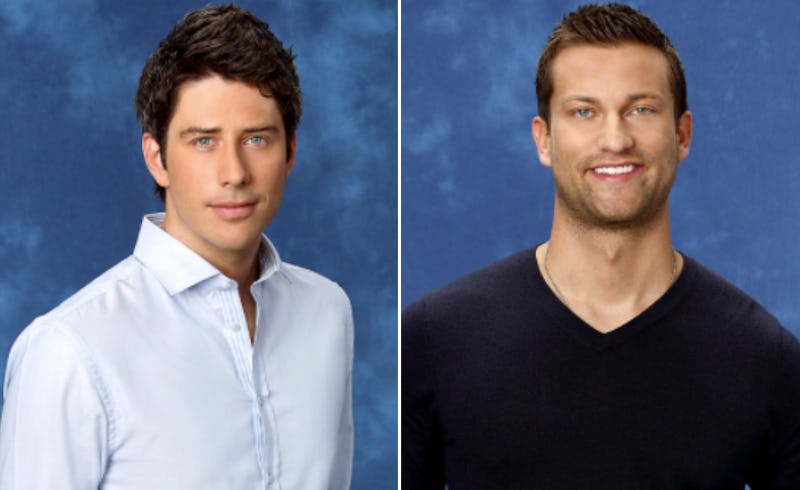 ABC
When Arie Luyendyk Jr. was announced as the next Bachelor, newer Bachelor Nation members let out a collective, "Who!?" In contrast, seasoned viewers knew exactly who he was and why he would make a great lead. But, if you're still on the fence or need some ammo to prove your friends wrong in their Arie-bashing, fellow Bachelorette Season 8 contestant Chris Bukowski is here for you. Chris is the Bachelor Nation member who has been on the most shows ever (five), so he knows this franchise inside and out. That's why you should probably trust his opinion on why Arie is the Bachelor that viewers need.
During his interview with Bustle's Bachelor podcast, Will You Accept This Podcast?, Chris says the choice of Arie as leading man is "great." That's a little vague, but fear not — he elaborates more later on. He also clarifies his and Arie's level of friendship in case you were wondering how biased or not he was. "I wouldn't say that we were like friends friends, but we definitely kept in touch. We got to know each other really well on Emily's season. He's a good guy," Chris says of Arie. "We roomed together throughout the whole show so we got to know each other pretty good."
Considering that Chris and Arie didn't keep in close contact and the fact that Arie disappeared from reality TV after Emily's season, it makes sense that Chris was pretty shocked to hear the news (just like everyone else). He recalled, "I woke up and saw text messages saying, 'Arie's the Bachelor' and I had no idea he was even like even considered." Even so, Chris maintains, "He's a good guy. He's very straightforward. He's very transparent, like a real Bachelor. He's a Bachelor outside of the Bachelor world, which is cool."
Chris believes that Arie will restore the show to what it once was before it essentially became factory for Twitter memes and Instagram fame. He describes Arie as a "romantic guy" and explains, "I think he's going to be good for the show because he's going to bring back authenticity, where it's kind of turned into a little bit of a comedy," Chris says. "I think a lot of people are going on the show now more than ever just to get Instagram followers and build their own personal brand rather than potentially finding love." (Speaking as a fan, it would be great for one of these shows to end with fan support for the final couple instead of a timeline full of jokes on Twitter anticipating a breakup.)
"Arie kind of brings that old school right before that shift happened to all these influencers and stuff. Now more than ever they're making a lot of gimmicky stuff throughout the season and I just can barely watch some of the stuff that's on there now," Chris says. "I think [the show focuses] more on the comedy side of things than the love side of things like they did back in the day."
If Arie is really all about the search for love, let's hope that the women cast for the show are on the same page. After all, Chris is pretty sure he knows how Arie will end the season, and there needs to be a contestant who agrees. "He'll propose at the end," Chris claims, though, to be fair, filming has yet to conclude. Still, Artie was ready to propose back on Emily's season, so the potential is definitely there as long as the casting is on point.
If people want to watch a show about someone who is actually "there for the right reasons," it seems like Arie's season could fit the bill. In Chris' eyes, "[Arie's] only done one show ... when you go in with low expectations and not that much experience in the reality TV world, it's fun, so I think he'll be great."
Given all of his own reality TV experience, Chris has some advice for Arie. "It's pretty simple," Chris says. "Just to be himself. Be open-minded, transparent, have fun with it. He's a pretty easy going guy and he's done it before."
Give the full podcast above a listen to hear everything else that Chris divulges about the franchise. Aside from speculating Arie's Bachelor season, Chris shares behind the scenes info about his time on Bachelor shows, updates about his life today, and whether or not he would go back on reality TV for a sixth (yes, sixth) time for something like Bachelor Winter Games.