Ashley Graham's Met Gala Look Truly Honors Commes des Garcons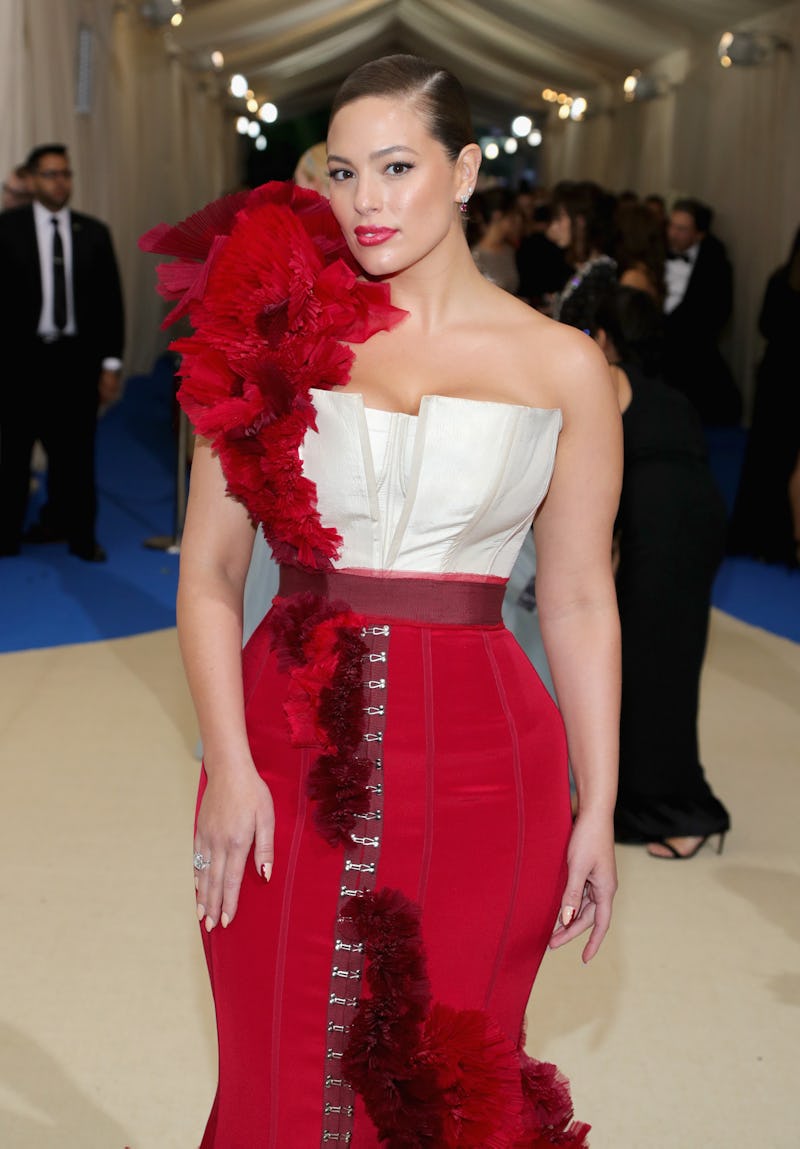 Neilson Barnard/Getty Images Entertainment/Getty Images
If you're a fan of hers, you probably already know that 2017 has been Her Year so far, but Ashley Graham's Met Gala 2017 look is bound to cement her place in fashion history.
In keeping with this year's theme, which honors Commes des Garcons designer Rei Kawakubo, Graham wore a bold dress with a beige bustier and red skirt that exploded into fiery ruffles at the train of the skirt and across one shoulder. The look is equal parts edgy and feminine, and plays off of several themes that Kawakubo often repeats in her work.
Graham, who landed her first American Vogue cover this year, is a newcomer to the event, and she totally nailed it with her outfit. Sometimes guests take the theme a little too literally (*ahem* Zayn Malik's robot arms from 2016) but Graham nailed it in her gown, which plays off of Kawakubo's designs but was actually created by H&M, according to Hollywood Life. One might assume that most guests would wear looks by Kawakubo herself to the Gala celebrating her achievements, but most seem to have opted for outfits by other designers that are inspired by her legacy. Grahams in particular is a subtle but powerful nod.
Doesn't she look stunning? According to an interview with Glamour, the dress pays heavy homage to Commes des Garcons, despite not being from the label. Pernilla Wohlfahrt, head of design at H&M, told the publication, "We wanted to create a gown for Ashley that reflected Kawakubo's love of a garment's construction. The off-white corset is subtlety deconstructed, the long red skirt is held by hook-and-eye fastenings, and it is boned to echo the construction of the corset, with ruffles of red organza that fall down the whole dress."
A ton of thought clearly went into this look and it's cool how much inspiration H&M took from Kawakubo's signatures. Everything about it is stunning: The color! The floral-esque ruffling! The proportions! Way to take a subtle tribute to the next level.