This Ava Duvernay Tweet Will Make You Think Twice About #WomenBoycottTwitter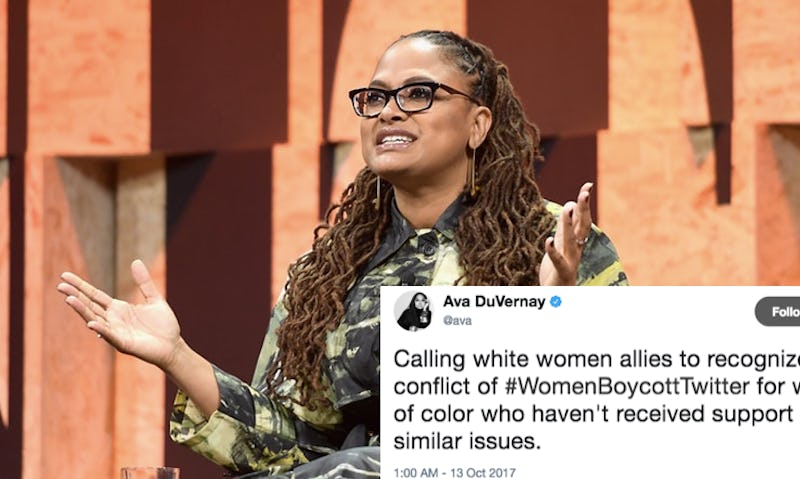 Getty Images/Bustle
In case you're wondering why some of your favorite celebs aren't tweeting on Friday, Oct. 13, there's a movement happening on the social media platform. Women are boycotting Twitter in order to protest women's voices being silenced. While celebs like Alyssa Milano, Chrissy Teigen, and Chelsea Handler, and many more are engaging in the protest, director Ava DuVernay isn't so down with #WomenBoycottTwitter. Through her words about the boycott, DuVernay highlights the valid issues with the movement and she's spurred others to talk about them, as well.
This Twitter boycott was mainly prompted by the suspension of Rose McGowan's Twitter account, which occurred on Thursday, October 12 following her tweets against Harvey Weinstein, who she has claimed raped her. (In response to her claim, a spokesperson for Weinstein told The Hollywood Reporter: "Any allegations of non-consensual sex are unequivocally denied by Mr. Weinstein.") McGowan's account had been suspended because she tweeted out a private telephone number, an action which violates Twitter's Terms of Service. Her account was later returned to normal status.
But because McGowan was suspended while many other Twitter users who have posted harmful tweets have gone unpunished, her suspension led some question to why there was a double standard in suspending her yet not taking action when it comes to much of the hatred spewed by users on the site every day.
According to TIME, Kelly Ellis, a software engineer, started the call to boycott in support of McGowan and sent out a tweet imploring others to do the same on October 13. McGowan responded to the call to protest by tweeting, "At midnight we RISE" in reference to the time at which the boycott would start. Many other major public figures echoed the statements and tweeted out that they would be offline in order to protest the silencing of women's voices.
DuVernay voiced her issues with the protest in a tweet that has since received a lot of attention. Her response has prompted others to consider that while the protest is well-intentioned, it also highlights that this movement still isn't entirely inclusive of the issues that all women face.
DuVernay isn't saying that there is something wrong with the idea of #WomenBoycottTwitter, but she is saying that there hasn't been the same amount of support for women of color in cases where they have been silenced and attacked because of their voices. McGowan and all of these people boycotting are rightfully supporting women's voices, but where was this push to support women being silenced when it was a WOC who was at the center of the issue? It's hard to support a movement that may not do the same for you.
Many others have responded in support of DuVernay's tweet, including actor Allison Tolman:
Claudia Jordan, a former Real Housewife of Atlanta, also agreed with DuVernay's statement. She tweeted:
DuVernay also retweeted a sentiment from Questlove in which he wondered where the support for ESPN anchor Jemele Hill was:
Comedian Rhea Butcher also opted out of the #WomensBoycottTwitter to also highlight the fact that women like Hill and Leslie Jones haven't received the same kind of support from the masses:
Questlove and Butcher's statements show the exact issue that DuVernay is talking about. For instance, Hill was recently suspended from ESPN yet again after speaking her mind on Twitter. (ESPN said in a statement that her suspension was due to "a second violation of our social media guidelines.") She was originally suspended in September 2017 after posting a tweet that called President Trump "a white supremacist." Hill's suspension this time came after she denounced Dallas Cowboys owner Jerry Jones after he said that players may be benched if they kneel during the National Anthem. There was outrage over Hill's suspensions, but not nearly to the same degree as Friday's Twitter boycott. Why wasn't Hill, who has been attacked on social media by many, including the President of the United States, shown this same kind of support for being silenced for the second time in only a couple of weeks?
Even before this recent case with Hill, Saturday Night Live comedian and actor Leslie Jones was viciously targeted on Twitter with racist and misogynist attacks in July and August of 2016. The vitriol got so bad that Jones had to step away from the site for a while, effectively silencing her. Twitter noted that it would continue "to invest heavily in improving our tools and enforcement systems to prevent this kind of abuse." Many supported Jones as she was targeted by trolls online and even tweeted the hashtag #StandWithLeslie, but the issue didn't cause a site-wide boycott to be mobilized in her honor.
And besides this main issue that DuVernay and many others have raised, the protest also has other issues in the facts that it claims to be protesting to help women's voices, but has effectively made many women remain silent for a day and was not exactly executed well as it was announced only the night before and only lasts for one day.
All of this isn't to say that the protest isn't noble — and that's not the driving force behind DuVernay's call for equal support. The issues with the protest aside, it is an incredibly important matter to focus on. But, if it is really in support of women's voices, there must be an outpouring support for every woman who experiences silencing, bullying, or harassment online.
Twitter shared the following statement with Bustle in regards to the protest:
Twitter is proud to empower and support the voices on our platform, especially those that speak truth to power. We stand with the brave women and men who use Twitter to share their stories, and will work hard every day to improve our processes to protect those voices.