Surprise, Barb From 'Stranger Things' Can Sing Like A Dang Angel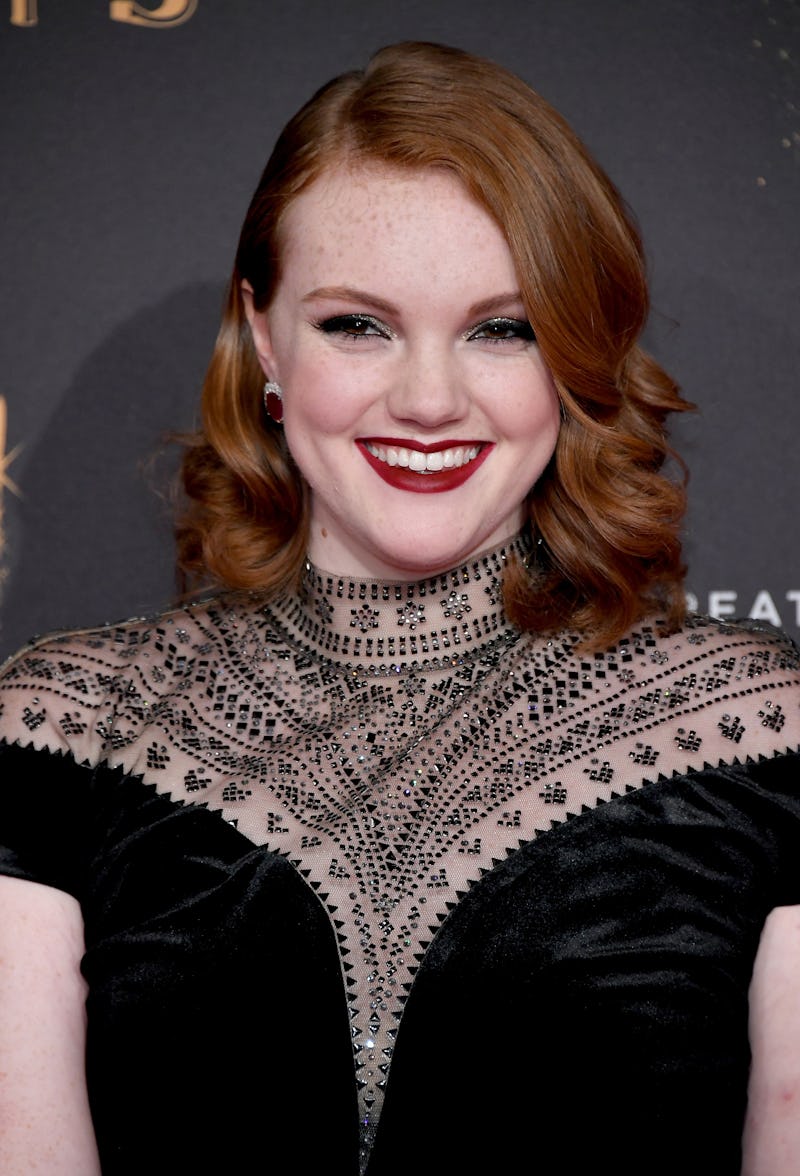 Neilson Barnard/Getty Images Entertainment/Getty Images
Just about everyone agrees that the biggest injustice of Stranger Things' first season was (unnecessary spoiler alert) the death of Barb. She's not returning for Season 2, but if you are still demanding justice for the character, you can at least get a little bit of a fix on the actor's Twitter account. Barb, aka Shannon Purser, posted a recording of herself singing, and dang, Barb has got some pipes. Purser's bespectacled high school character spawned an intense and unexpected fandom, and now her legions of Barb-lovers are demanding that she record an album.
On Thursday, Purser tweeted, "I wrote and sleepily recorded a song before I took a nap. I remember little of it and now I'm going to listen to it, pray for me." What creative doesn't relate to doing their best work in a half-conscious state?
She followed with two more tweets, writing, "Wait this is good," and "ok it doesn't suck is more accurate" before she posted a video of herself singing the song she wrote pre-nap time. And it truly does not suck — give yourself some credit, Barb! It is good. Purser sounds a bit like Adele, but cuter and more breathy. Her voice is especially great seeing as she was still sleepy. (But sleepy is just code for just being modest, really.)
Fans in her mentions are freakin' and want more music from Purser. As the first reply emphatically notes, "BARBS GOT BARS!" It's true. Another user wrote, "impatiently waiting for your album," while a less self-contained fan said, "YOURE AMAZING PLEASE WRITE AND RECORD SONGSSSS LIKE MAYBE AN ALBUM???? PLEASE??? I WILL BUY IT I SWEAR," which is an appropriate response, as the world needs much, much more Barb.
Purser was apparently in a bit of a creative conundrum as she tweeted just a few days ago on Wednesday, "how does one write a song that doesn't sound like a 13 yr old's love poetry"? But she cracked the case pretty quickly, as she posted her recording on Thursday. Fans want more and their tweets make that very clear.
Of course, for all the lovers, there are trolls and haters. But in true Barb fashion, Purser retweeted one of them. Someone replied to her video, "I'll be honest with you, because no one else is. It's not good." To which Purser replied with some delicious sarcasm, "Oh gosh darn, I wrote it just for you." Barb doesn't give a care.
So, if you're a Barb fan and are missing her dearly, you can at least hang on to the hope that, perhaps, there will be an album out from Purser soon. She's proven she's got the voice and obviously she already has the fans. You can also get your Barb fix by re-watching the first season of Stranger Things (duh), or just following Purser on Twitter and Instagram if you don't want to relive the death of Nancy's best friend/her subsequent slug vomit. But don't be sad for Purser, because she's on the up and up. Right now, she's playing another iconic teen, Ethel Muggs, on Riverdale, and she was nominated for an Emmy earlier this year.
So, while it's sad to say fare thee well to Barb and her glorious glasses and extremely high-waisted jeans, Shannon Purser isn't going anywhere. And it looks like her fans just might peer pressure her into releasing an album. She's turning hearts upside down!