Barbara And George H. W. Bush Are Doing Fine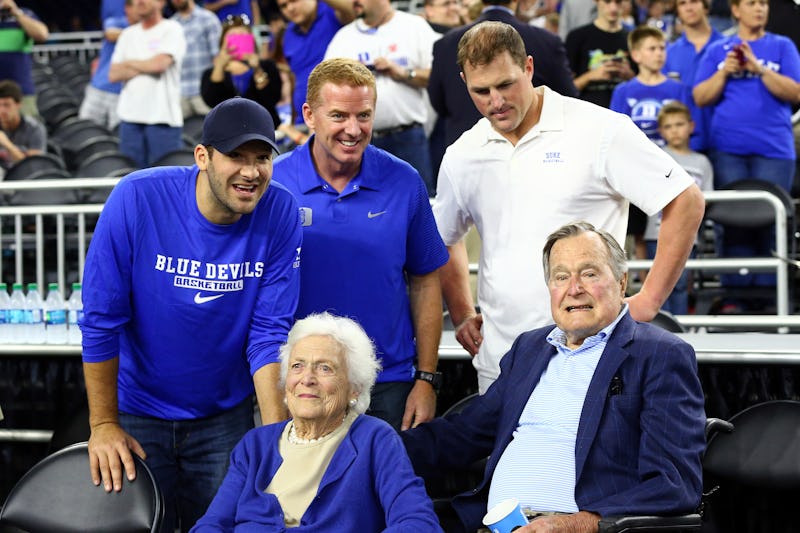 Ronald Martinez/Getty Images Sport/Getty Images
In a spot of good news, word has broken that Barbara and George H. W. Bush are alright, in stable condition, and will both leave the hospital to return home soon. The former president and first lady were both hospitalized earlier in January after suffering separate respiratory illnesses. Bush Sr. was hospitalized for shortness of breath that stemmed from pneumonia on Jan. 14, and his wife Barbara soon followed with bronchitis-related issues.
Bush Sr. will leave intensive care at Houston Methodist Hospital on Jan. 23, but his doctors are keeping him in the hospital at least the weekend. In the same press conference that announced the ICU discharge of Bush Sr., Barbara's doctor also announced that she will be leaving the hospital effective immediately.
Dr. Amy Mynderse, Bush Sr.'s doctor, had many kind words about her famous patient in the press conference announcing his health status update:
He's a really strong person, though he's not your average 92-year-old
Mynderse also said the former president is "excited to get home," and to have his favorite meal of oyster stew. She also commented on Barbara's commitment to her husband, and described her strong will to stay by her husband's side during his illness.
"They truly do have such an amazing love for each other," Mynderse said during the press conference.
Interest in the Bush family rose considerably during the 2016 election cycle when former Florida Gov. Jeb Bush unsuccessfully ran for the Republican nomination for president. Following the election, former President George W. Bush (Bush Sr. and Barbara's son) revealed that he didn't vote for Donald Trump or Hillary Clinton. Despite his lack of support for the Republican nominee, Bush Jr. attended Trump's inauguration on Jan. 20.
Following widespread criticism of Trump, many left-leaning people have begun to express an affection for the Bush presidents. Aziz Ansari's Saturday Night Live cold open on Jan. 21, the day after the inauguration, expertly captured this phenomenon when he described looking back on Bush Jr.'s speeches wistfully in comparison to his feelings on the 43rd president during his time in office.
With renewed interest in the well-being of all five living former presidents, the world has watched the health updates of George H. W. Bush closely. At 92, Bush Sr. is tied with President Jimmy Carter for the oldest living president, and his throughout his life and career has witnessed a vastly changed and changing world. News of his release from the ICU, and of Barbara's discharge from the hospital, is good news for Republicans, Democrats, and nonpartisans alike.