Barbie Bath Bombs Are Here & They'll Make You Feel Seriously Nostalgic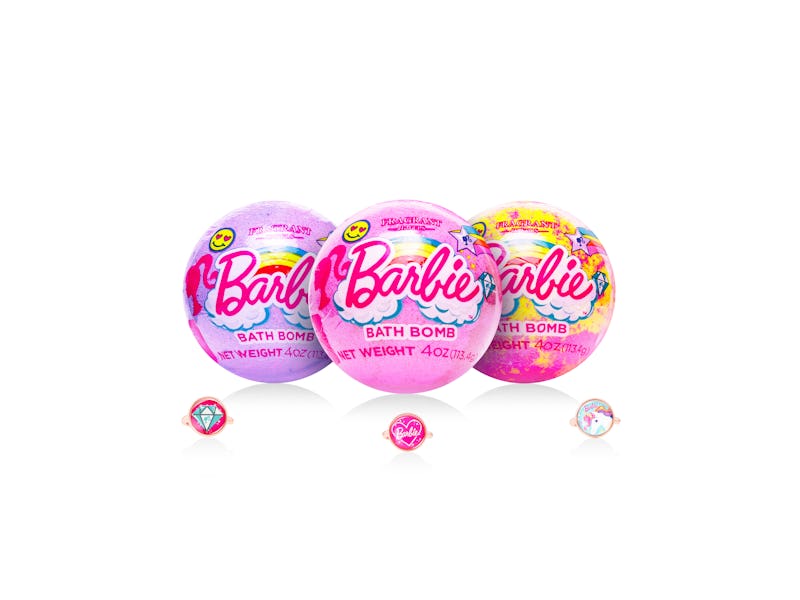 Courtesy of Fragrant Jewels
Bath bombs are fun, thanks to their skin-pampering properties, their often-decadent scents, and how they create a spa-like experience from the comforts of home. Fragrant Jewels has dropped its Barbie Candle and Bath Bomb Collection, but it is so much more than skin care products. These deliciously nostalgic, bubblegum pink treats have hidden treasures that are wonderfully extra.
Fragrant Jewels embeds beautiful rings in each of its bath bombs.
Here's how it works. Pop the bomb into the water, watch it fizz, and voila! Your ring will released into the world, all the while transforming your tub into an aromatic pink wonderland. There are rings inside the candles, too!
While the Fragrant Jewels Hello Kitty Bath Bombs held golden rings, the brand's Barbie Bath Bombs features pink accessories. There are 10 custom Barbie ring styles in total.
The Barbie Bath Bomb and Candle range boasts a fruity scent, with notes of amber, jasmine, and grapefruit. Ahh, what an olfactory delight! The set is also is limited edition and was developed in conjunction with Mattel, which is Barbie's parent company.
There is a set for adults, featuring one candle and one bath bomb, and a set for children, featuring three bath bombs, since Barbie is a timeless doll, adored across generations.
There is also a "Mommy and Me" set, which pairs one adult and one child bath bomb.
While the adult collection offers rings in six selectable sizes, the kid's set includes adjustable and ultimately customizable rings — a first for Fragrant Jewels. The Barbie ring can be worn for years — since they are adjustable, they won't be outgrown quickly and thus unwearable.
If you are wondering how these tasteful rings aren't ruined by being tucked inside an ingredient-heavy cosmetic product, this is the deal. The rings buried inside the candles are secured in heatproof packaging.
The rings encased inside the bath bombs are housed in waterproof pods. Therefore, you don't have to worry about any sort of damage as the bath bomb essentially gives birth to an accessory.
Seriously, how pretty and chic are these rings?
Some of the rings are supremely Barbie-centric and branded. Her signature high ponytail is prominently featured and will give you all the nostalgic feels.
Others are more subtle and absolutely sweet when it comes to their Barbie details.
Candle & Bath Bomb Gift Set, $42.95, FragrantJewels.com
But wait! It gets better. Each ring boasts an additional sweepstakes. It comes packaged with a unique vault code, which allows you to enter to win an additional ring, valued at $10,000, simply by entering your info on the Fragrant Jewels' website. These bath bombs are the most generous skin care items... E-V-E-R.
Mommy & Me Bat Bomb Set, $25.95, FragrantJewels.com
"This collection with Barbie is a big step for Fragrant Jewels as it's the first time we have rings for kids and we couldn't think of a more fitting brand to launch our first kids products with," said Fragrant Jewels' co-founder Garett Hunter in a press release. "The Barbie collection is such a dynamic and fun concept that caters to both Fragrant Jewels and Barbie fans of any age."
Bath Bomb Trio for Kids, $28.95, FragrantJewels.com
There's no time like the present to start grabbing gifts for the children on your holiday shopping list and the Barbie Bath Bombs totally fit the bill. Or you can grab them for yourself and/or the Barbie collector in your life.
While the pink water will eventually go buh-bye as it trickles down the drain, the ring is a keepsake that endures. Your skin will be smooth and perfumed with a delish scent that is also comprised of apple, lemon, basil, and musk notes, among others, while your finger will be adorned with an elegant ring featuring a pop culture icon.
Viva la Barbie Bath Bombs.