Barilla Pasta Jewelry Now Exists & Omg, You Need To See These Necklaces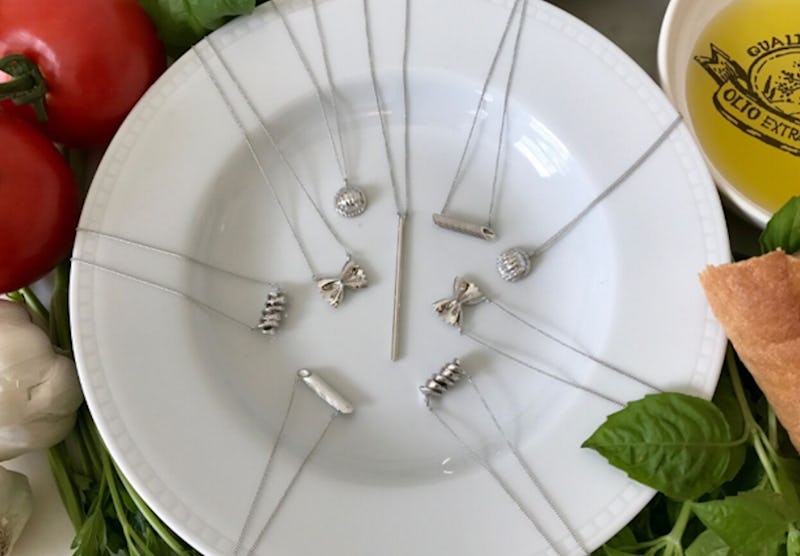 Courtesy of Delicacies Jewelry
Do you believe you are what you eat? How about you are what you wear? If you combine those two sayings, you get a line of jewelry inspired by your favorite foods! Delicacies Jewelry specializes in silver and gold culinary charms, pendants, and bracelets, featuring some of your favorite foods like corn, avocados, and now, pasta. Each food symbolizes a special life meaning and message that you can wear close to your heart.
Delicacies Jewelry collaborated with pasta company Barilla to make sure each piece was truly fashioned after different types of pasta. Because Barilla has a passion not only for pasta but for its customers, it only made sense that Delicacies teamed up with them on this Al Dente collection.
The entire line is made in the finest sterling silver with each pasta charm featuring incredible detail to it. If you love bowtie noodles, the Farfalle pendant almost looks like a real piece of pasta!
Pasta lovers will go crazy for how real these pieces look, but there's more to the sterling silver pasta necklaces than just its uncanny likeness to the real thing. The Al Dente line is special to Delicacies Jewelry because of a deep, historical meaning. Because the Greeks and Etruscans were hand grinding pasta 3,000 years before the Common Era, the fine skills of pasta making represent craftsmanship, chemistry, and "the human ability to manipulate the environment and make sustenance with our hands," according to Delicacies Jewelry website.
And because pasta is a cross-cultural phenomenon (a food that brings different types of people together in sometimes very different settings than they are used to), Delicacies Jewelry describes their new line as being a symbol of human history and commonality.
Delicacies Jewelry wants its customers to wear the Al Dente collection to "remember ages past and draw on that history when you feel the world coming unraveled."
While Delicacies Jewelry has always specialized in food charms like corn, pineapples, and avocados, customers are going to love these new pasta additions.
How adorable these pineapple necklaces?
And you won't even feel corny wearing this necklace.
On the brand's website, you select your favorite "ingredients" like basil, chicken, olive, lobster, etc., and each one has a different meaning like creativity, fertility, good fortune, passion, peace, or wisdom.
Each of the six pasta pendants (bucatini, cellentani, farfelle, orecchiette, penne rigate, and rotini) have different meanings attached to each one. You can select from a number of qualities like focus, happiness, love, passion, renewal, and strength so that you find exactly which pasta noodle represents you the best.
With the holidays fast approaching, there's no better gift to give your pasta-loving friend or family member than these adorable Barilla-inspired necklaces.
Bucatini
Bucatini Necklace, $85, delicaciesjewelry.com
Since the Bucatini noodle is hollow in the center yet malleable and strong, it appeals to dreamers with ambition. Bucatini is also perfect for those who like surprises since life is full of unexpected possibilities.
Farfalle
Farfalle Necklace, $85, delicaciesjewelry.com
The farfalle noodle represents creativity, happiness, renewal, and passion. Even though the farfalle noodle looks like a bowtie, which can seem foolish, Delicacies Jewelry believes that it's often the fools in fairytales who have the most wisdom.
Rotini
Rotini Necklace, $99, delicaciesjewelry.com
The rotini necklace symbolizes passion, happiness, and renewal. Because of this noodle's whimsical nature, it can often remind you of childhood, which takes you back to a simpler time when you could experience the world without judgment.
Penne Rigate
Penne Rigate Necklace, $85, delicaciesjewelry.com
The penne rigate noodle represents passion, creativity, and focus. If you have a passion for language, you should wear the penne rigate pendant. The Italian word penne means "quills," which ultimately means this little charm is a reminder that humans possess the ability to write about and influence the world around us.