The Beauty Habits 15 People Learned When They Were Young That They Just Can't Kick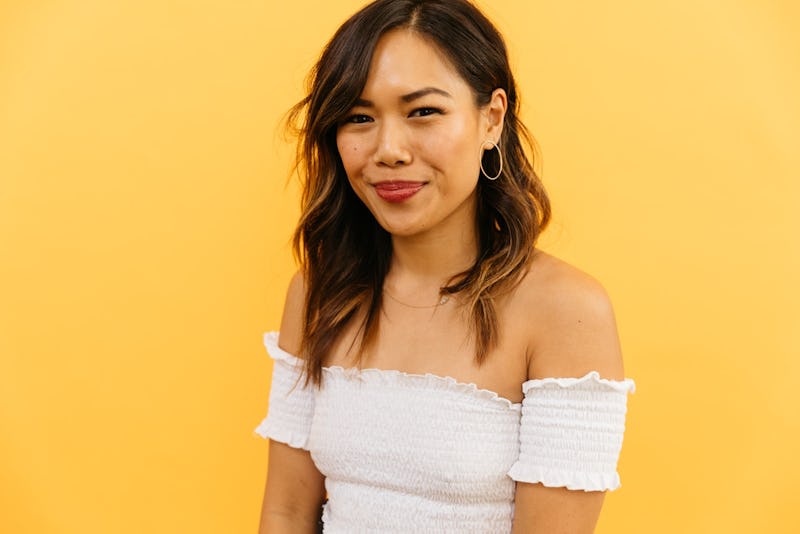 Ashley Batz/Bustle
Bustle and Coveteur are working together to bring you the best mix of the season's fashion and beauty releases, shopping tips, and service stories in ways that are both inspirational, and attainable. Check The Fall Style Edit channel weekly to see what we're up to.
How many of us have a beauty habit we learned when we were kids that we still use as adults? Hey, if it works, it works, right? Maybe you read a hack for the perfect eyeliner in a copy of Seventeen that you swiped from your older sister's room or watched your do lip liner so many times that no matter beauty tutorials you watch, you still swipe her technique.
For me, it was eyeshadow. I didn't get into makeup until much later, but from age three onward I took dance classes and every year my mom did my makeup for the dress rehearsals and recitals. She always arranged the colors the exact same way — dark shadow in the crease, light sparkly shade on the lid, even lighter sparkly shade on the brow bone. I still follow these principles today, because, well, they make sense. Like face contouring, the concept is based on where the shadows and sun would naturally fall on your face. Sometimes, old habits die hard for a reason! (But I do occasionally wish I knew how to do an elaborate cut-crease.)
Whether we cling to our beauty conventions because we actually love them or because they've become so routine that doing things any other way would seem almost wrong, it can be hard to shake the routines we learn when we're at our most impressionable. Here, 15 people share the tips, tricks, and habits they developed at a young age and still use today.
1. Sara Panton, Founder, Vitruvi
"I grew up in a rural farming community and my mom always kept our products simple and natural. From the age of 13, I've washed my face with only organic coconut oil. It takes makeup off easily, and leaves the skin perfectly hydrated after removing it with a warm cloth. I've tried many expensive cleansers since working in the beauty industry, but I haven't found anything that works as well as just plain coconut oil."
2. Sara Tan, West Coast Fashion & Beauty Editor, Bustle
"I grew up in a hairspray-obsessed household, so as soon as I started to style my own hair (around middle school) I quickly became hooked too. Even now, I can't help but reach for my hairspray after doing my hair, even if I'm trying to go for some soft waves. Except now, I use a more flexible hold formula than the stiff, sticky stuff from the '90s."
3. Michelle Corderio Grant, Founder & CEO, LIVELY
"In a conscious effort to let my long hair 'breathe' at night, I sleep with it brushed and down — never in a pony or a bun. This is something I've done since I was a little girl. While I can't be sure if this habit really helps keep my hair healthy and strong as I'd like to think it does, it definitely helps prevents tangles!"
4. Katerina Schneider, Founder, Ritual
"One of the main beauty habits I learned from my mom (who is a macrobiotic chef) early on, is the importance of eating a really nourishing breakfast every morning at the same time. A macrobiotic breakfast consists of grains (such as millet) as well as some sort of green vegetable to finish off your meal. Having consistency with your meals can help build a healthy gut. Also, having grains is a good way to build up probiotics which help build up the healthy bacteria to promote digestion. I believe that beauty starts from the inside out and having a healthy gut is a great way to achieve that inner and outer glow."
5. Irene Soccorso Sathue, Grief Facilitator
"I never go to bed with makeup on."
6. Danielle Duboise, Co-Founder, Sakara Life
"My mom was never obsessive about her skin. She'd go to bed with makeup on and she never, ever complained or seemed worried about wrinkles or signs of aging. Now at 70, she has amazing skin and is really comfortable in it. That upbringing gave me a sense of ease around my skin that I still very much value today. I take care of it, but I don't worry too much. I use clean products and do my best to keep it happy."
7. Keke Demea, Graduate Student & Journalist
"I always add Vaseline to my mascara to make my lashes appear longer. I read about the trick when I was in high school. [Now] I'm in my late 20s and I can't kick the habit!"
8. Lindsay Knaak-Stuart, Founder, Meant
"I started using hair conditioner as shaving cream when I was 12. I wasn't even supposed to be shaving my legs, so using what was available helped keep my shaving secret from my mom for a few years!"
9. Lyn Lewis, CEO, Journelle
"Cherry Chapstick — I still have one of these in my pocket at all times. It smells like summer time and familiarity, and puts a hint of color on my lips."
10. Whitney Tingle, CEO & Co-Founder, Sakara Life
"Until I started eating Sakara I had terrible acne. I literally tried every beauty/laser/cream treatment out there trying to heal my skin. I thought my skin was dirty and had 'bad' bacteria on it so I would scrub my face religiously every night. When my skin cleared up from changing my diet (and healing my gut) I realized it wasn't dependent on washing my face, but I still keep the habit of washing it every night as part of my beauty routine, even if I've had a long night."
11. Deenie Hartzog-Mislock, Freelance Copy Director & Essayist
"Using body oil every time I get out of the shower, before applying lotion. I have a bunch of Lebanese aunts who swore by body oils and cold creams (and their skin was out of this world), so I started using body oil after the shower when I was 15 and I just can't kick it. Also, my mom beat the fear of neck-wrinkles in me when I was pretty young, often telling me 'You can always tell a woman's age by her neck and her hands.' So I've been washing, toning, and moisturizing my neck with the same enthusiasm that I give my face since I was a teen, too."
12. Jamie Greenberg, Celebrity Makeup Artist
"I've been using falsies for years because they really make the eyes pop. And best of all, they are super helpful for allergy sufferers because they distract from the dreaded watery eyes, puffiness and red nose from Allergy Face. I'm always trying to teach my clients the best tips to combat beauty challenges from allergies, especially now when it's fall allergy season!"
13. Olivia Muenter, Fashion & Beauty Editor, Bustle
"I still put toothpaste on a stubborn acne once in a blue moon, even though I'm pretty sure that it doesn't help entirely. Even though I know better than to think that it'll really work, it still feels oddly satisfying sometimes, so I keep doing it."
14. Cody Homan-Grey, Enrollment Technology Coordinator, Sarah Lawrence College
"I'm basically a 1950s housewife who fully embraces the use of cold cream and then steaming my face every night."
15. Erin Fitzpatrick, News Editor, WhoWhatWear
"I've been using ChapStick brand since as long as I can remember. Yes, I went through phases of wanting to try the more offbeat flavors — cake batter, anyone? — but now I stick to the classic moisturizing one with the blue wrapper."
See, not all beauty habits need to be broken!