Ben Affleck Spoke Out Against Harvey Weinstein In A Lengthy Statement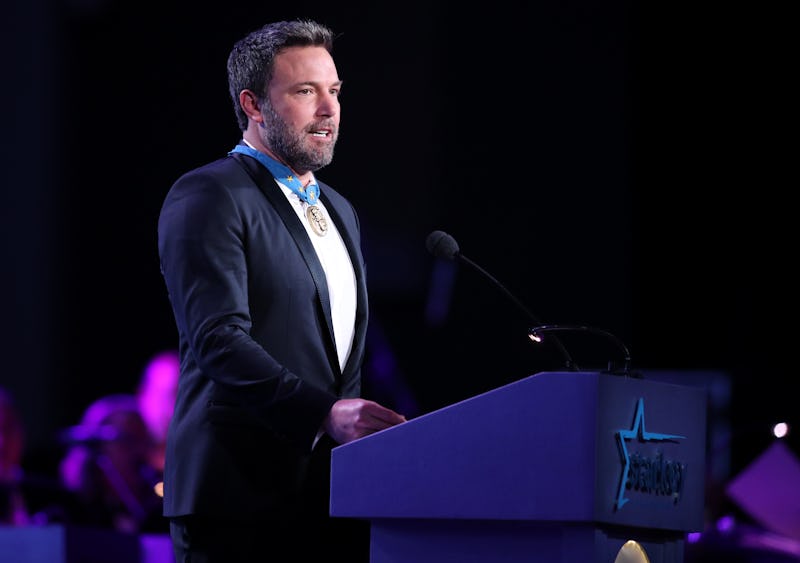 Adam Bettcher/Getty Images Entertainment/Getty Images
Another major Hollywood figure is speaking out about the sexual harassment and assault allegations against Harvey Weinstein. Many celebs, such as Jessica Chastain and Kate Winslet, have released statements in regards to the horrific allegations, and like his colleagues in the industry before him, Ben Affleck responded to the Weinstein allegations in a lengthy Twitter post. His response includes an important message for Hollywood to take note of.
Regarding the allegations, Weinstein issued a statement to The New York Times apologizing for past behavior but without confirming or denying the allegations. His lawyer issued a statement to Page Six that claimed the original NYT story was mostly based on "hearsay accounts" and that it was "saturated with false and defamatory statements."
On Tuesday, a second NYT story and a New Yorker story were published that contain more allegations against Weinstein. In the New York Times story, women, including Gwyneth Paltrow and Angelina Jolie, claim that Weinstein sexually harassed them. Paltrow claimed Weinstein asked her up to his hotel suite and then suggested they go to the bedroom for massages, which she rejected, but she feared she would lose her job. Jolie claimed to the New Yorker: "I had a bad experience with Harvey Weinstein in my youth, and as a result, chose never to work with him again and warn others when they did." In the New Yorker story, three women, including actor Asia Argento, allege that the producer raped them. A statement was released to the New Yorker by a spokesperson for Weinstein that states "any allegations of non-consensual sex are unequivocally denied."
More and more famous faces are speaking out as new reports are published, but in the days since the first NYT story came out, there were few high-profile men in Hollywood who had commented on the allegations. The ones who did included Mark Ruffalo, Seth Rogen, and George Clooney. Clooney even said that a failure to speak out about sexual assault allegations implied complicity, when he spoke with The Daily Beast.
On Tuesday morning, Affleck posted his message in which he says that he is "saddened and angry" over the allegations about his collaborator. He writes, "This is completely unacceptable, and I find myself asking what I can do to make sure this doesn't happen to others." He ends the statement with a call to action for Hollywood, and society in general:
"We must support those who come forward, condemn this type of behavior when we see it and help ensure there are more women in positions of power."
Affleck's message is one that Hollywood needs to hear right now. He's not only saying that more people should be standing up in support of the women who are making these allegations, but also offering ways in which the industry can improve overall. Hollywood is long overdue to offer more positions of power to women and women of color, especially.
Like Affleck's message implies, allowing more women to be in positions of power might help prevent abuses of power. However, this is only one part of the issue. The bigger issue at hand involves men with great influence being able to behave indecently and get away with it. Behavior like that which is being alleged against Weinstein should be widely condemned by everyone in the industry — and especially by those afforded with privilege like Affleck, who can actually make a change.
In response to the allegations in the original New York Times story, Weinstein's lawyer Charles J. Harder released the following statement:
The New York Times published today a story that is saturated with false and defamatory statements about Harvey Weinstein. It relies on mostly hearsay accounts and a faulty report, apparently stolen from an employee personnel file, which has been debunked by nine different eyewitnesses. We sent the Times the facts and evidence, but they ignored it and rushed to publish. We are preparing the lawsuit now. All proceeds will be donated to women's organizations.
In response to the allegations in the New Yorker story published on Tuesday, a spokesperson for Weinstein released the following statement to the publication:
"Any allegations of non-consensual sex are unequivocally denied by Mr. Weinstein. Mr. Weinstein has further confirmed that there were never any acts of retaliation against any women for refusing his advances. Mr. Weinstein obviously can't speak to anonymous allegations, but with respect to any women who have made allegations on the record, Mr. Weinstein believes that all of these relationships were consensual. Mr. Weinstein has begun counseling, has listened to the community and is pursuing a better path. Mr. Weinstein is hoping that, if he makes enough progress, he will be given a second chance."
If you or someone you know has been sexually assaulted, call the National Sexual Assault Telephone Hotline at 800-656-HOPE (4673) or visit online.rainn.org.