Sanders & Democrats Are Making Their "First Stand"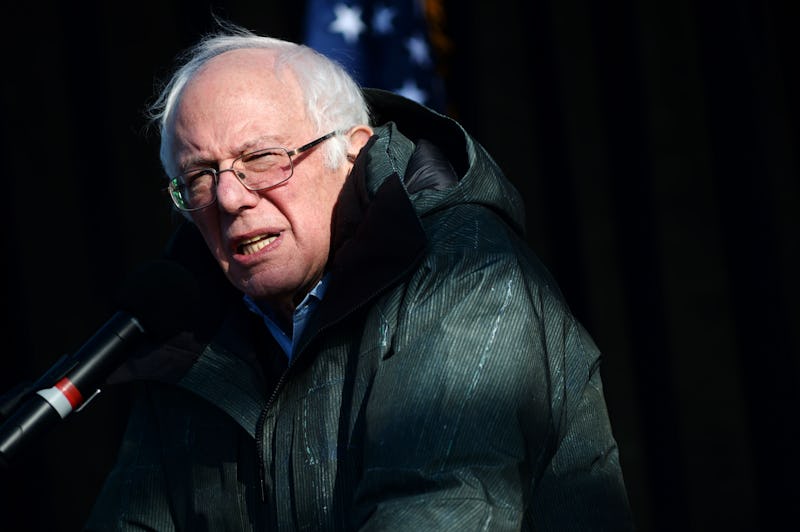 Rachel Woolf/Getty Images News/Getty Images
Democrats are hoping a national "day of action" will inspire Americans to come together in the fight to save health care. As Republicans promised an immediate repeal of President Obama's Affordable Care Act following the election of Donald Trump, Democrats vowed to make saving health care their "first stand" in Congress' legislative session. As part of their efforts to push back against Republicans' efforts to repeal the Affordable Care Act, Democrats hosted Bernie Sanders-inspired "Our First Stand" rallies in cities across the country Sunday in an effort to unite Americans in the fight to preserve access to affordable health care.
"There are differences of opinion about the Affordable Care Act — some like it, some don't like it, Sanders told thousands who gathered at a Our First Stand: Save Health Care rally in Warren, Michigan on Sunday. "But very few Americans believe that we should repeal the ACA without a replacement program to make it better. This is the wealthiest country in the history of the world. It is time we got our national priorities right."
The rally Sanders spoke at Sunday was one of at least 70 rallies Democratic leaders had organized in cities across the country in a nationwide campaign to build support for opposing Republican efforts to repeal the Affordable Care Act without a replacement plan in place.
In a letter sent to Democratic members of Congress in late December, Sanders and Senate Minority Leader Chuck Schumer, House Minority Leader Nancy Pelosi urged their colleagues to "vigorously oppose the Republican plan to end Medicaire as we know it and thrown our health care system into chaos" by participating in a nationwide "day of action" just before President-elect Donald Trump's inauguration weekend.
"It's important to bring the American people together to fight this radical proposal," they wrote. "Millions of Americans voted for Donald Trump after he promised not to cut Social Security, Medicare, and Medicaid. He must be held to those promises and should veto any legislation which cuts these vital and necessary health programs."
Although Obama's presidential term hasn't officially ended, Republicans have already begun laying the groundwork for a repeal of his health care reform law. In a move Democrats had been anticipating since Trump's election win, Republicans in the House and the Senate voted last week to begin dismantling the Affordable Care Act.
With Republicans holding the majority of seats in both the House and the Senate, Democrats are hoping to rally voters from both sides of the aisle to join them in opposing the GOP's efforts to repeal the Affordable Care Act.
At the rally in Warren, Michigan, speakers stressed that access to affordable heath care was a bipartisan issue. "Folks' needs for health care is not a Democratic issue, it's not a Republican issue, it's a human rights issue and every single person in this country deserves access to affordable health care," Cecile Richards, the president of Planned Parenthood, said Sunday.
In his speech Sunday, Sanders acknowledged the fight to protect access to affordable health care would not be an easy one. "I think that it's going to take civil disobedience to turn this around because they have the votes in both the Senate and the House, and the president," he said, adding Sunday's rally was "the beginning of the fight, not the end of the fight."