'One Tree Hill' & 'Grey's Anatomy' Are About To Have The Crossover Of Your Dreams... Sort Of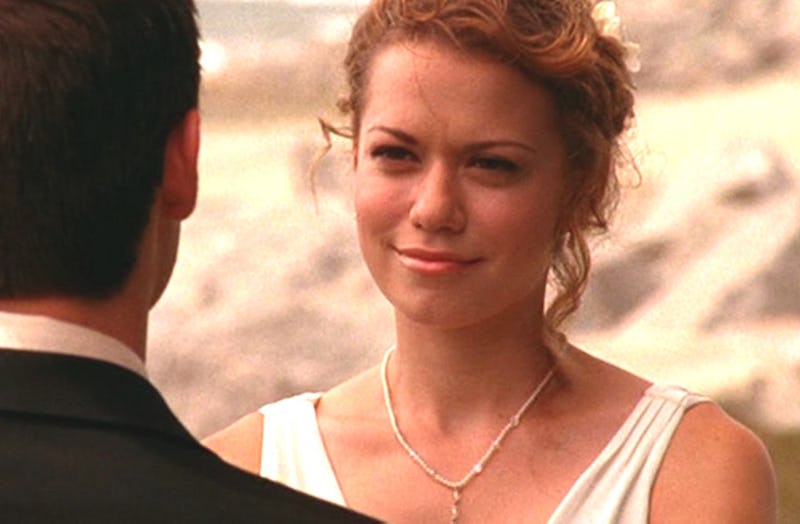 Warner Bros. Television Distribution
ABC's #TGIT lineup is about to get even crazier, as a One Tree Hill star is joining Grey's Anatomy for a multi-episode arc. Seriously. Bethany Joy Lenz, who played Haley James Scott on The CW series for nine seasons, is coming to the cast of Grey's Anatomy. Is it hot in here, or is it just 2006? As even a casual TV watcher knows, when Shonda Rhimes creates a show, she tends to draw from the same pool of actors. The original pilot for Rhimes' The Catch reportedly featured Lenz, though the role was recast before the now-canceled series made it to air. Lenz will make her actual Shondaland debut in Season 14 of Grey's Anatomy, according to The Hollywood Reporter. The announcement came one day after series regular Martin Henderson and recurring guest star Abigail Spencer exited the series.
Per THR, Lenz will play someone named Jenny, with the character's last name and job title unknown. Shondaland loves its secrets, so it's unlikely they'll reveal any more information until it's time to introduce Jenny into the world of Grey Sloan Memorial Hospital. But getting to see Lenz again — especially on a show that started during the same decade as the one that made her famous — will take you right back to your teen years.
Even in spite of her role in The Catch being re-cast, Lenz has stayed busy since One Tree Hill ended in 2012. She's starred, or guest starred, in multiple television series, including Dexter, Agents of S.H.I.E.L.D., and Colony. Lenz is also a musician, a fact that was likely burned into your brain by that terrible One Tree Hill subplot in which Haley goes on tour with a real sh*tty person and fellow musician named Chris Keller. It's pretty exciting to welcome her back into the world of juicy primetime dramas, even if it's only for a brief arc. Imagine telling your 15-year-old self that yet another original actor from One Tree Hill would appear on Grey's Anatomy. (Lenz's arc comes four years after Hilarie Burton, formerly known as Peyton Sawyer, made her own debut on the show for an arc.)
As the medical drama approaches its 300th episode, it's undoubtedly different from the Grey's Anatomy that fans once knew. The series that once focused on the personal lives of medical interns has careened wildly away from that, which is why it's still thriving. Core cast members have been added and subtracted from the ABC hit for as long as the show's been around. Massive plane crashes, hospital shootings, and the like have been ratings-boosting bummers, and transitioning main characters kept the show's seasons and plot lines from turning stale.
To have once been an obsessive follower of the series and to now dive into a later episode unprepared might leave one with the feeling that crop of fanfiction.net users stormed the writers' room somewhere in 2011. Also, let's face it: It's weird that Derek is dead. Despite all this, though, it's still Grey's Anatomy. It has as much grit and hope and heart as it ever has. And now it has Haley James Scott, too.
What's fun about being an avid TV watcher, apart from all of it, is little things like this. Even if you left One Tree Hill behind after the time jump, or left Grey's Anatomy behind when you had to reschedule your weekly crying hour, this bit of casting is still exciting. And, fortunately, it's not as mind-bending or as meta as it could be. It's not like the character Haley is packing up her husband and son and moving to Seattle to be Meredith's new best friend, after all.
Basically, Lenz joining the cast of Grey's is just a treat for longtime viewers. It's chicken soup for your teenage soul. And if Jenny happens to be from North Carolina, that would be really cool. Just saying.