Bethenny Frankel's Goodbye To Her Dog Cookie Will Make You Cry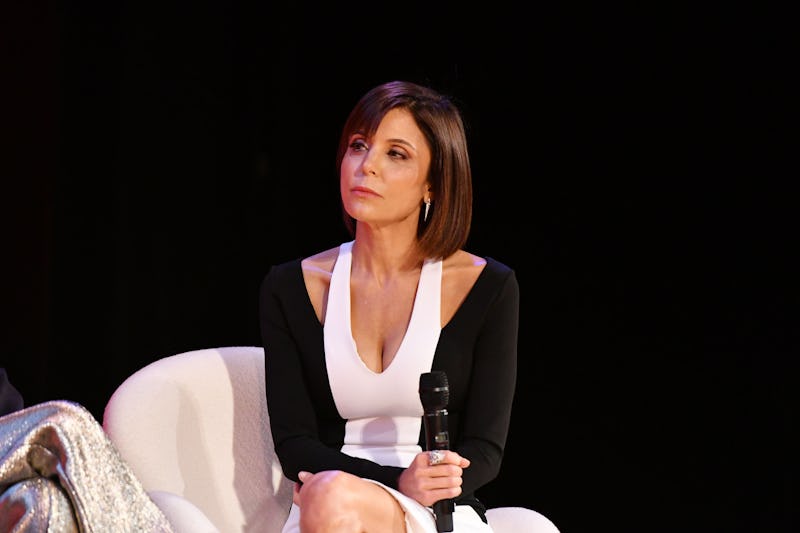 Slaven Vlasic/Getty Images Entertainment/Getty Images
Well, this sure is a sad update to a sad story. After suffering multiple seizures over the weekend, Bethenny Frankel's beloved dog Cookie has died. "My @cookiedabooboo is gone," the Real Housewives of New York City star tweeted on Monday. "Bless her furry heart." She followed up with a photo of the 17-year-old pooch, writing,
"My furry first baby, May ur next life be as beautiful as this one was. Thank u for the love u gave to me &my peanut. See u on the other side."
Cookie's convulsions started while the reality TV personality and her daughter Bryn were in the Hamptons over the weekend, where the closest vet was "40 minutes away." Frankel posted a devastating video of Cookie on Instagram, and then followed that up with a clip where she talked about what was going on. As she wiped away tears, she said,
"Sorry, I didn't mean to scare everybody. My poor daughter and I have been watching my dog have a seizure for 45 minutes. The hospital's so far, I don't think she's going to make it."
Frankel explained on social media that she wasn't sure if it was safe to try to drive the dog to the animal hospital while she was still convulsing; she was worried she might hurt Cookie even more if she tried to move her while she was in such a fragile state. So, Frankel asked her Instagram and Twitter followers what she should do.
When someone questioned her impulse to post about Cookie's seizures before heading straight to the vet, Frankel tweeted, "Bc u cannot call dog 911, so I needed you. I literally didn't know if lifting her would kill her or if she'd swallow her tongue." In another Instagram story, she said,
"Social media may be the devil, but for me it's an angel because I didn't know— My dog's convulsing, do I leave her here? Do I put a stick in her mouth? Do I take her to a vet? What do I do? My daughter's watching this, we have to do something. So we did. … The vet is 40 minutes away. Maybe they could've stopped the seizure if it was only five minutes away. They're saying she's not regaining consciousness, and we all know what's going to happen, obviously, but why is this so bad?"
She tweeted that she did take Cookie to the animal hospital "3 mins into foaming/seizure." She added, "Holding 30lb convulsing dog w 7 yr old&driving w bone in dying dog's mouth is rough #dontjudge."
On Sunday, Frankel wrote, "Thanks for the love. @cookiedabooboo is alive but had a very high temp & 45 min seizure so she's resting at hospital. Not time yet … We're going to visit @cookiedabooboo bc bryn made her a card. This is brutal." When someone asked Frankel for an update later on that day, she replied, "She is 17 & did have 108 fever & 45 mins of seizures, but she licked Bryn & reacted to my belly rubs. Better today but TBD."
Sadly, the dog's condition only worsened: On Monday morning, Frankel told her Twitter followers that Cookie "had 2 more seizures last PM." And a few hours later, she tweeted that Cookie "is gone."‌
What a heartbreaking loss, and what a difficult weekend this must've been for Frankel. Cookie was Frankel's longtime canine pal, a Bravolebrity, the inspiration behind a children's book, a fiercely loyal sidekick, an all-around lovely pup. As Frankel once wrote in an Instagram caption, Cookie was "on another level."
All of the love to Frankel, her daughter, and her two other dogs, Biggie and Smallz.