Betsy DeVos Can't Ignore Gun Violence In Schools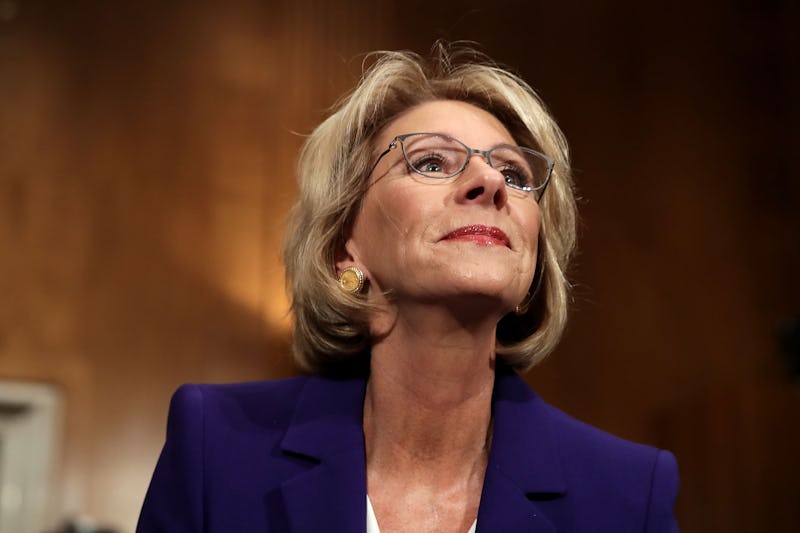 Chip Somodevilla/Getty Images News/Getty Images
On Tuesday, Betsy DeVos fielded the questions of senators from across the country as she asked them to confirm her as the Trump administration's secretary of education. Since her nomination by President-elect Donald Trump, DeVos has come under fire for her conservative views, including her advocacy of school voucher programs. But it wasn't vouchers that set a certain senator from Connecticut off in the Senate chamber on Tuesday — it was guns. Sen. Chris Murphy asked DeVos if guns should be allowed in schools, an important question that shows the potential influence she could have in the executive branch.
"One final question: Do you think that guns have any place in or around schools?" Murphy plainly asked DeVos. It was a topic that DeVos could have reasonably expected to come up, especially from Murphy. Murphy represents the state of Connecticut, home to the devastating Sandy Hook Elementary shooting. Before he was elected to the Senate, Murphy represented Connecticut's fifth congressional district in the U.S. House of Representatives. That district includes Newtown, where Sandy Hook Elementary is located.
Not to mention, Murphy has made a name for himself on the issue of gun violence. In June, he led a nearly 15-hour filibuster on the issue, bringing widespread attention to the government's slow-to-nonexistent action on guns. If anyone were going to ask DeVos about guns in schools, it was bound to be Murphy.
In response to Murphy's question, DeVos said, "I think that's best left to locales and states to decide." She went on to reference a school in Wyoming that may require a gun to protect students and teachers from grizzly bears. After a little back and forth, Murphy brought his question to a close with, "I look forward to working with you, but I also look forward to you coming to Connecticut and talking about the role of guns in schools."
Despite recent tragedies like the shooting at Sandy Hook Elementary, gun ownership and possession remain deeply divisive issues in the U.S. Perhaps as a result of that deep divide, the government has been painfully slow to change gun laws. As her second term in the White House comes to a close, First Lady Michelle Obama recognized how much left there is to do about gun violence in a recent interview with Oprah Winfrey.
"I wish we could have done something about gun violence. You know, we have spent so much time mourning with so many families."
The Obamas' chance to enact change on the issue of gun violence may be dwindling, but the Trump administration has an entire term ahead of it. If she is confirmed, DeVos will find herself in one of the best positions to do something about the presence of guns in schools. She will oversee the educational system not just in Connecticut or Wyoming, but across the country. That's a position that warrants a firm answer and a bold plan to keep schools safe.