A Judge Just Issued A Major Blow To Betsy Devos' Student Loan Policy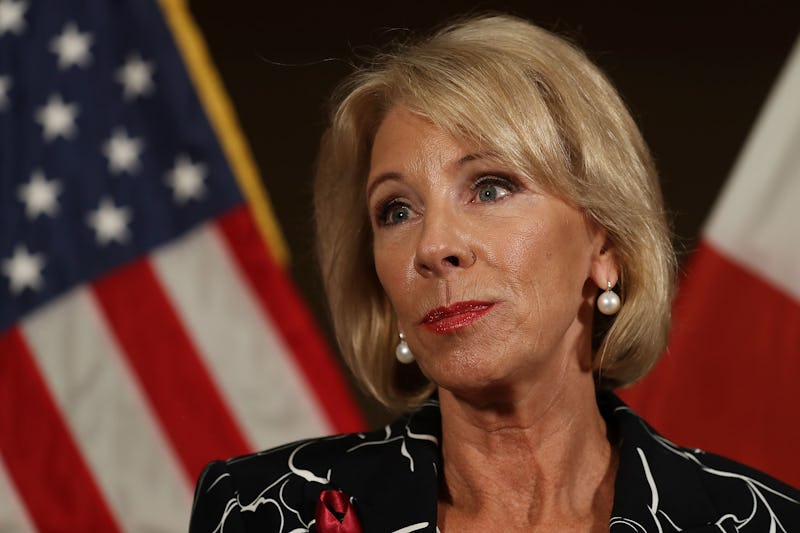 Joe Raedle/Getty Images News/Getty Images
A decision from the U.S. Education secretary to roll back rules aimed at protecting students from being defrauded by predatory colleges immediately came under fire from advocacy groups — and a federal judge backed up those criticisms on Wednesday. U.S. District Court Judge Randolph Moss ruled that Betsy DeVos' delay of Obama-era student loan policies was illegal.
Democratic attorneys general from 18 states and the District of Columbia sued DeVos and the Department of Education last year for keeping borrower protections from taking effect last July, Politico reported at the time. The policy that never became a reality would have made it easier for defrauded borrowers to receive student loan debt forgiveness. According to Moss' opinion, DeVos' move to delay the regulations was "unlawful," "arbitrary and capricious," and "procedurally invalid."
"A federal court agreed that the actions of @usdoegov are not only wrong, they are illegal. It is time for the #BorrowerDefenseRule to go into effect and give thousands of students the relief they've been waiting for," Massachusetts Attorney General Maura Healey, who led the lawsuit against DeVos, tweeted on Wednesday. "No matter what this administration throws at us, we will continue to stand up for students and families in Massachusetts."
DeVos delayed the Obama administration's rule until July 2019 so that the agency could rewrite it under her leadership. But DeVos' order to delay the policy didn't follow the proper legal procedures, Moss ruled. The judge will determine how the department should proceed on Friday morning, Politico reports.
The agency released the rewritten rule in July with the intent that it would go into effect a year later. Student loan borrowers whose schools shut down while they were enrolled would no longer automatically receive debt relief, and those who were given the option to complete their degree at another college would not have their loans forgiven under DeVos' version, CNN reports.
In addition, the new rule would instruct the Education Department to consider each application for loan forgiveness individually, rather than considering groups of applications that provide evidence of the same fraudulent behavior, and borrowers who had not gone into default would not have their loans forgiven.
The Department of Education updated the regulation under the Obama administration after it received an "unprecedented influx of borrower defense claims" related to Corinthian Colleges. A Department of Education found in 2015 that the for-profit college defrauded students by presenting misleading information about career opportunities and job placement after graduation, USA Today reported. Corinthian closed operations and its campuses in 2015. Under the current administration, the education department determined that only six of about 60 programs at Corinthian Colleges didn't meet federal guidelines, and thus determined what percentage of student loans a former student could have forgiven based on which program they attended.
DeVos said in a statement at the time that this process "will allow claims to be adjudicated quickly and harmed students to be treated fairly," while also protecting "taxpayers from being forced to shoulder massive costs that may be unjustified," per the Associated Press.
According to analysis from the Associated Press, only 1,000 of the total 16,000 fraud claims approved by DeVos' Education Department received forgiveness on 100 percent of their loans. And advocates say rolling back the Obama-era regulation wouldn't help increase that number.
Although it's still unclear what will happen from here, Sen. Elizabeth Warren congratulated Healey on the "crushing defeat," tweeting that the ruling is a "huge win" for students who were "scammed" by for-profit colleges.