Beyonce Has The Right To Keep Her Twins' Birth Private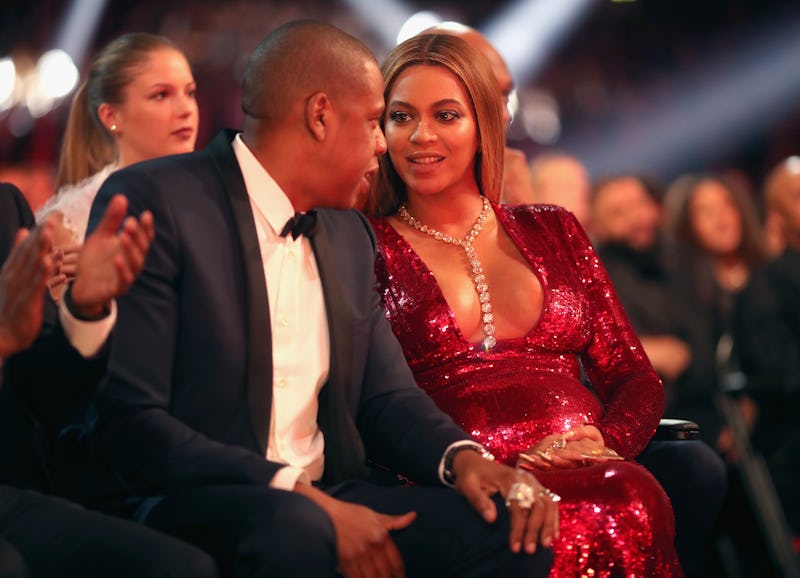 Christopher Polk/Getty Images Entertainment/Getty Images
Beyoncé and Jay Z have reportedly welcomed their twins, according to People magazine. The news has set off an internet frenzy, just as it did when the pop star gave birth to her now 5-year-old daughter, Blue Ivy. One thing I hope won't be the same as her previous birth though? Any insane rumors surrounding the legitimacy of her pregnancy.
Speculation that Beyoncé was going into labor with her twins actually first started circulating several days ago, but it's not until Sat., June 17, that reports began suggesting that she gave birth. "Bey and Jay are thrilled and have started sharing the news with their family and closest friends," a source told People. Neither Bey nor Jay Z have confirmed the news themselves, however (Bustle has reached out to Beyoncé's rep in response to these reports, but has not yet heard back).
Of course, the internet immediately began blowing up with excitement, with fans taking to Twitter to wonder when Beyoncé herself will confirm the news. While some are eagerly demanding for her to release the first ever photos of the newborn babies, others are insisting we should wait to hear the news from Beyoncé herself before going into full-fledged freakout mode. As musician Zara Larsson succinctly put it on Twitter, "Beyoncés twins are here when Beyoncé confirms it."
Larsson has a point. Beyoncé has the right to take some quality time with the newborn babies before having to bring them into the public spotlight — especially considering the bizarre media speculation surrounding her first pregnancy. Who could forget all those crazy conspiracy theories circulating Beyonce's pregnancy with Blue Ivy?
If you don't remember: The pop star was accused of faking her pregnancy after a television appearance that prompted some to viewers claim that her belly seemed to "fold" in on itself as she sat. Some took that as proof that she was wearing a fake belly — despite the fact that it's pretty obvious that it's her dress that is folding and not her actual belly.
The rumors got so out of control — with conspiracy theorists even going so far as to search for the surrogate whom they thought was actually carrying their baby — that Beyoncé's publicist actually had to release a statement, saying the speculation was "stupid, ridiculous and false." Crazy.
It's to be expected that every time Beyoncé does pretty much anything, it's going to cause a stir on social media. But rumors about her birth are going too far. She shouldn't have to shoot down questions over the legitimacy of her pregnancy — not only because it's absurd, but also because her pregnancy is hers, her body is hers and it's really no one else's damn business.
Too often, people feel they have the right to access every part of a celebrity's life, simply because they're in the public eye. But the truth is, Beyoncé doesn't owe us anything but great music (which she already delivers in spades). Demanding anything other than that — especially information about something as personal as the birth of her children — is just disrespectful.
Hopefully, that kind of ridiculous speculation won't be a problem if and when Beyoncé does choose to confirm the news of her twins' birth. She deserves to enjoy as much private time with her family as she wants without facing a bunch of unnecessary questions later. After all, it's her life and she's the boss.