A Look At Beyoncé & JAY-Z's Post-'Lemonade' Body Language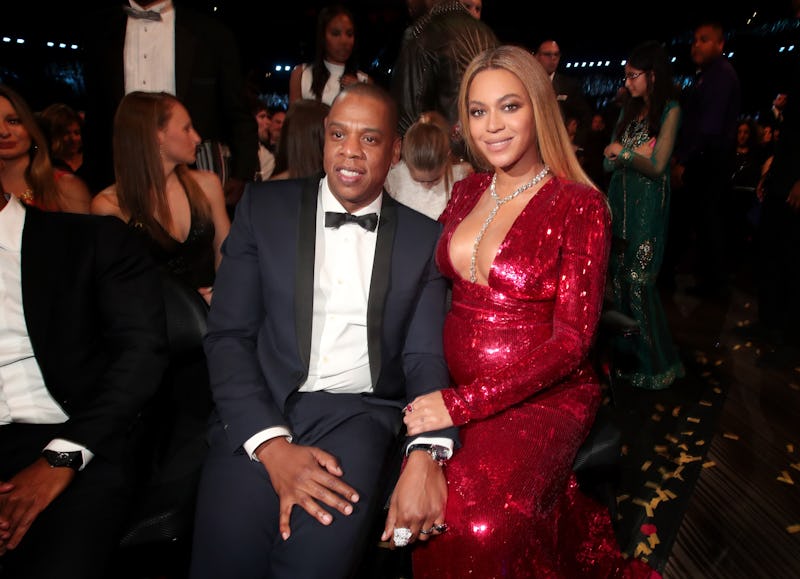 Christopher Polk/Getty Images Entertainment/Getty Images
Those who have been waiting for new music from JAY-Z can finally rejoice. JAY-Z has released 4:44, his eagerly awaited 13th album. As soon as the album was released fans immediately wondered if JAY-Z's album would have any references to his relationship with Beyoncé, and, well, certain lyrics seem to point in that direction. When Bey released her visual album, Lemonade, last April, fans noticed that her music was full of hints about Jay's possible infidelity during their marriage. Looking back now, Beyoncé and JAY-Z's body language after Lemonade show that the couple had seemingly already worked past and moved on from any issues they were having, proving that they are probably in this for the long haul.
When Lemonade was released, it seemed like Beyoncé didn't hold anything back in speaking about the pain she incurred during her marriage. But, as a whole, Lemonade was a representation of the journey she went through in her pain, which ultimately lead to forgiveness, as shown in her song "All Night", in which Bey sings, "Nothing real can be threatened/ True love breathes salvation back into me." Listening to the album all the way through gives you the sense that love was found again, and JAY-Z and Beyoncé's body language in photos taken after Lemonade show that they could have been closer than ever after all that they've been through together.
Immediately after Lemonade was released, people speculated about the status of Bey and Jay's marriage. What did the album mean? Did they break up? Well, the two didn't really let speculation phase them. Ahead of the first date of her Formation tour in Miami last April, E! News spotted the couple seated next to each other on a golf cart, with Jay smiling from ear to ear. A source told E! at the time,
"Things seem to be going well with the two of them. When only a few people were around, Jay showed some affection [toward] Beyoncé. He put his hand around her and gave her a big hug."
Sounds like they didn't mind if people saw them together and happy already, hinting to the idea that the couple had already resolved any previous issues that were expressed in the lyrics of Lemonade.
Perhaps a huge indicator of their status, Jay and daughter Blue Ivy joined Beyoncé for the majority of her Formation Tour, supporting her along the way. A source claimed to E!, "Beyoncé's tour has brought Jay and Beyoncé very close. Jay has been by Beyoncé['s] side during many of her shows so far." He also eventually joined her on stage for the finale of the tour in October, performing "Drunk In Love," which celebrates their relationship.
Yeah, by the looks on their faces on stage, it looks like they worked through everything just fine. Soon after, Bey and Jay were both on hand to support Hillary Clinton at a rally in Cleveland, and the two looked as in love as ever:
Now that their marriage looks very stable, JAY-Z's 4:44 certainly sounds like his response to Lemonade, in the way he also speaks about his own personal life and growth. On his title track, "4:44," he raps, "I promised, I cried, I couldn't hold/ I suck at love, I think I need a do-over/ I will be emotionally available if I invited you over." He even has an emotional ending to the track, which references their daughter, "What good is a ménage à trois when you have a soulmate? /You risked that for Blue'?"
When Jay explained the meanings of the songs on 4:44 in an exclusive for iHeartRadio, he had this to say about "Smile,"
"'Smile' is just what it is. There are gonna be bad times, and those bad times can do two things: they can get you in a place where you're stuck in a rut, or it can make your future that much better because you've experienced these things."
Judging by that explanation, his lyrics on 4:44, her lyrics on Lemonade, and the photos of them taken in the time between the albums, it sounds like Beyoncé and JAY-Z went through tough times but dealt with their issues head on and came out victorious. After Lemonade, their body language in photos doesn't show any signs of trouble. They've clearly been working at their relationship for a long time and are now in a very mature place in regards to it. It's a true testament to their love.