Beyonce & JAY-Z's Halloween Costumes Are Epic '90s Musicians That You'll Definitely Recognize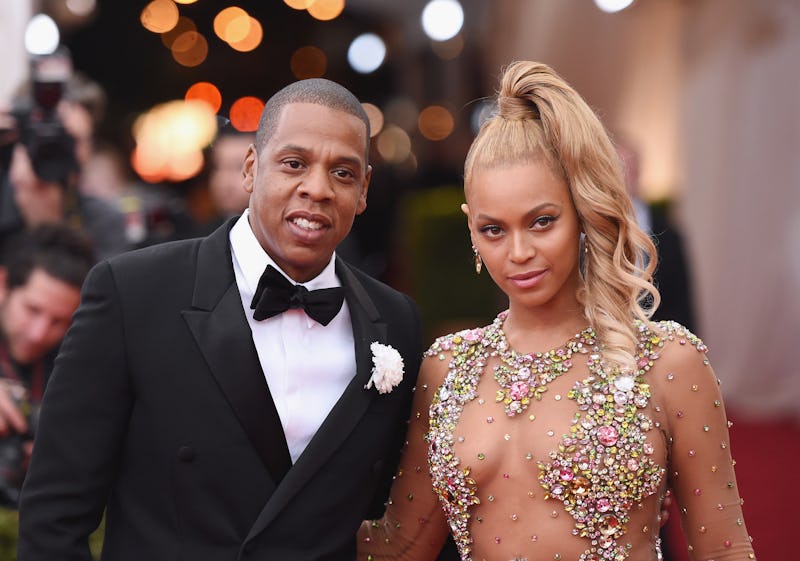 Mike Coppola/Getty Images Entertainment/Getty Images
It's not even Halloween yet and the Carter family is already slaying fans with their wickedly good costume pairings. Beyoncé and JAY-Z dressed as Lil' Kim & Notorious B.I.G. for Halloween 2017, but their costumes will give you all the feels of a '90s hip-hop video. It goes without saying that Bey and company always do the holidays up in style, but when it comes to group costumes for All Hallows' Eve, there's no denying that that the Carter family always manages to take fans on a trip down memory lane.
A sneak peek of the multitalented couple's first costume showing for this year came amidst the Costume Couture Party given by Beyoncé's former Destiny Child's group mate and sister-friend Kelly Rowland in Los Angeles on Sunday, Oct. 29. As posted on The Shade Room's Instagram, Beyoncé attended the star-studded soirée decked out in a white blouse and dark shades, similar to the get up that Lil' Kim rocked in Missy Elliot's video for "The Rain (Supa Dupa Fly)" back in 1997.
Meanwhile, Jay paid homage to his dear friend, the legendary rapper Notorious B.I.G for this year's festivities. To master his fellow Brooklynite compadre's signature swag, JAY-Z donned a look easily recognizable to fans of the beloved slain rapper: a red leather jacket and white t-shirt paired with what appears to be a pair of Versace sunglasses (Biggie's preferred choice of eyewear), and the walking cane that Biggie was force to rely upon following the Sept. 1996 car accident that maimed him just months before his untimely death in 1997.
The tribute to the rappers definitely works for Beyoncé and JAY-Z as a couple given Biggie and Kim's widely documented love affair during the '90s. It's also a great nod to two people who Jay has ties to in real life. Coming up in the '90s hip-hop era himself, JAY-Z has long had a close relationship with both Biggie and Kim (who, like Jay and Big is also from Brooklyn).
It is unclear whether or not this will be the only dress up night for the Carters as Beyoncé typically does more than one costume for the holiday, most times incorporating a look that also brings her eldest daughter Blue Ivy into the fold. Now a mom to three children, it remains to be seen if Bey will make it a total family affair and put the twins into the Halloween mix for 2017.
This year isn't the first hip-hop infused Halloween for the Carter clan. In the past, Bey has collaborated with Blue Ivy and her mother, Tina Knowles to recreate the all female rap group, Salt-N-Pepa. Beyoncé shared several snapshots of the epic costume moment with Instagram followers in October 2016. Jay was also in character that year, channeling the late '80s/early '90s era in a colorful leather jacket and thick gold chains.
Pulling double duty for the holiday in 2016, Beyoncé and Blue Ivy also dressed as Barbie dolls (Blue Ivy presumably as Barbie's kid sister, Skipper), while JAY-Z went as Barbie's longtime bae, Ken. The Carter fam also collaborated their looks for 2015 by reenacting characters from Eddie Murphy's 1988 box office hit, Coming To America. The moment proved that the Carters were officially in the Halloween game for the long haul.
Prior to that, Queen Bey and Blue Ivy shared a sweet mother and daughter moment, dressing as the iconic Michael and Janet Jackson. It seems that Beyoncé, more often than not, posts her family costume pics on either Oct. 31 or the day after. So we may be in for a real Halloween treat once the holiday officially rings in on Tuesday.
Now that the Carters have become a family of five, the possibilities for group costumes are seemingly endless. As fans patiently wait to see what's to come of future costumes from the bustling brood, you've got to admit that Beyoncé and JAY-Z definitely "Hypnotize" as Lil' Kim and Notorious B.I.G. for Halloween 2017.