Beyoncé Turned Down This 'Beauty & The Beast' Role, But It May Have Been For The Best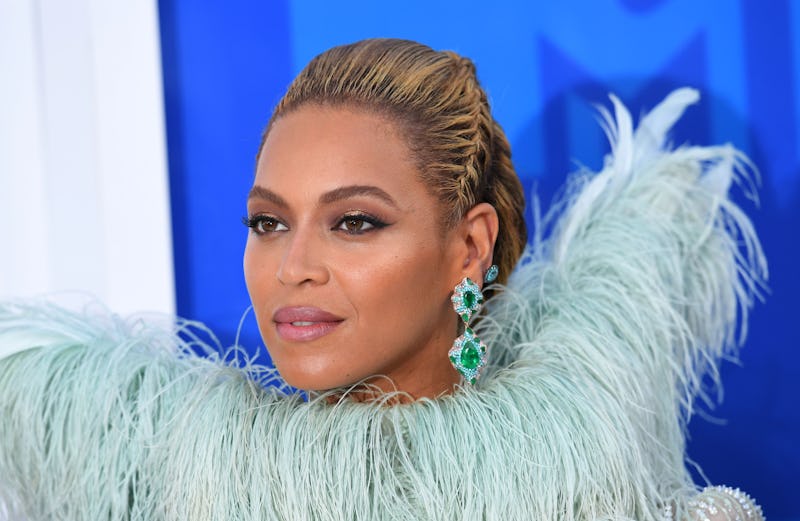 ANGELA WEISS/AFP/Getty Images
These days, there's no such thing as having "too much" Beyoncé, and famed director Bill Condon totally agrees. Condon recently revealed to Yahoo Entertainment that Beyoncé almost starred in The Beauty & Beast live-action film. She reportedly was offered the role as Plumette, the feather duster. (Bustle reached out to Bey's rep for comment, but did not receive an immediate response.) Gugu Mbatha-Raw was ultimately cast in the role, and honestly, that may have been for the best.
Beyoncé is no stranger to the movie-musical world, and as luck would have it, Condon had previously been part of one of her biggest breakout roles. That's right — he directed the big-screen musical Dreamgirls, starring Jennifer Hudson and Beyoncé in 2006, so he knows firsthand just how dynamic of a presence Bey is.
In the interview with Yahoo Entertainment, Condon talked a bit about trying to get Mrs. Carter to be part of the 2017 live-action production, saying, "I even tried to get her into Beauty and the Beast, but it wasn't a big enough part. She would have been a good feather duster." But, when looking back at all of the big life changes Queen Bey has experienced over the past two years, adding another major production under her belt may have stretched her a little too thin.
Not that Beyoncé wouldn't have been outstanding in the remake, because seriously, what can't she do? Not only has she lent her talents to musical productions such as Dreamgirls and MTV's early '00s hit Carmen: A Hip Hopera, she's also pretty much known for dominating the big stages.
Oh, and when taking her surprise masterpieces Lemonade and Beyoncé into consideration, she is the queen of creating musical moments in pop culture. But in between headlining sold-out world tours, running and investing in businesses, and family planning, trying to find time to play a not-so-major movie role could be close to impossible to do.
Knowing that Beyoncé is such a driving force in the entertainment world, it's surprising she hasn't been asked to star in even more movie-musicals in the past. In fact, when thinking about this ridiculousness for himself, Condon responded in the Yahoo interview: "Isn't that weird? God, it seems crazy!"
"You look at something like Lemonade: that is brilliant," he continued. "That is a brilliant new direction for movie musicals." And he's so right. Recently, it's been rumored that Beyoncé is one of the top picks to star as Nala in Disney's upcoming The Lion King remake — alongside Donald Glover as Simba, Seth Rogen as Pumba, and James Earl Jones reprising his role of Mufasa. (When the Lion King rumors first spread, Bustle reached out to Walt Disney Pictures Studios and a rep for Beyoncé for comment, but did not receive an immediate response.) It's also been reported that Beyoncé could possibly gain a producer credit for the live-action film, where she would have a heavy hand in the official soundtrack curation. The details have yet to be confirmed, but in a perfect world, fans could expect to hear a rendition of "Can You Feel The Love Tonight" featuring the singer sooner rather than later.
The fact remains: Anything that's blessed enough to have the Beyoncé touch is bound to be a phenomenon. So, it's only right that filmmakers are seeking her involvement in upcoming projects. As for Beyoncé choosing not to be part of the Beauty & The Beast live-action remake, let's just chuck her decision-making up to it just not being the right time, rather then a diss to the actual production.
If you've been a fan of Beyoncé for a while, you know that her work is pretty much her life. And now that the dust has settled after giving birth to twins Sir and Rumi, there's no telling what boss moves the queen is planning to pull out of her sleeve. Only time will tell.