Beyoncé Had A Wardrobe Malfunction Mid-Performance At Coachella & STILL Won A Dance Battle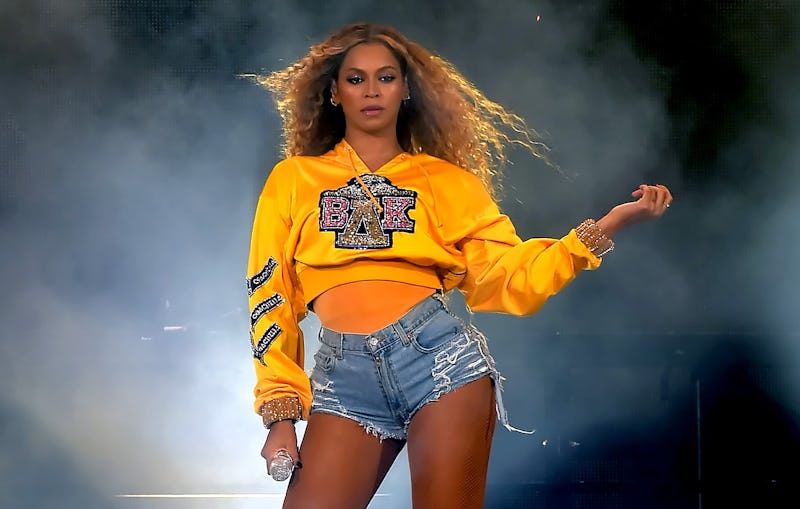 Kevin Winter/Getty Images Entertainment/Getty Images
Even the performances heard around the world comes with a few mishaps. Beyoncé had a wardrobe malfunction at Coachella, which was quickly deemed Beychella by DJ Khalid. (New name alert.) Despite her strap almost falling off, she still won a dance off. Needless to say, the internet had a whole lot to say about it and the way Bey handled it on stage.
As if reuniting Destiny's Child, having a dance off, and starting a new sorority called Beyoncé Alpha Knowles wasn't already enough, Beyoncé also did it all battling a wardrobe malfunction. While on stage during the end portion of her two-hour performance, the singer's left strap on her sparkly bodysuit was a little too loose.
To no surprise, Beyoncé handled it like the queen that she is. The singer continued the performance and slayed the entire time. Beyoncé didn't hold back, but she did have to hold her hand to her top throughout much of her "Get Me Bodied" performance. That didn't stop her from winning an epic dance battle against Solange though.
Regardless of the malfunction, Beyoncé kept it together and kept her top on for the entire performance. There is no word on who was fired after she got off the stage though.
All jokes aside, she handled it like a pro and proved that she truly can do it all no matter what.
Despite the slight malfunction, the wardrobe team was still pretty proud of working with Beyoncé. According to Twitter user @aannnnnnnnnnt, he was a part of the process and says it was worth all the stress and long days.
"It's finally nice to say that i was apart of Beyoncé's wardrobe team for Coachella 2018 and seeing the outfits i put together along with my team on that stage was honestly worth all the stress and long days. to the man upstairs, thank you for this opportunity [sic]," the tweet reads.
But Twitter had something different to say. To say that people had a lot to say about the malfunction is an understatement. People noticed the slight misfit, championed Bey for handling it like a boss, and poked a little fun at the wardrobe team.
Someone is going to pay...
"Hi, this is Blue. Who do I talk to about my momma's top?"
Not today, Satan. Not today.
It's safe to say that everyone would love to be a fly on the wall behind the stage.
There is a lot of iconic moments that were planned during this performance, but this unplanned one was the most iconic of all.
In case you were wondering why she is queen.
Probably wearing big sunglasses and a giant hat, nonetheless.
Beyoncé can make pretty much any mishap work, but someone is definitely getting a baseball bat to the back of the head for this one.
She killed it through all of the elements.
This is actual footage of people'd response after watching this epic performance. Through chaos and wardrobe malfunctions, the queen will prevail.
Let's get back to the real issue here. Who the heck is trying to show the world Beyoncé's boobies?
Simple, sweet, and to the point.
The whole fam is here to make sure things go as planned.
The world was not ready for this performance, but Beyoncé sure was.
If there was any argument about Beyoncé not being able to handle what life throws at her, this moment in time should clear that up. It's worth noting that Beyoncé has not commented on the sartorial mishap, and, let's be honest, likely never will. At least there are the reactions to get us all through.