You'll Laugh At These Puberty Awareness Week Stories From The 'Big Mouth' Cast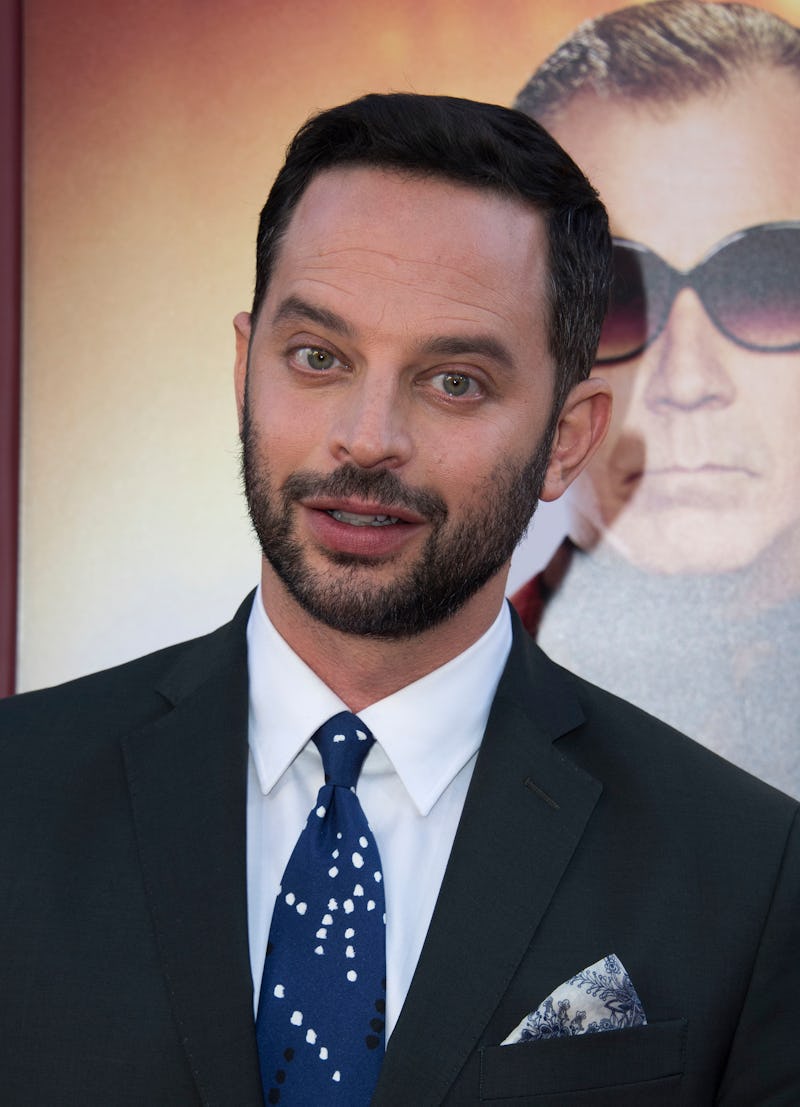 VALERIE MACON/AFP/Getty Images
Nick Kroll recently appeared on The Late Show with Stephen Colbert to launch the #PuberMe campaign and raise funds to help Puerto Rico. The initiative already earned over a million dollars to support the U.S. territory, and revealed the awkward phases of A-list celebs across the industry. The movement continues with Big Mouth co-creator Kroll's announcement of Puberty Awareness Week. The event is sure to to make late-bloomers and awkward teens feel less alone, and will feature Kroll and co-stars sharing their funny, ridiculous, and often relatable stories about puberty online.
The week fits the theme of the Netflix animated series, puts a comical spin on the awkwardness of youth. The show will feature voice acting from funny people like Maya Rudolph, Jessi Klein, Jason Mantzoukas, and John Mulaney, Jenny Slate, Fred Armisen, and Jordan Peele. To promote the series, some of these stars all sharing embarrassing moments from their younger years on the Big Mouth Instagram.
The show, which is the brain-child of Kroll and his longtime pal Andrew Goldberg, tackles the more taboo experiences of puberty. The promo poster for the series reads, "Coming of age all over the place" — so that should give viewers a good sense of the hormonal territory this series explores. It's a show that isn't afraid to get candid, and the cast's choice to share some of their most embarrassing stories of adolescence is fitting. The Puberty Awareness Week promotion was announced on Instagram on Tuesday and is wrapping up, so it's the perfect time to check out some of the hilarious videos from Kroll and his colleagues.
Puberty Awareness Week started with contributions from fans, who are invited to share their hilarious and most embarrassing stories from puberty in the comments on Instagram. The winner will get their story featured in a drawing from the Big Mouth creators, and some of the memories fans shared are pretty funny. However, the crew behind the show didn't leave the awkwardness up to the viewers, and cast members also took a dive into some of the most pressing concerns that puberty brings up.
Kroll explored a couple of these topics, and in one video discussed the "most awkward facts of life conversation" he had with his parents. AKA "The Talk" or "The Birds and the Bees" discussion. In the Insta-video, Kroll admits that he was a late bloomer, but that didn't stop his mom from telling him all about the changes he would experience. "My mom would tell me what was going on with myself and others in the realm of puberty, which was really nice of her because she didn't want it to be a mystery," Kroll said. "But it also made me very aware that I wasn't hitting puberty."
Apparently the sure sign of puberty that Kroll missed was swollen nipples. "She would say stuff to me like you see, Andrew's nipples are engorged, they're swollen, which means he's going through puberty," he said, continuing the frank story, "But I would be looking around at all my buddies, being like 'who's got swollen nipples?' And I knew oh he's in the middle of puberty, and I was like 'I am NOT.'"
Kroll wasn't the only one to share a story about missing the puberty train, and actor and writer Jessi Klein also contributed a late-bloomer tale. In a segment about her first kiss, Klein said that her parents forbade her from locking lips with the guy she was dating. "Right before I was supposed to go on my first date, where I was hoping to have my first kiss. which I was already too old for," Klein said. "My dad realized I was about to go on a date and let me know that everyone in my family might have tuberculosis and I was not allowed to kiss the person I was about to go see." Most people's first kiss story isn't romantic, but having to put off the moment because of a potential infectious disease is definitely unique.
A terrible first-kiss is a pretty universal story, even if it wasn't related to tuberculosis. Many people didn't get through puberty smoothly, which, in addition to raising funds for an important cause, was part of Kroll's plan with the #Puberme campaign. It's so important to have a show that gives a realistic depiction being a tween or teen, even the messy moments.
Every woman likely remembers something about their first period, for better or worse. Maya Rudolph shared a bit about her first flow. "I know I was in 7th grade when I got my period, but I don't remember the day. It was the '80s so I'm sure a sweatshirt was involved," Rudolph said in the Instagram clip. "I'm sure I tied a sweatshirt around my waist and was like 'I'm uncomfortable.' That was the code in the '80s when girls had their period we tied sweatshirts around our waist." Rudolph's story may be from years ago, but it's still totally relatable.
Big Mouth was released on Netflix on Sept. 29, so the whole series is available to stream now. If you want more of the hilarious stories from Nick Kroll and his crew, check out the show's Instagram as well. In the past two weeks, Kroll has managed to turn his cringe-worthy years of puberty into a force for good in the world; his #Puberme movement to help Puerto Rico and the funny yet meaningful animated series.