Bill Cosby Was Labeled A "Sexually Violent Predator" — Here's What That Means For Him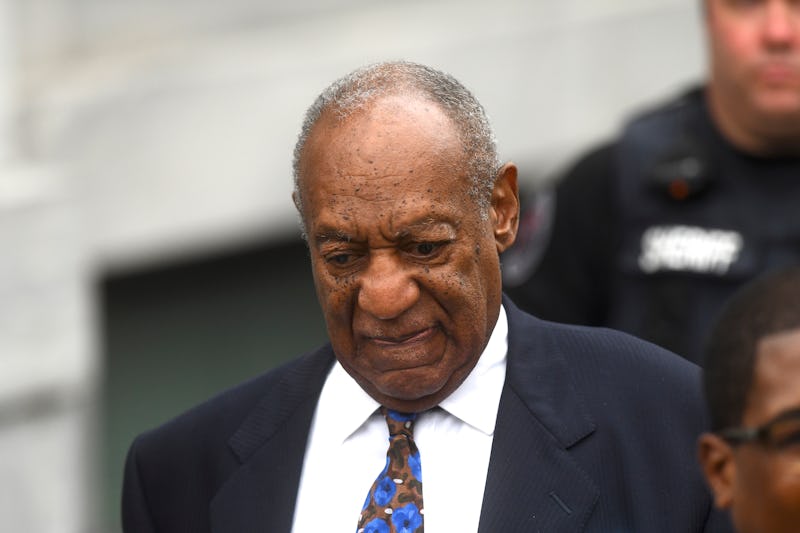 Mark Makela/Getty Images Entertainment/Getty Images
On Tuesday afternoon, disgraced comedian Bill Cosby was designated a "sexually violent predator" and sentenced to three to 10 years in prison for drugging and sexually assaulting Andrea Constand in 2004. This means that even after completing his prison term, Cosby will face additional, lifelong consequences for his crimes.
More than 50 women have accused Cosby of sexual misconduct in some form or another. He denies all of the allegations, and pleaded not guilty when charged with sexually assaulting Constand.
A "sexually violent predator" is a sex offender who, in the eyes of Pennsylvania's Sex Offender Assessment Board, has a "mental abnormality or personality disorder the makes the person likely to engage in predatory sexually violent offenses." The board had previously recommended that Cosby be given this label back in July, and in his sentencing hearing Tuesday, Judge Steven O'Neill agreed.
As a result, Cosby will be required to do the following for the rest of his life:
Register as a sex offender with the Pennsylvania State Police;
Undergo monthly sex offender counseling;
Be subject to "active community notification," meaning that law enforcement will notify local residents, children and schools of Cosby's address and sex offender status wherever he lives.
Kristen Dudley, a psychologist and member of the state board, explained what a "sexually violent predator" is in lay terms while testifying for the prosecution on Monday.
"The behaviors are beyond their controls, so they are urged to act on it," Dudley said. "[Cosby] is likely to reoffend."
Although dozens of women have accused Cosby of sexual harassment or assault, only Constand's case went to trial, as the the statute of limitations on many of those other accusations had expired. He was convicted of aggravated indecent assault in April, and prosecutors had asked that he be given the maximum sentence of 10 years in prison.
Constand delivered a statement to the court ahead of Cosby's sentencing, and spoke extensively of the effect that his assault had on her.
"The shame was overwhelming. Self-doubt and confusion kept me from turning to my family or friends as I normally did. I felt completely alone, unable to trust anyone, including myself," Constand said. "Bill Cosby took my beautiful, healthy young spirit and crushed it. He robbed me of my health and vitality, my open nature, and my trust in myself and others."
During the sentencing, O'Neill said that he's "given great weight to the victim impact testimony in this case, and it was powerful."
"The court must consider the protection of the public and the gravity of the offense and the rehabilitation of the defendant," the judge said. "Thirty-four months this has gone on. Your time has come."
In addition to his jail sentence and sexually violent predator designation, Cosby was denied bail and ordered to pay $25,000 plus the cost of the prosecution, CNN reports. His legal team has already appealed, but Cosby was nonetheless jailed immediately after the sentence was handed down. Cosby's attorney Andrew Wyatt condemned the process by which his client was convicted, and accused prosecutors of bringing the "most racist and sexist trial in the history of the United States."