Tennis Legend Billie Jean King Defended Serena Williams In Two Powerful Tweets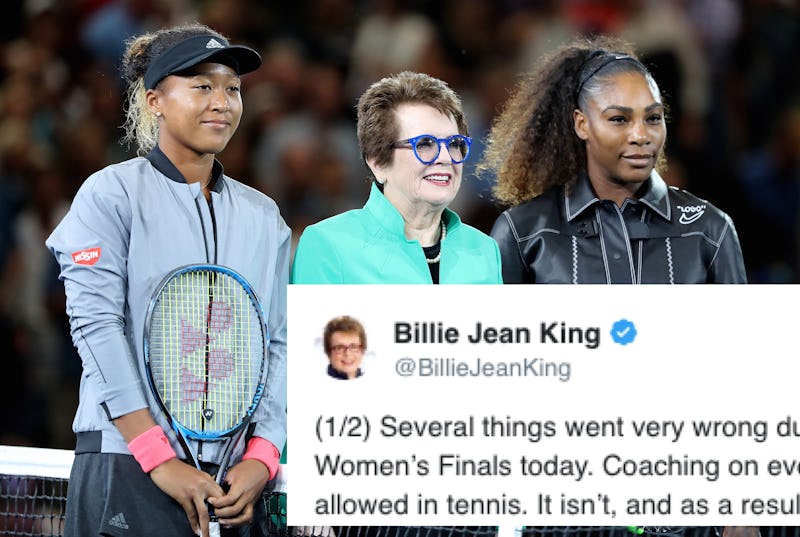 Elsa/Getty Images Sport/Getty Images
The U.S. Open women's final featured a dramatic finish, but the drama didn't take place while the ball was in play. Serena Williams lost after what she called a "sexist" set of calls from umpire Carlos Ramos, and she evidently wasn't the only one who thought that the situation would have played out differently if it had been the men's final. In a viral tweet, Billie Jean King defended Williams, calling out what she sees as a "double standard" in tennis.
"Several things went very wrong during the @usopen Women's Finals today. Coaching on every point should be allowed in tennis," King wrote in her first of two tweets, referring to the the first penalty the ref gave to Williams, allegedly for receiving instructions from her coach during play, which the Washington Post wrote is not allowed. "It isn't, and as a result, a player was penalized for the actions of her coach. This should not happen," King wrote.
"When a woman is emotional, she's 'hysterical' and she's penalized for it. When a man does the same, he's 'outspoken & and there are no repercussions," King wrote in her second tweet. "Thank you, @serenawilliams, for calling out this double standard. More voices are needed to do the same."
Bustle has reached out to the International Tennis Federation requesting comment from Ramos.
Ramos gave Williams a code violation for the coaching infraction, another code violation for breaking her racket, and she then received a game penalty for calling Ramos a "thief" while she disputed the first two violations during a changeover, according to The Guardian. Soon afterwards, she lost to Naomi Osaka.
Speaking to the media afterwards, Williams didn't attempt to take back what she had said to Ramos, according to the Washington Post.
"I can't sit here and say I wouldn't say he's a thief, because I thought he took a game from me. I've seen other men call other umpires several things," Williams said, according to The Post. "I'm here fighting for women's rights and for women's equality and for all kinds of stuff."
She then connected this particular incident to the struggles that women everywhere face when expressing their emotions.
"I just feel like the fact that I have to go through this is just an example for the next person that has emotions and that want to express themselves and want to be a strong woman," Williams said, according to the Post. "They're going to be allowed to do that because of today. Maybe it didn't work out for me, but it's going to work out for the next person."
After King voiced her support of Williams and called for "more voices" to step in and join her, other tennis players followed suit.
"If it was men's match, this wouldn't happen like this. It just wouldn't," tennis player Victoria Azarenka wrote on Twitter.
Fellow female tennis champs weren't the only ones to publicly support Williams, however.
"I will admit I have said worse and not gotten penalized. And I've also been given a 'soft warning' by the ump where they tell you knock it off or I will have to give you a violation," retired player James Blake wrote on Twitter. "He should have at least given her that courtesy. Sad to mar a well played final that way."