Billie Jean King Called Out Tennis' Sexism Against Serena Williams In A Fiery Op-Ed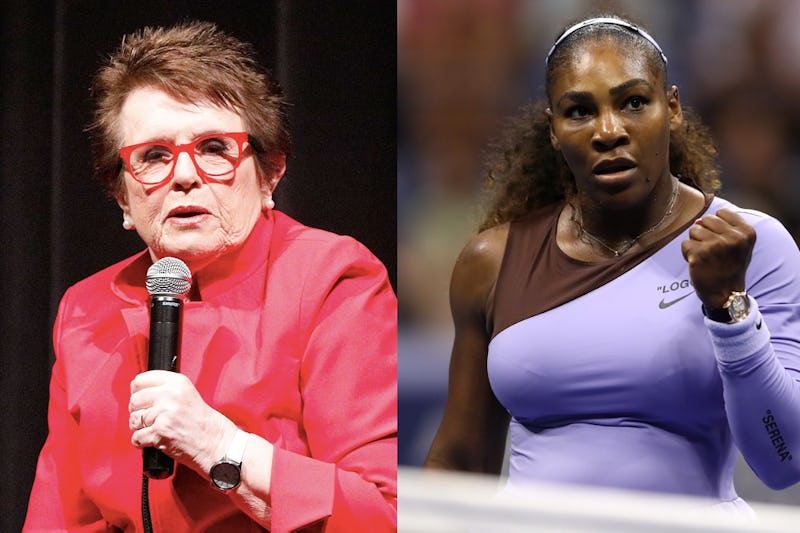 Lars Niki/Getty Images Entertainment; Matthew Stockman/Getty Images Sport/Getty Images
One of the top legends of professional tennis has been vocal about her support for Serena Williams. On Sunday, Billie Jean King wrote in an op-ed for The Washington Post that Williams had been treated unfairly by chair umpire Carlos Ramos at the women's US Open final on Saturday. The game, in which Williams played against the Haitian-Japanese Naomi Osaka, ended with a heated reaction from Williams for what she called an "unfair" assessment by Ramos.
Lambasting sexism in the world of tennis in her op-ed, King wrote, "Did Ramos treat Williams differently than male players have been treated? I think he did. Women are treated differently in most arenas of life. This is especially true for women of color. And what played out on the court yesterday happens far too often."
It wasn't just tennis that suffered this issue of rampant sexism, King said. "It happens in sports, in the office and in public service," she wrote. "Ultimately, a woman was penalized for standing up for herself. A woman faced down sexism, and the match went on."
Prior to her op-ed in The Post, King took to Twitter on the day Williams called Ramos out. According to The Guardian, the umpire gave Williams a verbal penalty for dubbing him a "thief" for docking her points, a code violation for smashing her tennis racket, and a code violation for coaching.
In the first tweet, King talked about Ramos' coaching penalty. "Several things went very wrong during the @usopen Women's Finals today," she said. "Coaching on every point should be allowed in tennis. It isn't, and as a result, a player was penalized for the actions of her coach. This should not happen."
In her second tweet, King took on social hypocrisy toward a woman's anger. "When a woman is emotional," she tweeted, "she's 'hysterical' and she's penalized for it. When a man does the same, he's 'outspoken,' and there are no repercussions. Thank you, @serenawilliams, for calling out this double standard. More voices are needed to do the same."
But while King has been open about her support for Williams, the International Tennis Federation issued a statement backing Ramos on Monday. "Carlos Ramos is one of the most experienced and respected umpires in tennis," the ITF statement read. "Mr. Ramos' decisions were in accordance with the relevant rules and were reaffirmed by the U.S. Open's decision to fine Serena Williams for the three offenses."
In her op-ed, King wrote that while Ramos was supposed to keep an eye on the match and check if it was played fairly, Williams should have moved on from the first warning. Still, the umpire had gotten too involved in the result of the match, King wrote. And that came at Williams' expense.
If there is any silver lining to the Saturday match, it's that Osaka showed her incredible talent while competing with her icon. That, and the fact that young girls watched Williams stand her ground, King said. "I understand what motivated Williams to do what she did," King wrote. "And I hope every single girl and woman watching yesterday's match realizes they should always stand up for themselves and for what they believe is right. Nothing will ever change if they don't."