Billie Lourd Honors Carrie Fisher's Birthday With A Tribute That Will Melt Your Heart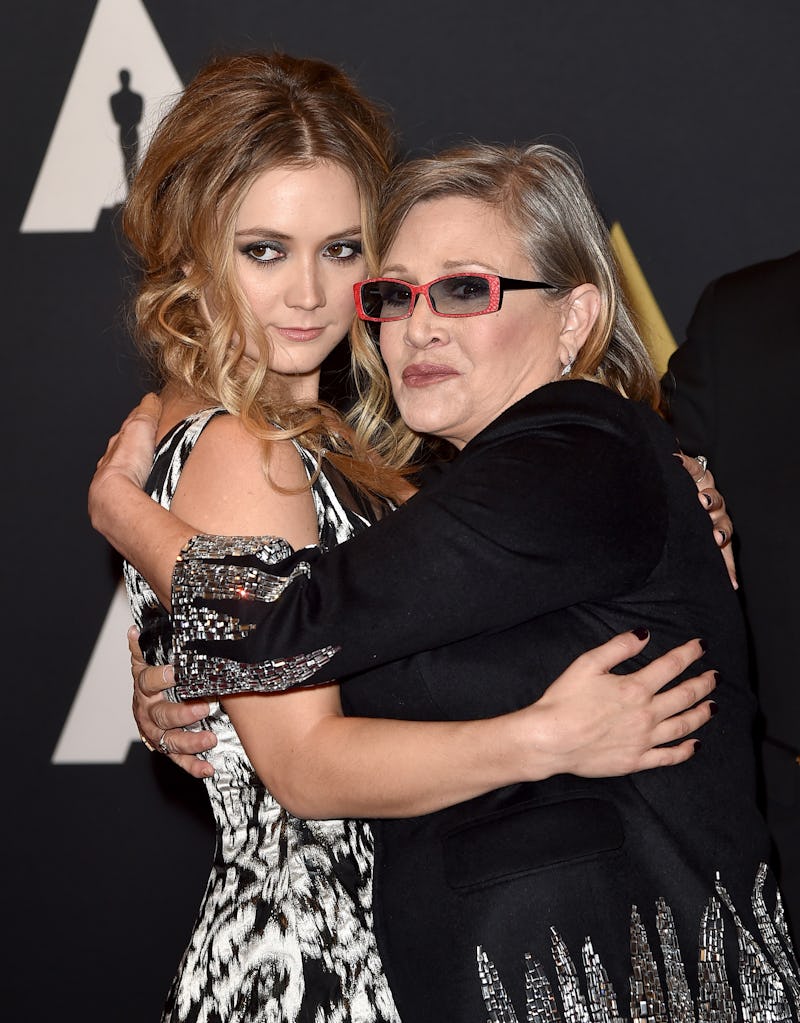 Kevin Winter/Getty Images Entertainment/Getty Images
It's been nearly a year since the world lost a legend. Last December, Carrie Fisher passed away. And on Saturday, Oct. 21, it would've been the Star Wars actor's 61st birthday. To honor the occasion, Billie Lourd posted a birthday tribute to Fisher, her mom, on Instagram. Just a warning, it'll warm your heart — and break it simultaneously.
In the throwback photo, the mother-daughter duo is wearing what look like matching PJs. In addition to being adorable, the sweet snapshot will remind you yet again how much these two have in common. Just like her mom, Lourd is an actor, even appearing in Star Wars: The Force Awakens; she's set to appear in The Last Jedi as well. She also recently won fans over with her role as Winter on American Horror Story: Cult and the monotone, earmuff-wearing Chanel #3 in Scream Queens.
Making the birthday post all the more perfect, Lourd used different lettered emoji to write the caption, as Fisher was known to do on her Twitter account. When you decode it, Lourd's message reads, "Happy birthday Momby," the nickname she used for her mother. The post is a beautiful way to remember Fisher's legacy — which not only included being the beloved Princess Leia, but advocating for mental health and other causes close to her heart.
In the comments section on Instagram, fans offered up support and birthday wishes, writing to Lourd, "She will always be with you. We miss her so much," and "Your momma was and still is such an inspiration. Happy Birthday to our Princess." They also commented on how much the pair looked alike, which is absolutely true. The resemblance is uncanny.
While Lourd occasionally opens up about Fisher on Instagram, sharing old photos of them together, it's impossible to know exactly what she's going through. As fans mourn the loss of their favorite celebrity, she lost her mother and grandma within the span of a few days. Fisher's mother, Debbie Reynolds, passed away soon after. It was a major loss for Hollywood, as Singin' In The Rain's Reynolds was an acting legend herself. Yet for Lourd, she lost two of the most prominent women in her life.
Back in September, Lourd appeared on The Ellen DeGeneres Show and opened up about how tough it can be to put the experience into words. She said,
"It's completely surreal. There's no way to really explain it. It's so hard to talk about. If I say that I'm doing good, I'm 'too happy.' And if I say I'm not doing good, then I'm 'a mess.' So it's really hard to know what to say about it."
She also talked about how it was her mom who encouraged her to act, despite initially not being all for the idea. It's a heartwarming anecdote, which will further make you appreciate Lourd's appearances in the Star Wars saga. The final installment featuring Fisher hits theaters on Dec. 15.
And Lourd isn't the only one who honored her mother's legacy on Saturday. Star Wars co-star and close friend Mark Hamill posted a birthday tribute for Fisher that will make you smile. It's an old photo of the pair dancing, captioned, "#AlwaysWithUs."
The official Star Wars Instagram account also posted a similar message, highlighting how her memory will live on. And, of course, plenty of fans weighed in with thoughtful Twitter messages of their own.
The world is definitely a bit — OK, a lot — more boring without Fisher around, but thanks to tributes like these from those who knew her best, she won't ever be forgotten. Not a chance.