Billie Lourd's New Tattoo Is A Tribute To Carrie Fisher & It'll Look Familiar To Fans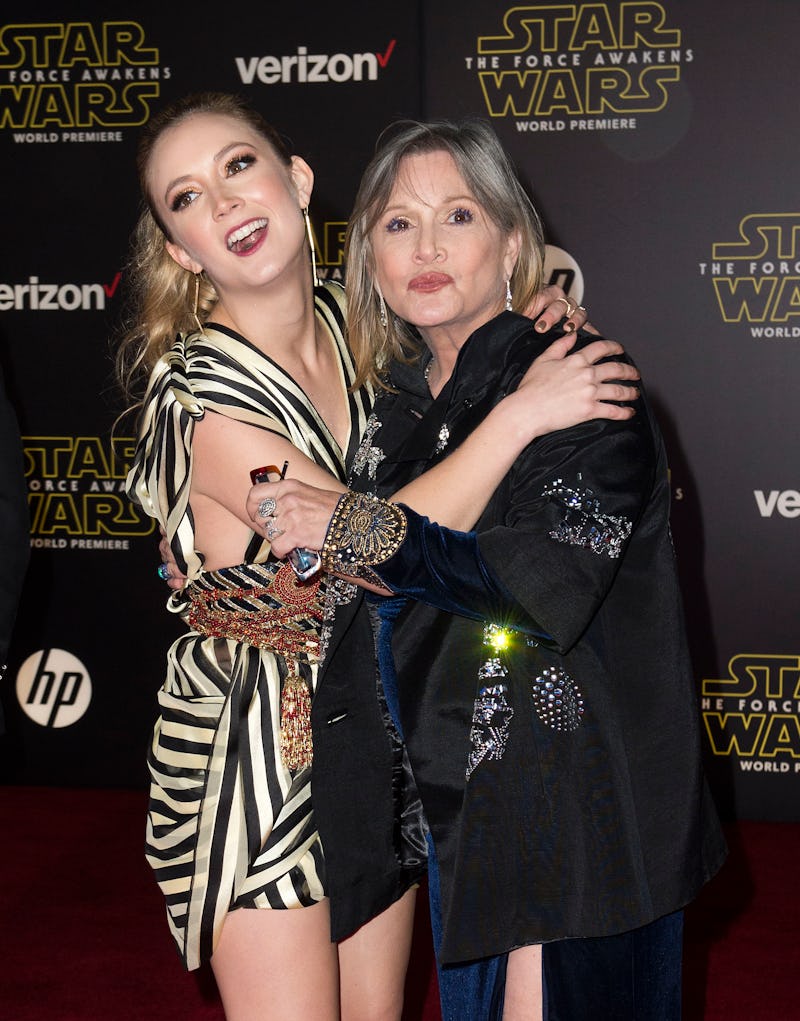 VALERIE MACON/AFP/Getty Images
The world lost the legendary Carrie Fisher almost a year ago, and on Saturday, Oct. 21, friends and family took to social media to honor what would have been the star's 61st birthday. Billie Lourd paid tribute to Fisher with a special tattoo, and it might look familiar. The celestial ankle tattoo has a moon, a planet, and six little stars, and it matches the design of Fisher's own ink, just without the coloring. Lourd shared her new accessory to Instagram, tagging the Los Angeles based artist, Brian Woo. He also posted a picture of the design, writing: "For @praisethelourd . Tribute for her mom today, on her birthday." Lourd also shared a throwback photo memory earlier in the day, but this tattoo is an even more permanent tribute.
Carrie Fisher's planetary tattoo has an intriguing story of it's own. In her own candid fashion, the late actress told the Telegraph in 2005 that the tattoo was acquired during an ill-advised "wacky escapade," parts of which she doesn't recall in their entirety. The story behind the colorful tattoo is just another instance where Fisher has been able to embrace and her complex past with levity and humor, and this authenticity was part of what made the star so beloved. Lourd has often reflected on her mother's humorous life advice and its lasting impact on her, and this tattoo is likely a meaningful tribute to that influence.
It's been a difficult year for Lourd, who also lost her grandmother Debbie Reynolds not long after her mother passed. In interviews and on social media, she's been open about the difficult time. "Receiving all of your prayers and kind words over the past week has given me strength during a time I thought strength could not exist," Lourd wrote on Instagram after the announcement that Fisher and Reynolds had passed away in consecutive days in December. "There are no words to express how much I will miss my Abadaba and my one and only Momby. Your love and support means the world to me."
On Saturday, she once again took to the account to share a memory of her mother. The throwback picture is from her childhood, and it's another twin moment. In the snap both wear matching pajamas, and Lourd used emojis to spell out the birthday message, as Fisher used to do on her Twitter account. The coded message reads "Happy Birthday Momby," once again using the nickname she had for her mother.
In the past couple of years, Lourd has pursued acting in a more serious fashion and her recent accomplishments would make Fisher proud. She will appear in Star Wars: The Last Jedi alongside her mother and makes an appearance in another film this year, Billionaire Boys Club. She's also become well-known for her role on Scream Queens, one of the the recent iterations of American Horror Story. Lourd's parents were initially hesitant to let the young star act, but Fisher encouraged her to pursue the career after seeing how comfortable she was on the Star Wars set, according to Today.
Lourd further opened up about her mother's influence on her career in a n August interview with co-star Sarah Paulson for Town & Country. She describes feeling down on herself after seeing an episode of Scream Queens she starred in, and how her mother built her back up. "The last time I saw her in person, this episode of Scream Queens was on, and it was a big episode for me. I had tons of scenes, and I was so hard on myself about it — I hated how I looked, hated my performance. I was really frustrated," Lourd told the magazine. "She told me, 'Come over right now. I want to watch this with you.' And she made me sit down and watch it, and she forced me to see the good parts. She was incredible like that. But she was really hard on me, saying, 'Shut up, you're great in this. Have faith in yourself. Be more confident.'"
The legacy of Fisher will be remembered for a long time, whether it's through shared memories, stories, or old photos. Her daughter wasn't the only person thinking of the late star on her birthday, and Mark Hamill and William Shatner also posted in her honor. Lourd's new tattoo, however, is a unique tribute to her mother, and it's one that will last a lifetime.