Meghan Markle's Fave Shoe Brand Made Her The Perfect Wedding Slippers & You Can Shop Them, Too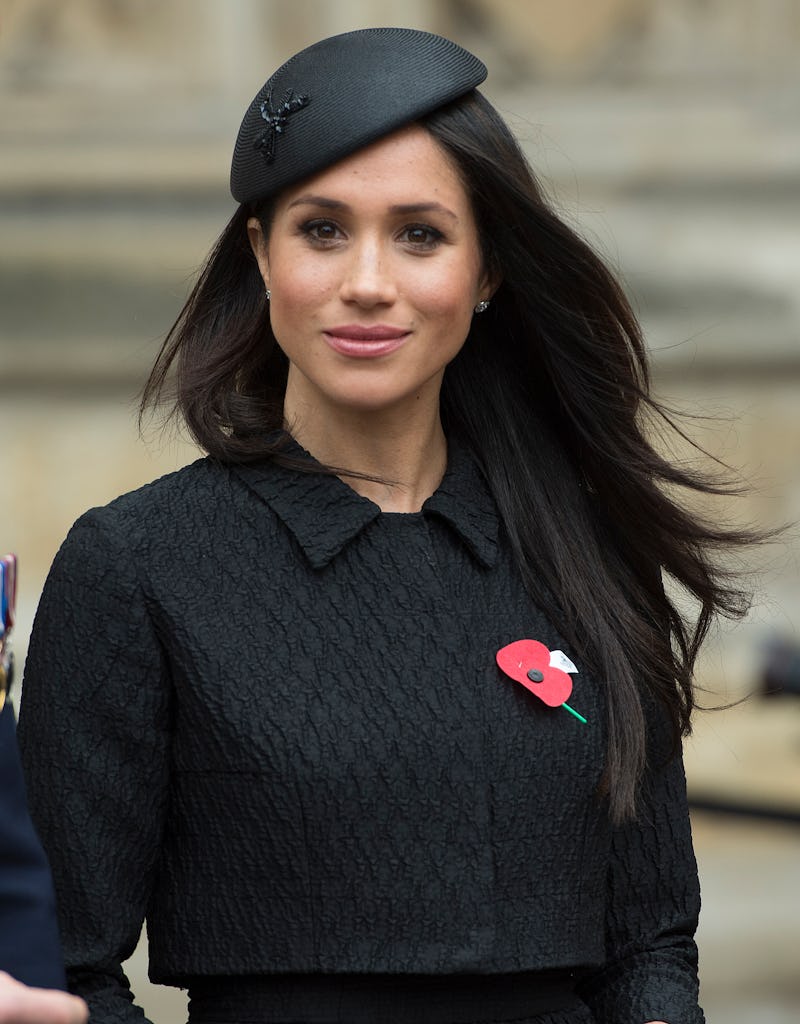 WPA Pool/Getty Images Entertainment/Getty Images
If you haven't heard of Birdies, it's a Meghan Markle-approved shoe brand that's making its mission to reinvent the house slipper. Trying to move us away from clunky, worn-to-the-ground designs, the future Duchess approves of the brand's vision and constantly wears their flats. Which is why Birdies made a Meghan Markle slipper, to be boxed up and sent away to Kensington Palace, where they hope she will wear their slides while getting ready on her wedding day.
Birdies is working hard to reinvent the slipper, forcing the image of terrycloth slides to be replaced with fashion-conscious shoes.
"We couldn't find slippers that merged comfort and fashion so we decided to make our own," the brand's site explains. It works as a bedroom slipper indoors thanks to its faux-shearling-covered soles or satin-quilted bottoms, and it can just as easily be worn outside as a chic shoe thanks to its ballet-flat-like silhouette, rubber sole, and built-in cushioned arch support.
And Markle loves them. Not only that, she was one of their very first fans. She has been captured countless of times by paparazzi running all over town with them on, whether that's when she picks up flowers from the market and pairs them with skinny jeans, runs errands in style while in Toronto and matches them with a baseball cap, or while she's in between takes while filming on set.
Knowing the Duchess-to-be's penchant for the elegant shoes, Birdies decided to create a pair especially for her to celebrate her big day.
"A one-of-a-kind slipper for a one-of-a-kind Duchess," the brand said. "The Royal Wedding is only a few weeks away and while everyone's buzzing about who will design Meghan Markle's wedding dress, we've been working behind-the-scenes on a pair of custom slippers for Meghan to wear as she gets ready to marry Prince Harry."
The Meghan Markle slipper was designed with elegant details that thoughtfully aimed to mirror the actress's personal style. Using blush duchess satin, a quilted insole, pearl embellishments at the heel, and a decorative pompom on top of the slide, it will be the perfect thing to wear as she gets ready that morning to walk down the aisle.
While the slipper is one-of-a-kind and exclusive to Markle's closet, us royal enthusiasts can still shop the collection that will be inspired by her bridal slippers on May 9. In the meantime, check out some of their available pieces below — including Markle's favorite shoe!
Whether you buy the future Duchess' favorite pair, or wait until the new collection drops to see if you can find one that looks similar to her wedding slipper is up to you — but you have to admit these are a much more luxurious way to get around the house. Markle always has such flawless taste.