You Need To See Blake Lively's Hilarious Birthday Post For Ryan Reynolds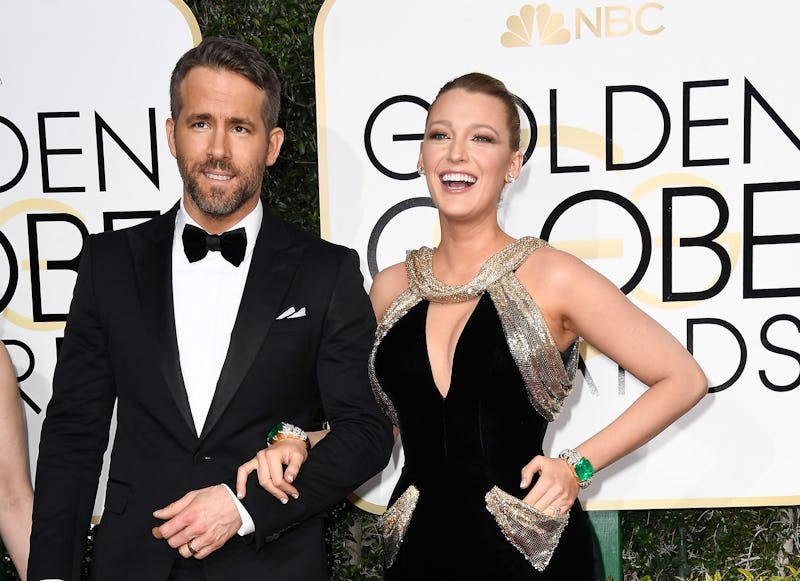 Frazer Harrison/Getty Images Entertainment/Getty Images
Actors Ryan Reynolds and Blake Lively are taking couple birthday wishes to a whole other level. On Aug. 26, Reynolds wished his wife a happy birthday with a social media post that features a photo of himself and her — but half of her face is cropped out. Fast forward to Monday, Oct. 23: Blake Lively posted a hilarious birthday wish to husband Ryan Reynolds on social media that is a bit of playful payback for his birthday silliness. In the spirit of Reynolds' birthday post for her, Lively posted a photo in which Reynolds is partially cropped out — but this time, the focus of the photo is actor Ryan Gosling. Game, set, match. Lively is the definite winner this time around.
Not only did Lively top Reynolds in photo choice, but her caption game also bested Reynolds' birthday wish. In Reynolds' Aug. 26 birthday post for Lively, the caption reads, "Happy birthday to my amazing wife," even though the photo is mostly of himself. For Reynolds' Oct. 23 birthday, Lively wrote the caption, "Happy Birthday, baby" for the photo post of Gosling and half of Reynolds' face. For the record, Gosling's birthday is on Nov. 12, so Lively's celebratory post is about three weeks early for Gosling.
This isn't the only time Reynolds and Lively's hilarious couple antics have made fans laugh. In 2016, Reynolds shared a GIF of Lively escaping a shark in her movie The Shallows, and he captioned it, "Actual footage from the first date with my wife. Tried to surprise her and totally forgot I was a f*cking shark." It went on to become the most retweeted tweet of the year. It's OK though, because when Reynolds was named one of Time's 100 most influential people, Lively hilariously wrote an ode not to her husband, but to his fellow honoree, John Legend.
When you look back on their relationship so far, it's full of moments where the two couldn't help but take every opportunity to tease one another that they could. The playful dynamic of their marriage is wonderfully honest, and it makes them so relatable as a couple. Come on, gushing about how great your significant other is can be sweet, but nothing says "I love you" quite like only sharing half of your husband's face in a birthday photo post.
Reynolds and Lively share two daughters, Ines and James, and if you're super jealous of just how cool their parents are, know that you're not alone. April Fool's Day must be their favorite holiday, because no other Hollywood couple is quite as committed to pranking each other as these two.
Their killer jokes at each other's expense work because it seems clear these two adore each other. When their not offering up savage birthday burns, they're busy singing each other's praises as people and parents. Reynolds and Lively's interactions on social media are often hilarious and a pure delight to read, but in between the jokes there's a couple that appears to be pretty crazy about each other.
In truth, that only makes Lively's Gosling-flavored birthday wish to her husband all the more hilarious. Hey, they're both named Ryan, right? So, she's not that far off base.
But the best part is that Reynolds is probably super proud of his wife's ingenuity. He may have made the first move when he posted that obscured birthday picture back in August, but she took his gimmick to a whole new level. Not only did she crop him out of his own birthday, Lively went ahead and put the focus on Gosling, the king of the "hey, girl" meme.
May Lively and Reynolds continue to celebrate each other with hilarity for years to come, because the internet needs more reasons to laugh.