Watch Blake Lively's Response To A Reported Question About Her Outfit At The Power Of Women Event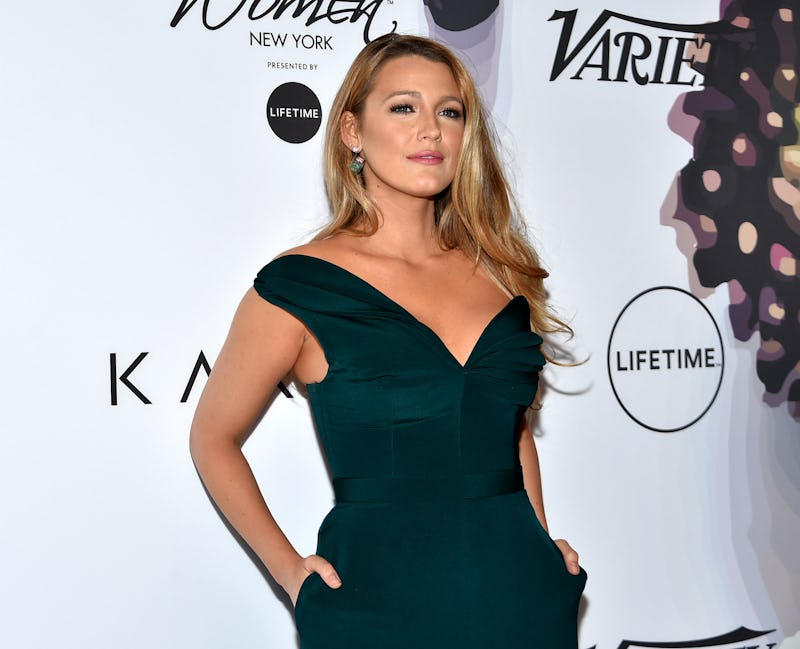 Mike Coppola/Getty Images Entertainment/Getty Images
Red carpet fashion is something to be admired, but some events call for a different focus. Blake Lively shut down a reporter who reportedly asked about her outfit at Variety's Power Of Women event. Lively was one of the many women honored at the event — according to Variety, Jessica Chastain, Audra McDonald, Gayle King, Chelsea Clinton and Shari Redstone were also honorees. Talk about a powerhouse roster! It's obviously a tradition to talk to women about what the designs they're wearing on the red carpet, however, this is a perfect example of a time when the reporter could have #AskedHerMore.
If you're unfamiliar, the #AskHerMore movement wants to encourage red carpet interviewers to focus less on what women are wearing and more on what they've achieved. Since the Power Of Women event's purpose was to "[identify] leading women in entertainment who are dedicated to improving the community through the worthy causes they support," as Claudia Eller, Variety co-editor-in-chief told Variety, it was even more important to keep the focus on the work rather than the fashion.
A reporter from USA Today caught a clip of Lively's response to another reporter who allegedly asked about Lively's outfit and posted it to Twitter. The video clip shows her saying, "…the moment we become more aware, and that we change and that we build a women up. So, you can ask me another question." Before the camera started rolling, she reportedly said, "Really? At this event, you're asking me about my outfit? Seriously...Would you ask a man that," according to USA Today.
While at the Power Of Women Luncheon, Lively gave a moving presentation about eliminating child pornography, so it makes sense that she would take such a strong stance against talking about her ensemble. She likely would have preferred talking about her work with the Child Rescue Coalition, and not about her outfit, for good reason. Lively handled this situation with class, while simultaneously standing up for a message she believes in.
She was in attendance to support a cause, and didn't have time for questions that took attention away from her purpose.
Many people online are loving how she handled the situation.
This isn't the first time she's sounded off about the unfair treatment of women, either. After having her second child she said in an interview with Sunrise, "It's so unfair, it's so celebrated: 'This is what someone looks like after having a baby.' And I think a woman's body after having a baby is pretty amazing. You don't have to have be Victoria's Secret–ready right away," she added. "You've just done this incredible miracle that life has to offer."
She also participated in the Women's March. She participated "for [her] daughters, for [her] friends, for strangers, for [herself], for Phoebe here in this picture who [she] met as she motivated everyone she came across," she wrote on Instagram.
Lively is so much more than stylish (although she certainly is that, as well), and it makes sense that she would want to be asked about her work rather than her outfits.