Blake Lively Got A 'Deadpool' Manicure For The Film's Premiere & It's The Sweetest Tribute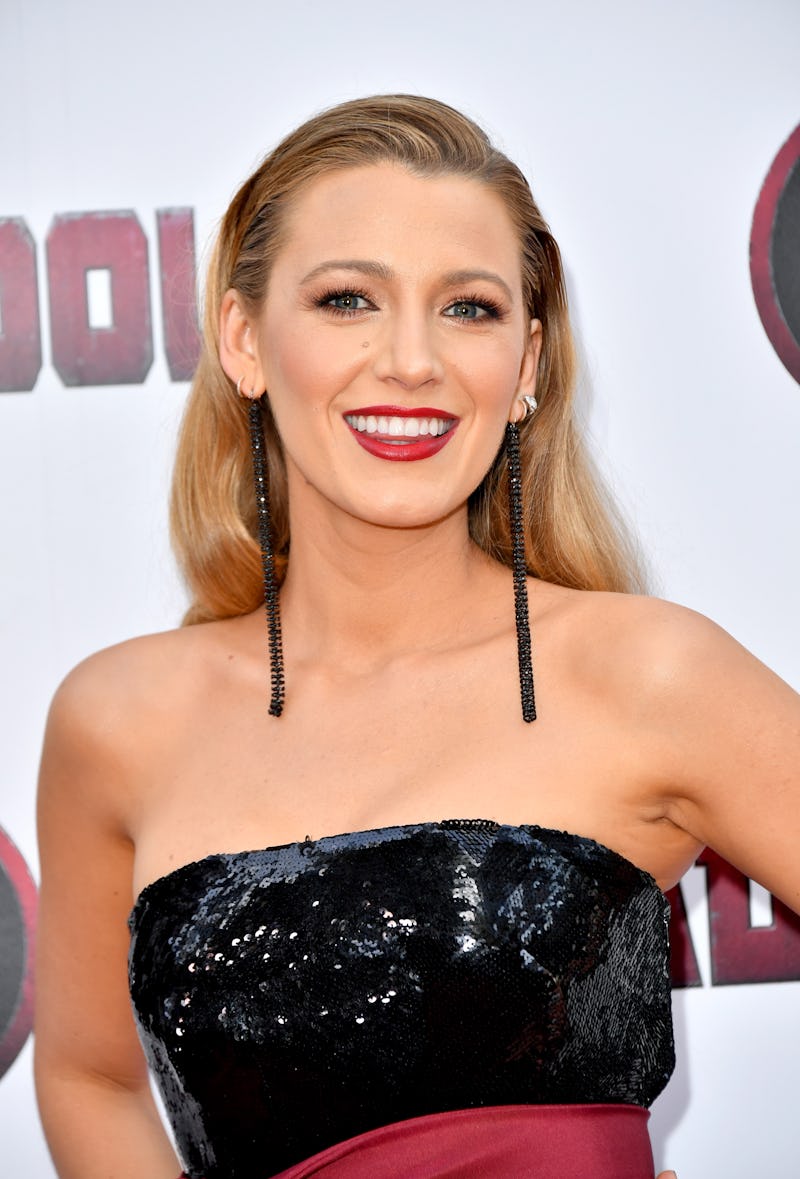 Michael Loccisano/Getty Images Entertainment/Getty Images
It's no secret that this once Gossip Girl star is all about creating fashion and beauty trends, but this one is so much more than that.As Hello Giggles found, Blake Lively got a Deadpool manicure for the movie premiere. This isn't just you typical fan art though. She's proving that she Ryan Reynolds biggest fan. You know, just in case you didn't already know that.
There's nothing sweeter than someone showing up to support their significant other on the red carpet — until now. Not only did Lively dress the part in her sparkly black dress with a red ribbon tied around her waist, but she also went the extra mile with her beauty routine. The actress had the movie character that her husband plays painted on her fingernails. Because there's no better way to spread the love than a great mani.
At first glance, it looks like Lively's nails are just painted black. But upon closer inspection, you can tell that two of the nails have Deadpool painted on them and one of them has an "x" on it.
It was a small way to show her love and support that wasn't too in your face. This is how you show your support without taking anything away from your significant other.
According to the Instagram photo, nail artist Elle Gerstein was behind the design. Gerstein posted the photo on her Instagram of Lively holding a jeweled tape-inspired clutch and showing off the meaningful mani. The publication says that this is the same woman who was behind her Met Gala nail look as well.
While you might not have gotten an up-close look at the Met Gala look, it was just as epic. Gerstein created a gorgeous jeweled fingernail for Lively to wear on the red carpet. It went beautifully with her dress and looked pretty darn epic on her own as well.
Of course, her Deadpool mani obviously has a bit more meaning though. She didn't share exactly what products that she used to create the look or how long it took, but Bustle reached out for comment. Get stein did note that She used all Essie polishes for the look though. This isn't your typical DIY, but it is nice to know how to at least get the color scheme. According to the caption, the artist is going to share more details eventually.
These two celebs are always sharing their love for each other — and their quirky sense of humor — on social media. It really comes as no surprise that they would take their love to the red carpet as well. The nails weren't the only way that the two were involved in inspiring the movie though. According to Hello Giggles, Lively actually inspired the theme of the movie.
"My family is everything to me, and that's what brought about Deadpool 2," Reynolds told Vanity Fair at the premiere. "Actually, for [screenwriters] Rhett Reese, Paul Wernick, and myself — we've been friends for 10 years, and in that time we all acquired families and sort of grown up a little bit. So we wanted to write that into the story. The idea of love and family is what's in Deadpool 2, even though I am still as immature as fuck!"
This is commitment to each other in the best possible way.
True love knows no limits — even when it comes to a beauty routine. The small acts of love prove that these two are more than just supportive of each other. Both of them are willing to go above and beyond to show each other they care. You know, and have a great mani moment.