BLM's 'Mark Yourself Unsafe' Tool Is So Powerful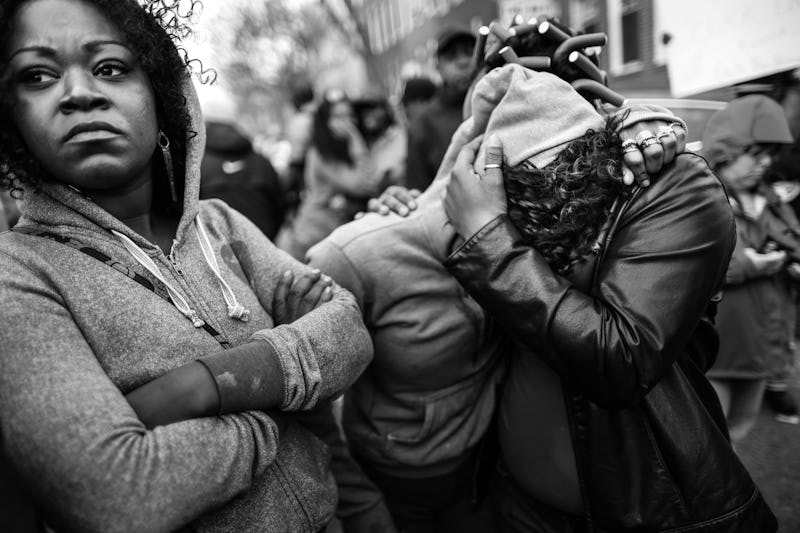 Chip Somodevilla/Getty Images News/Getty Images
In today's super-connected digital landscape, the ability to share one's status, location, and even whether or not you're safe is commonplace. It was Facebook's "safety check" that inspired organizers from Black Lives Matter to create a powerful tool in response to the dangerous realities for so many Black Americans. Black Lives Matter's "Mark Yourself Unsafe" feature is a poignant twist on the "safety check," and allows black people and their allies to show just how unsafe so many people are in President Donald Trump's America.
"Mark yourself unsafe" was purposefully rolled out by BLM during the week between Martin Luther King, Jr. Day and the inauguration as part of their week of action. In a statement from Black Lives Matter co-founder Patrisse Cullors, the "unsafety check" is intended to showcase the lack of safe spaces for black people in America:
From slavery to Jim Crow to prejudicial and deadly policing, America has never been a safe place for Black people. We need to take action to continue to raise awareness about how racism impacts our families and communities.
As we inaugurate a president that so many fear will begin rolling back the rights of marginalized groups across the country, BLM's "unsafety check" is a powerful symbol that represents both an acceptance of black Americans' scary reality and a defiance of it.
Similarly to late October's wave of Standing Rock Facebook check-ins in solidarity with the #NoDAPL water protectors, the BLM unsafety check is not only meant for black people to use, but for those in support the safety and livelihoods of black people as well. It allows allies, especially those who stand in support of black lives while also being under threat from Trump's presidency, to show that solidarity across color lines exists.
In the BLM statement, Cullors added that marking oneself "unsafe" is merely the first step in joining the movement:
We know that social media is only one way to take action on behalf of the Movement for Black Lives. After marking yourself unsafe, we ask that people take additional action by joining local organizers in demanding justice in the streets.
The need for Black Lives Matter began long before Trump's inauguration, and will only continue as the nation enters this new and uncertain era. Visual shows of protest and solidarity such as the "unsafety check" serve reminders not of the reality ushered in Nov. 9 and inaugurated on Jan. 20, but of the already-terrible culture of fear and dread faced by black Americans — and of the will to assert that black lives truly do matter.