Harvey Weinstein's Brother Is Now Being Accused Of Sexual Harrassment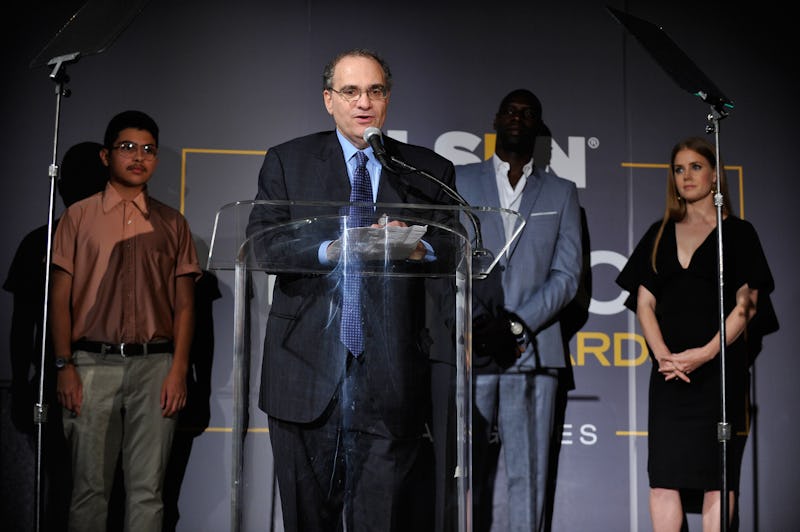 John Sciulli/Getty Images Entertainment/Getty Images
It appears to be just the tip of the iceberg when it comes to the sexual assault allegations against Harvey Weinstein. The claims against the former Hollywood studio executive has caused a domino effect across Hollywood, and now, The Mist show runner Amanda Segel claims his brother, Bob Weinstein sexually harassed her. Segel recounted her experience, which occurred during production of the Spike show (a Weinstein Company production) in 2016, telling Variety, "'No' should be enough." This news comes just days after Bob Weinstein condemned Harvey.
Update: Bert Fields, Bob Weinstein's representative, said in a statement: "Variety's story about Bob Weinstein is riddled with false and misleading assertions by Ms. Segel and we have the emails to prove it, but even if you believe what she says it contains not a hint of any inappropriate touching or even any request for such touching. There is no way in the world that Bob Weinstein is guilty of sexual harassment, and even if you believed what this person asserts there is no way it would amount to that."
Earlier: Segel claims that Weinstein made romantic passes at her and invited her to private dinners during a period of on-and-off harassment for three months, until her lawyer reportedly stepped in and she threatened to leave the company. In her statement, Segel claimed, "Bob kept referring to me that he wanted to have a friendship. He didn't want a friendship. He wanted more than that." She claims "no" didn't mean no to Weinstein.
Bob Weinstein's representative denied the accusation, and told Variety,
"Bob Weinstein had dinner with Ms. Segel in LA in June 2016. He denies any claims that he behaved inappropriately at or after the dinner. It is most unfortunate that any such claim has been made."
The Weinstein Company representative says Segel's lawyer didn't contact company executives in 2016. Bustle could not reach a representative for Weinstein at the time of publication.
According to Variety, Bob Weinstein's comments condemning his brother "sparked renewed frustration" in Segel. On Oct. 14, Weinstein told The Hollywood Reporter that he was sickened by his older brother's behavior and "want[s] him to get the justice that he deserves." He claimed he had an estranged relationship with Harvey for the last five years because he couldn't take his "cheating, lying, and attitude." Although Bob claimed he was aware his brother reportedly cheated on is wife Georgina Chapman, he was completely unaware of "the type of predator that he was."
This long overdue explosion in Hollywood comes after The New York Times expose on Weinstein on Oct. 5 shed light on the handful of sexual assault allegations against him and numerous settlements he's made in the past. The ripple effect has caused prominent industry workers like Angelina Jolie and Gwyneth Paltrow to speak out on Weinstein, and others to come forward claiming Weinstein raped them.
On Oct. 16, Alyssa Milano exponentially broadened the conversation by encouraging those who have been sexually assaulted or harassed to tweet #MeToo. It grew rapidly and Me Too has been posted millions of times over Instagram, Facebook, and Twitter. That same night, Reese Witherspoon and Jennifer Lawrence came forward with their stories at Elle's Women in Hollywood event. Witherspoon claimed a directed assaulted her when she was just 16 years old and that it wasn't an "isolated incident" in her career. Lawrence recalled a casting "naked line-up" and was referred to as "pretty f*ckable."
Meanwhile, The Weinstein Company (which Harvey Weinstein was fired from in light of the surfaced allegations) is reportedly at risk of bankruptcy, although Bob told THR that, "there is a plan to come out on the other side." According to TMZ, a meeting at The Weinstein Company is in place for Oct. 17 to officially fire Harvey. On the same day, TMZ also reported Colony Capital planned to buy TWC and have Bob run Dimension Films, a division of TWC, but no other part of the company and would "gently [be let] go."
If anything, Segel's story shows that fallout from both Weinsteins' alleged actions are only beginning.
If you or someone you know has been sexually assaulted, call the National Sexual Assault Telephone Hotline at 800-656-HOPE (4673) or visit online.rainn.org.