A New Book Claims Trump Regrets Condemning White Supremacists After Charlottesville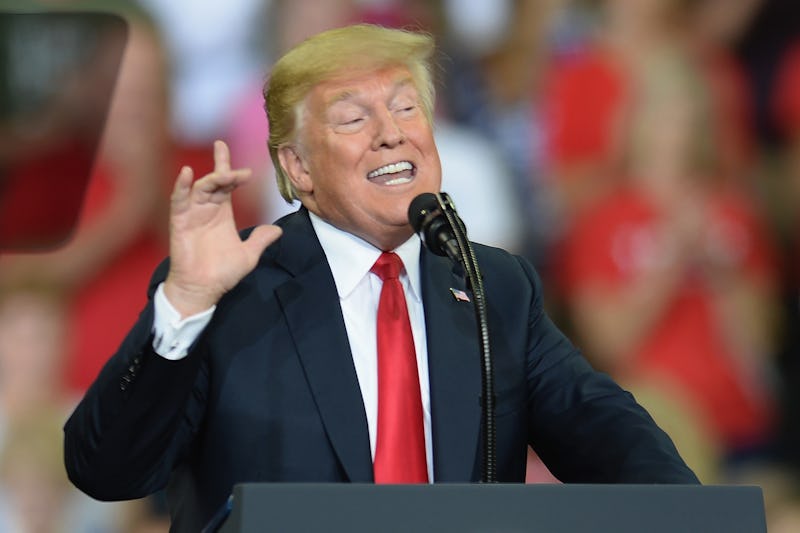 Michael B. Thomas/Getty Images News/Getty Images
A book titled Fear by one of the most well-known and intrepid American reporters, Bob Woodward, paints a "harrowing" picture of the White House under President Donald Trump, according to The Washington Post. One particular detail in Woodward's book claims that Trump regretted condemning white supremacists in Charlottesville, Virginia, in August 2017.
Last year, the president responded to the Unite the Right rally by lampooning "many sides" — lumping anti-racism activists and white supremacists together — after the violence there resulted in three deaths and dozens of people injured. At the time, Trump responded to the violence, saying: "We condemn in the strongest possible terms this egregious display of hatred, bigotry, and violence on many sides — on many sides."
After significant backlash from Republicans and Democrats, Trump attempted to walk back on his comments. While reading off a teleprompter, Trump said, "Racism is evil. And those who cause violence in its name are criminals and thugs, including the KKK, neo-Nazis, white supremacists and other hate groups that are repugnant to everything we hold dear as Americans."
Later, Trump went on to backtrack on these comments as well, bashing "the left."
According to Woodward, Trump came to regret his rebuke toward white supremacists. The Post reporter wrote that the president said, "That was the biggest f*cking mistake I've made" as well as it was "worst speech I've ever given."
According to WSB Atlanta reporter Jamie Dupree, the White House has responded to Woodward's book in a statement, calling it "nothing more than fabricated stories" told by apparently "former disgruntled employees" to make Trump "look bad."
In its response to Woodward's claims, the White House also said, "While it is not always pretty, and rare that the press actually covers it, President Trump has broken through the bureaucratic process to deliver unprecedented successes for the American people."
"Sometimes," the statement goes on to say, "it is unconventional, but he always gets results. Democrats and their allies in the media understand the president's policies are working and with success like this, no one can beat him in 2020 — not even close."
In Fear, Woodward also wrote about internal strife in Trump's administration. According to him, White House Chief of Staff John F. Kelly was reportedly one of the people to strongly disagree with how Trump handles all things presidential. "He's an idiot," Kelly said of Trump, according to Woodward. "It's pointless to try to convince him of anything. He's gone off the rails. We're in Crazytown. I don't even know why any of us are here. This is the worst job I've ever had."
WSB Atlanta reporter Dupree tweeted a response from Kelly to Woodward's claims. "The idea I ever called [Trump] an idiot is not true," Kelly said in a statement.
In other reported examples, Trump is quoted giving eyebrow-raising comments about Attorney General Jeff Sessions. Woodward said the president called Sessions a "dumb Southerner" among other remarkably unflattering things. There was also a heated altercation between Ivanka Trump and Steve Bannon, according to Woodward. On social media, reports about Woodward's book are making waves and stunning readers. The writer himself said the book portrays the "nervous breakdown" of Trump's White House.