So, Christmas Wreath Nipple Covers Are A Trend...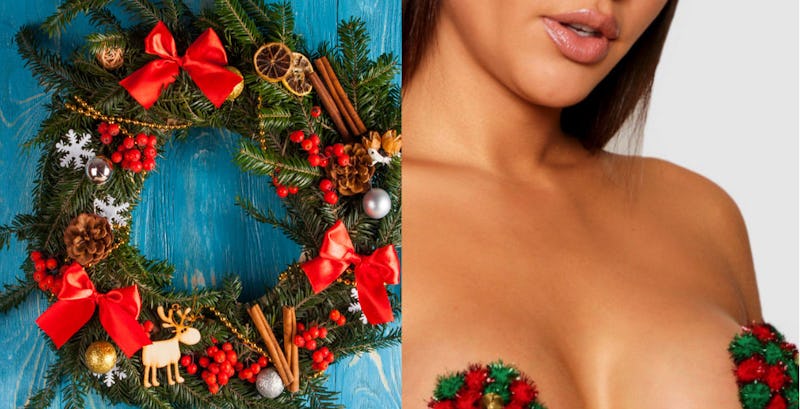 Oleksandr Rybitskiy/ Shutterstock/ Boohoo
The holidays are upon us my friends, and with that simple truth comes a slew of festive outfits and jolly looks to get you into the spirit, running from Ugly Christmas Sweaters to Santa themed socks. But some are more interestnig than others, where the newest addition to this holiday lineup are Boohoo's nipple Christmas wreaths, which are sure to put you in a rollicking mood this December.
People love their holiday cheer this time of year, and an easy way to fall into a merry attitude is to lean into all of the jolly staples of the season. Hot chocolate begins to brew nonstop on the stove the moment November rolls by, roasted chestnuts are sold on street corners as you bustle home from the office, pom pom beanies get dragged out of hiding, and reindeer pins get attached to coat lapels. But while things like holiday sweaters and Fair Isle knits might have become the norm during this time of year, one retailer is looking to dress us up in new ways during the holiday season — in a way that includes your bubbies.
Boohoo's Christmas Wreath Nipple Covers are meant to help you add attitude to your holiday look with accessories for those bold, fashion-forward finishing touches. "Forget less is more, this season we're all for out-there hair, beauty and jewellery," the product description reads. And these pasties will definitely add a bold pop to your Christmas party outfit, no doubt about it.
The pasties look like tiny Christmas wreaths, and are made from fuzzy pom poms that alternate between red and green shades. The center has two jingle bells for that finishing festive touch, making your boobs chime if you decide to power walk or jump around. You might be wondering when you would ever wear these pasties, since they're quite risque and maybe not the best accessory option to wear to, say, your office holiday party. One idea that comes to mind is to wear them with the boob-bearing holiday sweaters that have been growing in popularity these last couple of years, letting you give your reindeer boob a festive wreath nose.
If you don't think many people will be running around with festive nipples this season, think again. The Boohoo pastie has already sold out, meaning there are thousands of people ready to jingle underneath their sweaters all December long.
But don't be sad, Boohoo has other festive pasties to play with. Check them out below.
Christmas Bell Nipple Covers
If you're all about the jingle, add some bells to your bubbies and put them into a merry and bright mood. These pasties are red and topped off with a green bow, making them look like little presents underneath a tree.
Feather Nipple Covers
They might just be tufts of red feathers, but they have a vague "Rudolph the Red Nose Reindeer" quality about them that could totally translate into the holiday season.
Have fun with fashion this holiday season, and branch out to decorating your boobs with these playful accessories. You might just love it!