Brett Kavanaugh Reportedly Has Calendars From 1982 That Show He Didn't Attend A Party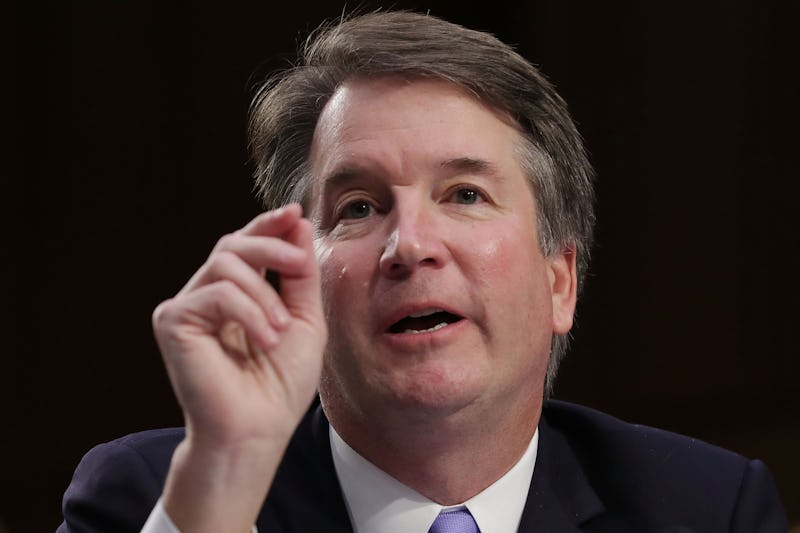 Chip Somodevilla/Getty Images News/Getty Images
In the latest maneuver to discredit Dr. Christine Blasey Ford, The New York Times reported on Sunday that federal judge Brett Kavanaugh will turn over calendars from 1982 that he says prove he didn't attend any party.
An anonymous source "working for [Kavanaugh's] confirmation" told The Times that the calendars don't show a party similar to the one described by Blasey Ford. But the source also acknowledged the calendars alone don't disprove her allegation of attempted rape, according to The Times.
In fact, the source acknowledged to New York Times reporter Peter Baker that Kavanaugh could have gone to a party not listed in his high school calendar. However, Kavanaugh's team plans to use the calendars to show he didn't attend an event similar to the party Blasey Ford described in her letter to Democratic lawmakers.
In a letter addressed to California Sen. Dianne Feinstein, Blasey Ford wrote of the incident, "The assault occurred in a suburban Maryland area home at a gathering that included me and four others."
Kavanaugh's decades-old calendars will reportedly show he was away from home at the beach or with his parents during that 1982 summer, The Times reported. When Kavanaugh was at home, the calendars will reportedly show plans to attend "basketball games, movie outings, football workouts and college interviews" as well as "a few parties," the newspaper described.
To say that social media thought this was a valid excuse would be wrong. The move was mocked almost immediately after The Times push alert went out on early Sunday evening.
Critic K. Austin Collins sent a tweet asking people to "imagine a POC defendant" using old calendars as a defense, while The Nation sports editor and author Dave Zirin mocked the decades-old calendars: "Who among us DIDN'T keep detailed appointment calendars in high school? And who HASN'T held onto them for 36 years?"
While the arrival of the calendars was used in some internet circles to mock Kavanaugh's strategy, Rewire News writer Jessica Mason Pieklo used the news to remind people about documents from Kavanaugh's past position in the George W. Bush White House.
"Kavaugh [sic] is supposedly turning over detailed calendars he's had since 1982 to rebut Ford's allegations but we can't see his records from the Bush White House or his time with Kosinski [sic]?" Pieklo tweeted, referencing former U.S. Court of Appeals for the Ninth Circuit judge Alex Kozinski, who retired in 2017 after allegations of sexual harassment. Kavanaugh clerked for Kozinski at the Ninth Circuit from 1991-1992 and described the man as a mentor.
The tweet also references the 100,000 pages of documents withheld by the Trump White House regarding Kavanaugh's work for the Bush administration, according to Time.
The arrival of the these high school calendars come after a week-long showdown about the possibility of additional testimony by Kavanaugh and first-time testimony by his accuser. On Saturday, The New York Times reported that Blasey Ford will publicly testify on Thursday in front of the Senate Judiciary Committee, though the specifics are still being negotiated.