Trump's SCOTUS Pick Seems Confused About How Birth Control Works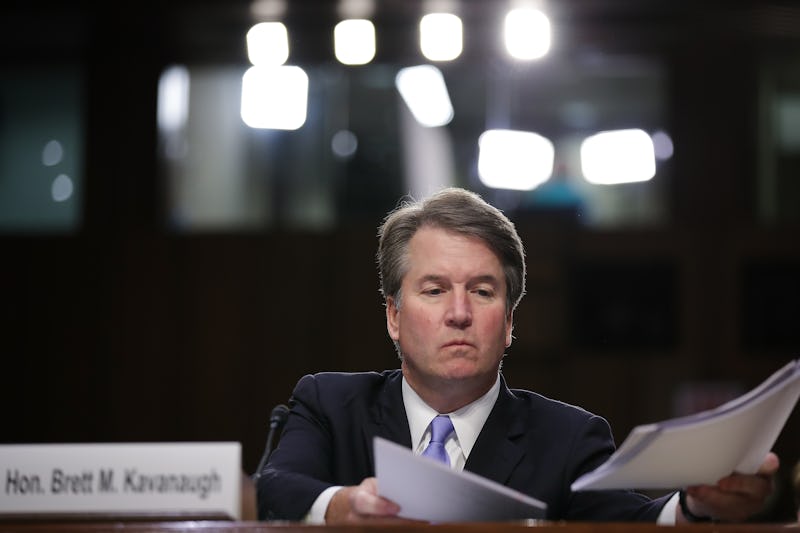 Drew Angerer/Getty Images News/Getty Images
During confirmation hearings for Brett Kavanaugh, senators grilled the Supreme Court nominee on everything from confidential emails to Roe v. Wade. But one particular moment from the third day of hearings has captured social media's attention — when Kavanaugh described birth control pills as abortion-inducing drugs, in response to a question from Texas Sen. Ted Cruz.
Cruz asked Kavanaugh to discuss his dissent in the 2015 Priests for Life v. Department of Health and Human Services case, in which Kavanaugh sided with employers who did not want to provide their employees with access to no-copay contraceptives. In his response to Cruz, Kavanaugh said that the religious organization in the case felt they would have been "complicit in the provision of the abortion-inducing drugs" that they opposed on religious grounds.
But according to Erica Sackin, the director of political communications for Planned Parenthood, the plaintiff in this case was "actually opposed to contraception in its own right — not connected to abortion."
"The 'abortion-inducing' bit is Kavanaugh's own addition," Sackin tweeted on Thursday.
In a statement emailed to Bustle on Thursday, Dawn Laguens — executive vice president of Planned Parenthood Action Fund — argued that Kavanaugh's description of birth control as an "abortion-inducing drug" was "anti-woman, anti-science propaganda."
"Women have every reason to believe their health and their lives are at stake," Laguens tells Bustle. "Kavanaugh has made clear over and over again that he would not uphold women's ability to access reproductive health care as a constitutional right. Let me break it down for you, Brett: birth control is basic health care."
Kavanaugh's comments about birth control have already prompted swift backlash on social media. California Sen. Dianne Feinstein tweeted that his comments were proof of his "hostility toward women's reproductive freedom," while NARAL Pro-Choice America argued that "abortion-inducing drugs" is "an anti-choice extremist phrase that shows that our right to access both abortion and contraception would be in SERIOUS danger if [Kavanaugh] is confirmed."
Salon's Amanda Marcotte also pointed out that Kavanaugh's comments were inaccurate. The Affordable Care Act covers FDA-approved contraceptive methods — and explicitly does not cover abortion, meaning that the plaintiff in the Priests for Life v. HHS case was specifically opposing contraception.
Indeed, according to VICE News, Priests for Life and the other plaintiffs in the case specifically told the Supreme Court that they did not want to "affirmatively authorize, and facilitate coverage for contraception, sterilization, abortifacients, and related education and counseling." Priests for Life also opposed hormonal contraception — but that doesn't induce abortions either, as VICE News pointed out. For abortion rights advocates, Kavanaugh's choice of phrase is an indication that he will rule against reproductive freedoms if confirmed to the Supreme Court.
"Birth control allows women to plan their futures, participate in the economy, and — for some women with health issues like endometriosis —allows them to get through the day," Laguens tells Bustle. "It is clear from Kavanaugh's record and answers that his nomination puts access to affordable birth control at risk."
Ever since Trump first announced Kavanaugh as his Supreme Court pick, progressives have been concerned that he would be dangerous for women, particularly those who are poor and marginalized. During his confirmation hearings, he acknowledged that Roe v. Wade is an "important precedent," but would not promise that he would not vote against it in the future, sparking renewed efforts to protest Kavanaugh's confirmation.