Brett Kavanaugh Refused To Say Whether He Had "Great Respect" For Trump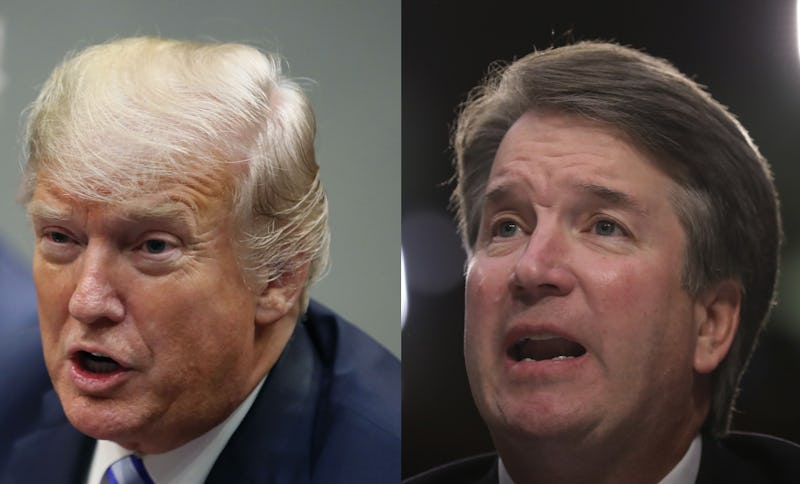 Drew Angerer; Mark Wilson/Getty Images News/Getty Images
On the third day of Brett Kavanaugh's appearance on Capitol Hill for his Senate confirmation hearing on Thursday, New Jersey Sen. Cory Booker asked if Kavanaugh could say he views Trump with "great respect." But Kavanaugh did not give a clear answer, suggesting instead that he shouldn't be commenting on the president.
Booker did not relent as he told Kavanaugh that the SCOTUS nominee had spoken about former President George W. Bush's character "a lot." The senator said, "Even in your confirmation hearing, you said at your swearing-in ceremony [that] you were willing to comment about President Bush and his character. In fact, you said that you had the 'greatest respect' for President Bush."
Booker then brought Trump up, saying that it was not a "partisan" or "political" issue. "People on both sides of the aisle have denounced the kind of statements this president has made," he said. It was "matters of character." Booker peppered Kavanaugh with instances of Trump's commentary: "He said a federal judge was unable to do his job because of his heritage, he bragged about sexually assaulting women, he mocked a disabled reporter, I could go on and on."
With such comments in view, Booker asked Kavanaugh if he had the "greatest respect" for Trump. Here, the SCOTUS nominee said, "I appreciate the question and what I said during this process is I need to stay away."
Booker then said, "You're not answering my question. I want to tell you why I'm building toward this; because there's an issue of this president asking for loyalty tests from the people he's putting forward for offices." The senator brought up the report of Trump calling Attorney General Jeff Sessions a "dumb Southerner" and mocking his Alabama accent, according to Politico. Anonymous White House officials told the media outlet that Trump reportedly said Sessions "talks like he has marbles in his mouth."
Moreover, Sessions' decision to recuse himself from the federal investigation into possible Russian interference during the 2016 presidential election elicited disapproval from Trump. Given those circumstances, Booker asked Kavanaugh, did he "credibly believe" that the president would still hold up his nomination if he recused himself from a federal probe? Kavanaugh dodged the question yet again.
Booker didn't stop. "There's a shadow over the independence of the judiciary, because a president who who has been credibly accused by his former lawyer of being an unindicted co-conspirator has a opportunity to put a judge on the bench," he said. "It's understandable for people to suspect somehow this is rigged."
The New Jersey Democrat then asked Kavanaugh, "Why not alleviate the suspicion — why not just announce right now that you will recuse yourself from any matters coming before SCOTUS involving the [Robert] Mueller investigation?" Prior to this question, Kavanaugh did not give a clear answer neither did he comment on whether or not he had "great" respect and reverence for the president.
But when Booker asked the aforementioned, Kavanaugh simply said, "Because recusal would indicate I don't have independence. I can't commit to that."