A Teen Fighting Gun Violence In Milwaukee Explains Why She Joined March For Our Lives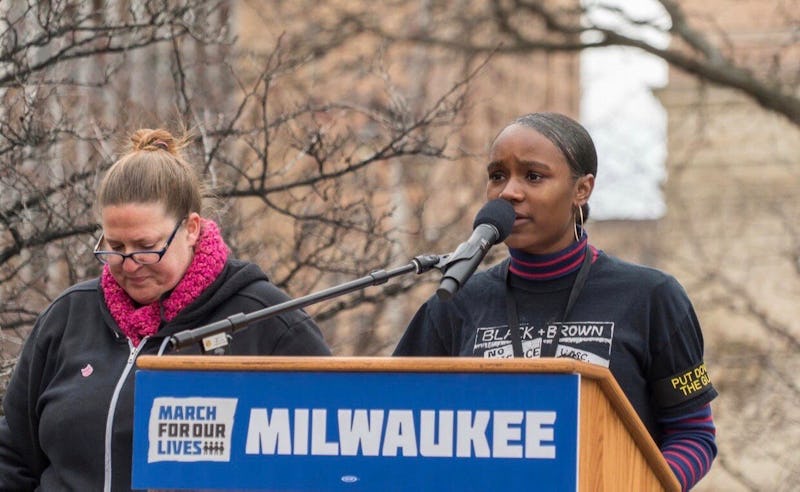 Courtesy of Bria Smith
By now, most of America knows how the gun violence prevention movement March For Our Lives (MFOL) got started. A shooter at a high school in Parkland, Florida killed 17 people, and the survivors decided to turn their grief into change. Well before Parkland, though, Milwaukee student Bria Smith had already spent years fighting for some of the same changes.
"It kinda made me really hurt," Smith tells Bustle of her first reaction to seeing the massive media coverage the Parkland students immediately received when they started MFOL. "It's another piece of evidence that the youth of color have to try 10 times harder to be on the same level, equal playing field as those who are white."
I preach about amplifying the voices of those that are unheard, and this would give me the opportunity to do so.
Growing up in inner-city Milwaukee, gun violence was simply an everyday part of life. "You would hear gunshots as like a background noise," she says. "Hearing that sound was normalized, seeing bodies with white sheets over them was normalized, seeing blood was normalized, seeing pictures of like dead children taped to lampposts was normalized."
Smith, however, didn't hear the Parkland students addressing this side of the gun violence story. "I didn't think the MFOL movement was inclusive at all," Smith says flatly. "It was mainly focused on school shootings and not neighborhood shootings and not suicide shootings. I've known people that have lived through these, and I didn't see their stories being represented on the national scale."
Smith brought all of that to the table when she spoke at the March For Our Lives Milwaukee rally in March, and halfway through the summer, when MFOL's Road to Change bus tour — a cross-country trip during which the Parkland students and other activists organized town halls and meetings to talk about gun violence — came to Milwaukee, Smith was invited to join a Road to Change panel to discuss those issues. Her performance at that panel and her grip on the problems facing her community were so strong that MFOL's organizers invited her first to dinner, and then to join them on the tour.
"Michael Skolnik [an adult activist who joined the students on the tour], he pulled me aside, and he was like, 'The kids want to know if you want to go on tour with them,'" Smith says. "And I was like, 'What kids?' I was so confused. I didn't even know that they were on tour."
While she had commitments at home over the summer, the decision of whether or not to drop everything and get on a bus, she says, was an easy one. "I knew that this would be a once in a lifetime opportunity. If I didn't take it, I would be missing out," she tells Bustle. "I preach about amplifying the voices of those that are unheard, and this would give me the opportunity to do so."
The moment wasn't without some apprehension, though. "I was thinking about all of the different ways I was going to include people of color and where I come from and … living in the inner city and experiencing gun violence from this local level," she says. "What if I misrepresent the people here? What if I say something that's not true or what if I can't relate to the people that I meet?"
As it turns out, Smith found the tour so fulfilling and productive that, despite originally packing a bag for just three days, she stuck around for the rest of the summer, traveling around the U.S. to add her voice to the chorus. She was impressed, she says, with the way the Parkland students actively worked to become more inclusive and to increase diversity in their movement, inviting fellow local activists of color onto the tour and holding events in communities across the socio-economic and racial spectrum in order to hear the concerns of as many Americans as possible.
We're addressing the intersectionality of people who are connected by the gun violence prevention movement.
As they made their way across the country — meeting with the mother of one of the Columbine shooters, activists at Standing Rock, even Martin Luther King Jr.'s son — Smith saw the way an injection of media coverage can make all the difference in a movement progressing forward. She saw how "social activism is competitive," as she puts it; the media chooses which causes and which figures to magnify, no matter how many activists are fighting to have their voices heard. She also saw the ripples of empowerment that the bus tour, with its meetings and town halls, was creating.
"I noticed that the youth were very hungry for change. It wasn't that they weren't organizing and mobilizing in their communities before [MFOL], they just didn't have the push to actually do it," Smith says. "So they're ... empowered by 17, 18-year old kids on the bus to actually do things and make change in their communities."
The real change that the movement is fighting for, Smith explains, isn't just in gun policy. Instead, it's in the culture — and she thinks that, so far, it's achieving its goal of making people understand that gun violence in all of its forms must be discussed.
"We're addressing the intersectionality of people who are connected by the gun violence prevention movement," she says.
The bus tour may be over, but Smith's activism, of course, goes on. She's applying to colleges, running a website to elevate the stories of young women of color, and continuing with her community outreach and organizing. According to Smith, anyone can join her — it's just a matter of listening to people and learning what changes are necessary.
"Don't let people underestimate you because of the age that you are. You can do awesome work in your community," Smith tells Bustle. "If you're affected by something … you have that power to actually create change and do something about it."