Britney Spears Just Wore Her Shorts From A 2001 Music Video On Instagram & Fans Are Freaking Out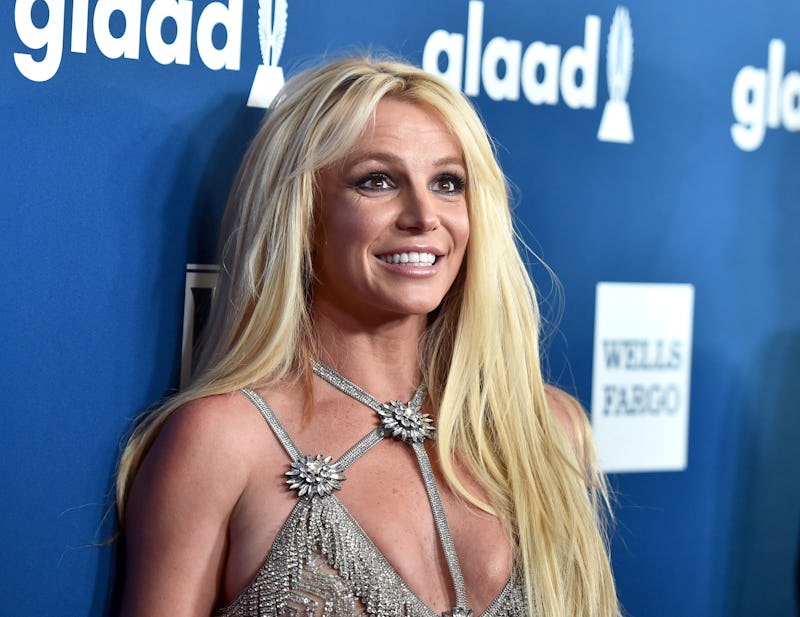 Alberto E. Rodriguez/Getty Images Entertainment/Getty Images
Britney Spears has thrown us into a time machine and brought us back to the turn of the millennium thanks to her new Instagram post. Britney Spears wore denim shorts from the "Don't Let Me Be the Last to Know" music video from 2001, and now everyone isn't sure what year it is anymore. Look down and double check if you're wearing a Juicy velour tracksuit and rustling through your Coach purse for your wraparound sunglasses, because we have definitely been thrown a couple of decades back into the past.
On April 18, Spears posted a Boomerang video of her dancing on her balcony stairs in a pair of platform heels and shorts, writing in her caption, "I think it's impossible for me to go a day without dancing."
In the video she does one of those pop princess dance moves where one shimmies down to the floor and comes back up with a leg kick, and her outfit consisted of denim shorts, a tie-wrap crop top, and a wide brimmed hat. While most of the comments underneath the Instagram video were flooded with fans agreeing over how cute she was, one fan noticed something about her shorts in particular: This wasn't the first time she was wearing them.
In fact, she put them on 17 years ago. The fan in question was Buzzfeed's Matt Stopera, who proclaims to be a "Former #1 Britney Spears fan" on his Twitter bio, which links out to a Britney Spears biography video that shows his teenage bedroom covered floor to ceiling with Britney posters. So yes, he definitely knows his Spears trivia, which is why it was no surprise that Stopera noticed that her shorts originally made their first debut in a music video in 2001.
"Holy shit. Britney Spears literally still has the shorts from her Don't Let Me Be The Last To Know (gorgeous) video. Her insta today vs. the video in 2000. Imagine being this humble? You can't bc your fav is NOT!" Stopera wrote in a tweet. Underneath it he also created a side by side comparison of Spears dancing in her house in the patchwork shorts today, versus her dancing on the beach in the music video from 17 years back, proving that they're the same thing.
Twitter was very much into the revelation, hopping onto the thread to discuss how amazing the pop princess was for gracing us with one of her peak music video outfits. Some began to wonder if the shirt was also from the Y2K years, saying "I love an iconic hoarder!"
However, one fan jumped in to say that the top was in fact from Target, and only costing $20. Bless. It's a known fact that the artist loves the big box store, where in 2015 she spent $5,500 in shopping runs. We all know how you stop by Target to pick up some dog food and somehow end up walking out with a floor lamp and a Jenga set, so Spears is clearly not immune to that pull. And seeing how the top is part of the store's more recent spring collection, it's clear that she has been poking around Target aisles recently.
Others relatably pointed out that they couldn't imagine still fitting into anything from nearly 20 years ago. That's only reserved for Godney.
Others pointed out that her wearing the shorts was some Grade-A recycling and reusing. We love to see our favorite celebs acting green.
Others were just impressed with Stopera's fan level, where he was able to spot those shorts in a second.
If she has anymore 2001 outfits, we're hoping she busts them out soon. We love us some early Noughties fashion.