Britney Is Here To Remind Us This '90s Accessories Trend Is Still Vital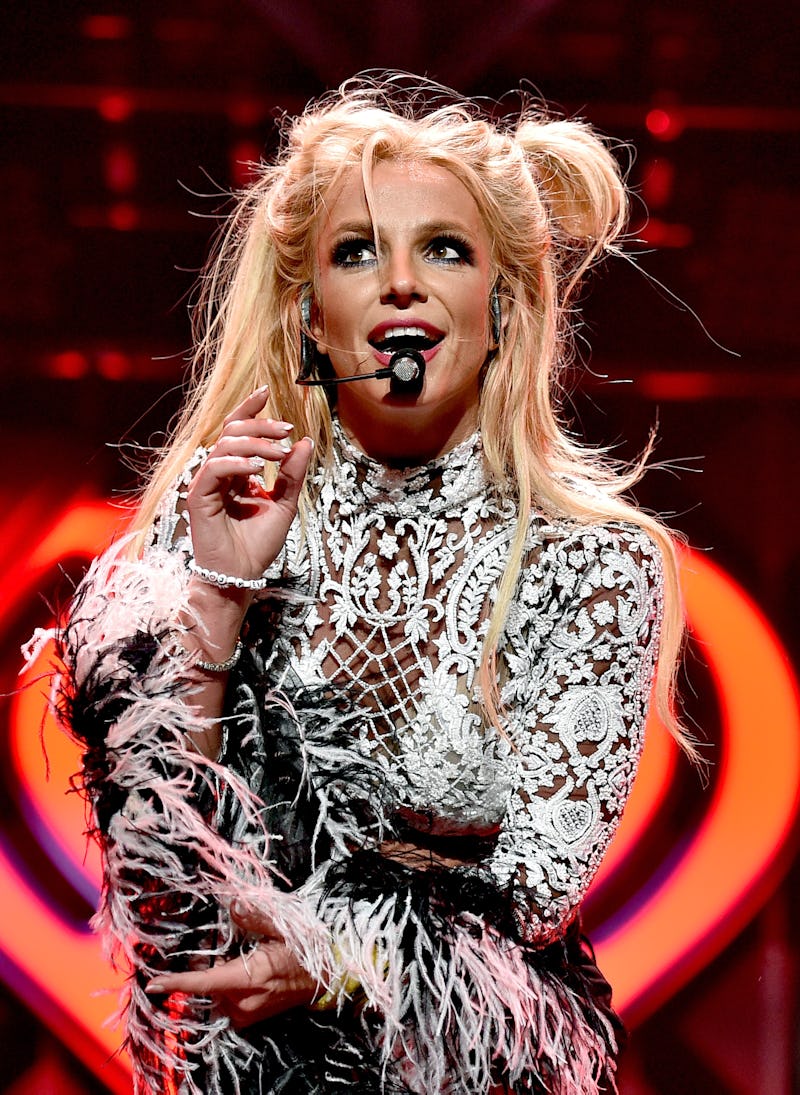 Mike Windle/Getty Images Entertainment/Getty Images
She was a '90s boss so it makes sense that she is revisiting the decade during which she began her dominance. Britney Spears rocked a '90s accessories trend in her latest Instagram post and the pic totally looks like a #TBT or an #FBF. If you told me this pic was originally of Brit Brit in the late '90s or early '00s, thanks to her tumble of waves and rock hard abs, I'd totally believe you. But it's current. Even so, Spears is slaying the '90s black lace x tattoo choker trend in 2017.
In the casual snap, taken before the singer jetted off to Japan for tour, she is wearing hardly any makeup, her hair is effortlessly bedhead, her pose is confident, and her choker is on trend and on point. It works with her strappy red bra top and her black, ultra low-waisted pants, the latter of which were another Spears' signature from decades past.
Only Brit Brit could pull this presentation off without looking overly retro. She remains as glorious as ever. Duh.
Have a look at Britney Spears reminding us that chokers remain a popular and fun trend this year. While some fashionistas are "over" chokers and wish they would go away, Brit proves the opposite. I bet you didn't even notice all the natural beauty in the background because you were too busy focusing on the natural beauty that is Brit!
Since Brit is showing off a lot of skin, the choker is the perfect accessory for her ensemble as it adds a little something extra.
Fast Times Choker, $24, VanessaMooney.com
You can copy Brit's look with this fishnet pattern choker.
BP Crochet Choker, $5.98, nordstrom.com
This super affordable crochet choker closely resembles the one that Brit is slaying in this Insta pic. There are tons of black lace or crochet chokers on the market to chose from beyond these two fab options. Here to stay — that's the status of the choker in 2017. You needn't look any further than B. Spears and her IG.