Watch This Bridesmaid Get Her Dress Transformed To Honor Her Masculine Style & Queer Identity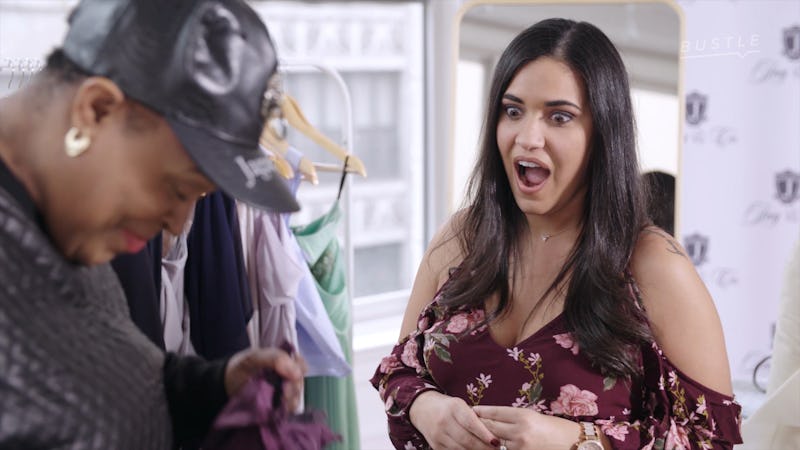 Bustle
No good, very bad, plain awful bridesmaids dresses are nothing new in the world of fashion. Going down in style infamy for decades, the bridesmaids dress is a thing of nightmares for sisters, best friends, and family members of the bride. But it doesn't have to be that way — even if a less-than-ideal dress has already been chosen. Sometimes all a garment needs is a simple upgrade. For proof, just ask dapper bridesmaid Tiffany Thompson.
Thompson would do anything for her best friend Christina Figueroa, and that includes wearing a purple taffeta dress to Figueroa's upcoming wedding. But Thompson normally rocks a more masculine style in her everyday life, opting for suits and bowties over skirts and bows. Figueroa knows this and though she is reluctant to change her wedding vision at first, the bride isn't content with Thompson wearing a gown she doesn't feel like herself in. That's why Figueroa asked for a Bridesmaid Upgrade for one of her oldest friends.
"You're not going to wear the dress," Figueroa tells Thompson in episode two of Bridesmaid Upgrade, much to Thompson's relief. "I know that's not who you are, it's not your style, and I would never want you to be uncomfortable on my day."
The pair have been friends since childhood, so picking Thompson as a bridesmaid was a no-brainer for Figueroa. In their 30-year friendship, they've tackled many major moments in life — including coming out as queer to friends, family, and each other. In fact, the pair are reluctant to even call each other "friends." They are family, plain and simple.
With a close friendship that has been through so much, a bridesmaids dress isn't about to tear the pair apart. Not even a purple taffeta gown that's the furthest thing from Thompson's own sense of style.
"Being a masculine person and being a queer person, it's really important to me to represent that in the fashion that I wear," Thompson tells Bustle of her style. "When I started wearing men's clothes, it just changed how I felt about myself."
To change the bridesmaid dress into something that's more representative of Thompson's style, Figueroa enlists Jag Beckford from Jag & Co to create something spectacular and dapper for her bridesmaid. And Thompson doesn't suspect a thing.
As a designer, Beckford specializes in creating looks for gender non-conforming women with a masculine sense of style, much like Thompson. Beckford wastes no time in beginning the purple gown's transformation, immediately tearing the polarizing dress to shreds with her bare hands. There's no going back after that.
The no good, very bad, plain awful purple taffeta dress is about to undergo a major transformation for Thompson. Will she love the surprise or hate the creation more than the original gown? Will Figueroa get to keep her wedding vision while still respecting her friend's sense of style? Will the purple taffeta dress come to life and seek vengeance on Beckford for literally tearing it apart at the seams? Check out the final unexpected look — and get answers to all your burning questions — in this episode of Bridesmaid Upgrade.
Will their friendship pass the bridesmaid dress test? Watch Bustle's new show, Bridesmaid Upgrade, to find out. Episode 1 is available now on Facebook, with new episodes airing every Tuesday!