This Incredible Bridesmaid Makeover Will Probably Make You Cry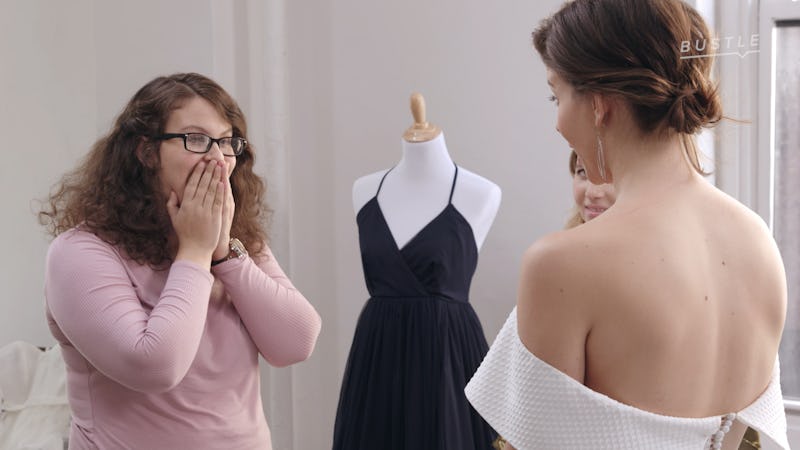 Bridesmaid Upgrade/Bustle
Being part of your sister's wedding is a dream come true for many women. This was the case for 24-year-old Olivia Brown when her sister Victoria, 28, asked her to be a bridesmaid for her upcoming nuptials. But the actual bridesmaid's dress (also, often the case for so many women) was a bit of a problem. When Victoria showed Olivia the plain, strapless purple dress she had chosen for her wedding party, Olivia — someone who usually opts for quirkier items — wasn't happy. This is where Bustle's series Bridesmaid Upgrade comes in and transforms a problem dress into a dream outfit. Throughout the show, the sisters worked with designer Aviva Falk of Viva Aviva to create something that Olivia would truly love. And the results are enough to make just about anyone cry.
As Olivia and Victoria work together with Falk to create something entirely unique (and something with sleeves – a feature Olivia wanted in the dress from the beginning), the bond between the two sisters is incredibly evident. And the final result is representative of both the sisters' unique personalities and their love and respect for one another.
Olivia tells Bustle that though she was a bit nervous to be on camera, the experience was better than she expected or could hope for.
"I was a bit nervous of having an awkward presence [during filming]," Olivia explains. "As we went through everything though I got used to being in front of the camera again and had a great time."
Though the experience was, of course, personal for the sisters, Falk also says that she felt especially passionate about the project — a passion that certainly comes through when you see the final product.
"Though I am not technically a bridal designer, I did create the bridesmaid dresses for my sister Dahlia's wedding six years ago and launched a bridal capsule around that same time," Falk says. "It turns out that Olivia is pretty much the quintessential Viva Aviva girl: fun-loving, independent, not afraid to march to the beat of her own drum. I also don't get to make as many gowns as I would like, so creating such a joyful, dramatic piece was a special treat."
Watching Falk create the gown is a treat as well, and something that is even more special when you see Olivia's tearful reaction to the final design.
And though in the end the dress is entirely Olivia and seems like a completely natural look for her, Falk tells Bustle that actually creating the gown was actually something that took quite a bit of thought.
"I actually had to meditate on this design for a while. Initially, I thought I would alter the original piece, but I just couldn't escape the feeling that it didn't really look like something Olivia herself would wear. It was too standard and conventional," Falk says. "I tend to design based on a feeling rather than an aesthetic, so when Victoria was describing Olivia to me, it wasn't so much what she said...but how she said it. In hearing her talk about her sister, it became obvious how special Olivia was to her and how much she deserved to wear something truly unique. That's why I decided to remake the dress entirely."
The final product looks nothing like the original, but that makes it even better. And the best part? Olivia tells Bustle she's already planning on how to wear the dress again. For a bridesmaid dress, it really doesn't get better than that.
Will their friendship pass the bridesmaid dress test? Watch Bustle's new show, Bridesmaid Upgrade, to find out. Episode 1 is available now on Facebook, with new episodes airing every Tuesday!