Camille Grammer Is Engaged & She's Already Subtly Showed Off Her Ring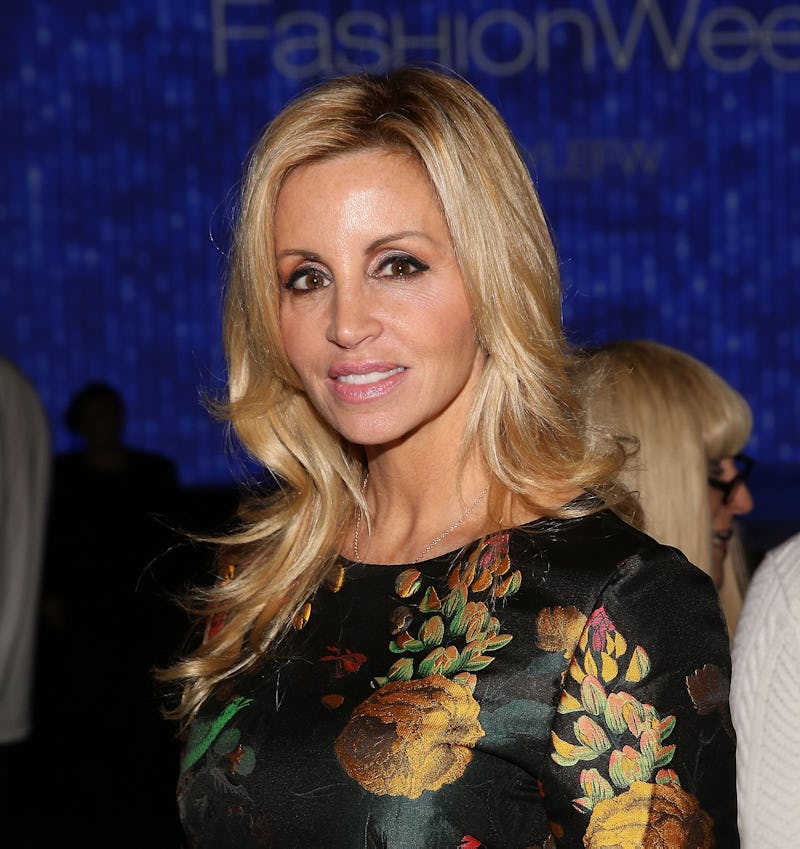 Robin Marchant/Getty Images Entertainment/Getty Images
This Real Housewives of Beverly Hills star has finally found love. Camille Grammer is engaged to lawyer David C. Meyer, People first reported on Monday. Grammer's rep confirmed the engagement to Page Six. According to People, Meyer proposed over a week ago and they have been together for more than a year. "They're just in love," a source close to the couple told People. "There's a casualness and easiness to their relationship. They're a really happy, kind couple. He really loves her for her."
On Sunday, Grammer tweeted a photo with Meyer and captioned it, "Party night with my love. We have a secret.. guess." More than likely she was teasing their engagement. Also, on Sunday, she shared a photo of herself and Meyer ready for a Halloween party that showed her wearing a diamond ring on that finger.
"Seventies disco glam," she wrote. "Saturday Night Fever or 'Yacht Rock' on Sirius 'just when you thought it couldn't more get more smooth, it got more smoother'."
In February, Grammer posted an Instagram collage, which featured Meyer and their travels to the Swiss Alps together. Then, in March, E! News reported Grammer and Meyer were dating. At the time, an insider said, "Camille is very happy. They met through mutual friends at a party. He's lovely." E! News also reported that Meyer had already met her two children, Mason and Jude Grammer, from her former marriage to Kelsey Grammer.
As RHOBH fans know, Grammer hasn't had much luck in the love department. During Season 1, the downfall of her marriage to Kelsey was captured. At times, it was extremely difficult to watch, especially after reading headlines about Kelsey's affair (which he admitted to Anderson Cooper in September 2012) with now-wife Kayte Walsh. After Cooper asked the former Frasier star if he regretted his time on RHOBH, Kelsey said, "I was trying to pretend things were normal for the sake of letting [Camille] have that moment. It was just ill advised." He also added, "It was the wrong decision and I should have come home from England when I first met Kayte and just said, 'Listen I've met somebody and this hasn't been working for a long time.' I regret not doing that."
They were married for 13 years before Grammer filed for divorce in July 2010. As awful as their split was, Grammer has found peace. On Aug. 2, the day they married in 1997, she tweeted, "On Aug 2nd years ago this date meant something.. now it's just another day. Time has healed a old wound. Excited about the present."
After Kelsey, in October 2011, Grammer started dating Dimitri Charalambopoulos. However, that all came to an end in October 2013 after she alleged he physically assaulted her in a Houston hotel room days after she underwent a radical hysterectomy for endometrial cancer, which she was diagnosed with in 2013. He denied her allegations and accused her of defamation of character, according to the Daily Mail. From this, stemmed a major legal battle with the two suing each other, but Grammer had a court victory in March 2016 when it came to part of their battle. According to the Daily Mail, a Texas federal judge ordered Charalambopoulos to pay Camille more than $121,000 in legal fees.
To say Grammer has been through a lot when it comes to relationships would be an understatement. It appears that she is head over heels in love and ready to commit herself once again by getting married. Here's hoping when RHOBH returns, Grammer does with it, and based on a photo she tweeted in July, it seems likely. It would be nice to watch her happiness and romance with Meyer unfold on the small screen.