Here's How To Understand All The Talk About Trump's SCOTUS Pick & Perjury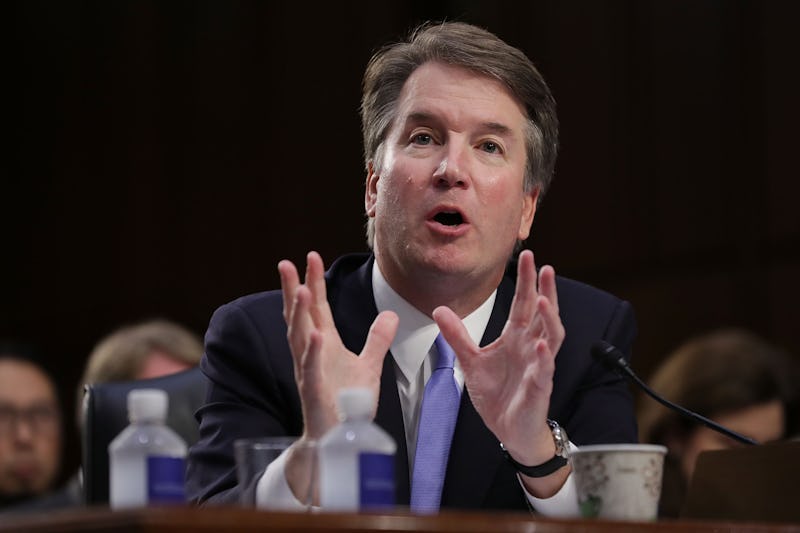 Chip Somodevilla/Getty Images News/Getty Images
In the modern age, you'll find a common thread when it comes to many political scandals: emails. This time, it's Supreme Court nominee Brett Kavanaugh whose emails are stirring up drama. After a few originally-redacted emails were released to the public during Kavanaugh's confirmation hearing this week, people are speculating that Kavanaugh could have perjured himself during his testimony before the Senate, The Daily Beast wrote.
As Jay Michaelson wrote for the publication, some are speculating Kavanaugh misled the Senate at least four times during the hearings, based on the newly-released emails. With that, the word "perjury" — which means telling a lie in a court after taking an oath or affirmation — is getting thrown around, and, in turn, many are wondering if the Senate will block Kavanaugh from being a Supreme Court justice over it.
Ultimately, perjury is a criminal act that a person can be legally punished for — if someone (i.e. the Justice Department) decides to legally pursue the possibility that a person lied on purpose while under oath. As many experts have said, it's probably unlikely someone would do that with Kavanaugh unless there was an extremely serious and blatant lie. But, Miriam Baer, a law professor, Brooklyn Law School told Vox, "Senators are free to point out inconsistencies in testimony and question a judicial nominee about those perceived inconsistencies. And if the nominee does a poor job explaining such inconsistencies, senators can and should take that into account."
That's where this new discussion of perjury is relevant. It's not exactly that people think Kavanaugh will be charged, but that senators will consider the possibility of him making misleading statements when they vote on his nomination. If enough senators (namely, Republican senators) think the possibility of perjury is serious enough to vote against his nomination, that could stop him from joining the Supreme Court. However, regardless of that chatter, it's shaping up to be a pretty partisan vote on the nomination, as far as onlookers can tell.
Professor Josh Chafetz, a law professor at Cornell University Law School, tells Bustle via email that he's skeptical Senate Democrats could prove Kavanaugh's seemingly contradicting statements would amount to perjury — or that they have enough evidence to sway the entire Democratic caucus, including those in tough races in red states, as well as at least two Republicans to vote against his nomination.
"To do that, I'd imagine they'd need very clear, unambiguous evidence of perjury — something Kavanaugh's defenders couldn't describe as a mere faulty memory or something like that," Chafetz says. "And they'd have to be convincing that the perjury was on a really serious matter. Maybe they can do that, but to date I'm skeptical. Obviously, the dynamics would be very different if Democrats controlled the Senate."
If Kavanaugh perjured himself — which is still only being speculated about — Chafetz notes he could be prosecuted later, but only "assuming there was sufficient evidence to warrant it and the statute of limitations hadn't yet run out."
About 189,999 documents from Kavanaugh's time in the White House of George W. Bush were considered "committee confidential" going into his confirmation hearing. Many Democrats were unhappy about this, because many of the documents provided to the Senate came from a Bush lawyer who was Kavanaugh's former deputy, rather than the National Archives. Then, on Thursday, half a dozen additional emails were released by Iowa Republican and Judiciary Committee chair Chuck Grassley. Then more were released by Democratic Sen. Cory Booker, Vox reported.
One of the clearest possible contradictions between Kavanaugh's testimony under oath and the emails has to do with the confirmation of Judge William H. Pryor Jr., per The Daily Beast. The Washington Post's Seung Min Kim obtained emails from 2003 showing Kavanaugh was apparently looped in on discussions about Pryor's nomination and that he appeared to have interviewed Pryor for the nomination. Here's the problem: At his own confirmation hearings in 2004, Kavanaugh said he wasn't "involved in handling his nomination." Then, at his Supreme Court hearings this week, Democratic Sen. Patrick Leahy asked him if he interviewed Pryor, and Kavanaugh responded, "I don't believe so. It's possible, but I don't believe so."
Still, it's not the most compelling evidence for either charges or swaying senator's votes. But with that said, Chafetz conceded, "Kavanaugh could be blocked for perjuring himself — he could be blocked for anything."
Kavanaugh isn't the first Supreme Court justice who's been on the receiving end of speculation about perjury during a confirmation hearing. Jill Abramson claimed in a report for New York magazine that the evidence that Judge Clarence Thomas perjured himself at his 1991 confirmation hearing was "overwhelming." At his hearings, Anita Hill spoke out against him for allegedly sexually harassing her while he was her supervisor. The justice himself denied the claims at the time of his confirmation. (The Supreme Court has not responded to Bustle's request for comment on Thomas' hearing.)
As people scour the newly released emails and past statements from Kavanaugh for answers, his confirmation proceedings will continue to be hot news to watch — but that doesn't mean any unexpected "no" votes or actual charges will come from it.